04.11.21 Technical analysis of BTC – another sudden sale, a big player sells?
2 min read
BTC had a relatively decent rebound, which could begin a new sequel to another historic high. However, the progress of the exchange rate soon failed, there was a slight decline and in the end it was another minute sale. There have been more of those sales here lately. So some didn't really take a minute, but if we take them into account, someone over the $ 60,000 is selling. And it's pretty big.
Briefly to the Fed
The Fed finally has after the meeting. As expected, FED did exactly what the public more or less expected. So they was absolutely not surprised. Quantitative release therefore, it is probably coming to an end, because monthly purchases are to be reduced by USD 15 billion by the end of November. About 10 billion government bonds and 5 billion mortgage bonds (MBS). As a result, the total monthly purchase volume will be "only" $ 105 billion.
Further reductions are expected in the coming months. However, this was conditioned by the fact that economic development would not change dramatically.
Current situation at 4H BTC / USD
BTC fell once again by a fairly large amount in one minute yesterday. A week ago, there was a minute drop of more than 5%, thanks to which we have a wick below the support zone. But then there was a virtually very quick redemption of the slump.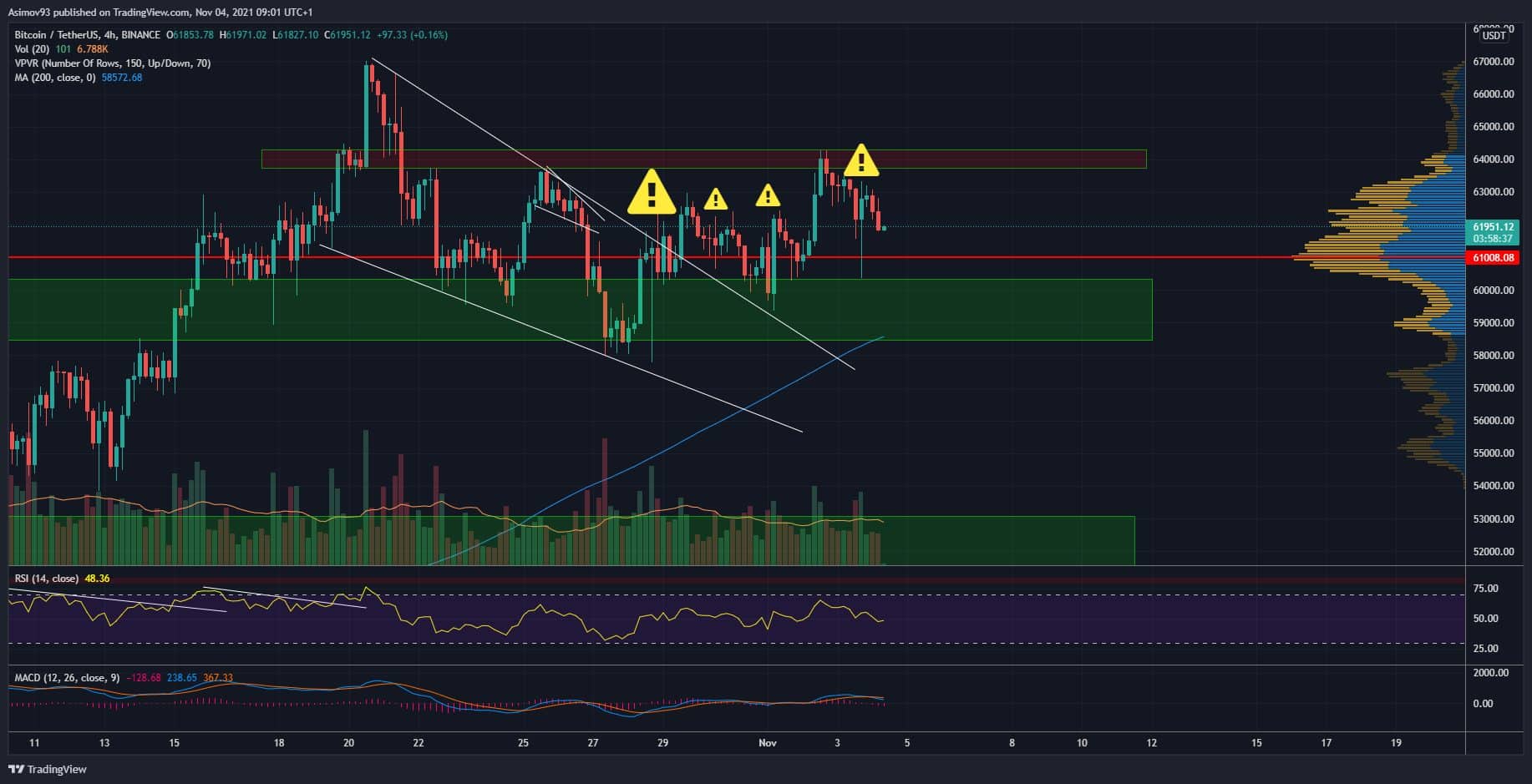 Such dips are suspicious because you need large volumes to drop a few percent in just a few seconds. And so only larger players have huge volumes. Of course, there are several theories that took place on October 28. There is a bit of obscure logic on social networks that some "whale" chases stop loss longs for fun and then sends it to the Moon.
Rather, it seems that someone very big just distributes. And when he sees in the order books that it is sufficient on the market liquidity, they also dump large volumes at once. They know that the demand quickly absorbs their supply and does not harm themselves by dropping the price too much. In the last week, I have marked all the events that more or less resemble one-off and larger sales from large capital.
Yesterday was almost the same as the October 28 drop. It wasn't that big, but within a few seconds there was a relatively marked drop. A quick pull followed. This just confirms my theory.
However, please note that it is not possible to assign the correct weight to this. Even if the theory is 100% true, it does not in itself mean anything serious about future developments. We don't know how many big players over 60,000 USD operate. And I don't even know how strong the one selling is.