05.11.21 Technical analysis of LTC – Litecoin advanced slightly, will we test further resistance?
2 min read
Litecoin (LTC) does not currently have the strongest period, but it is one of the most popular coins, so we will make a brief analysis. Unfortunately, altcoins, with a few exceptions, don't have much to go up dynamically. It's so slapped without a given direction, which of course is nothing pleasant in connection with the fact that BTC didn't get anywhere much either.
Current situation at 1D LTC / USD
Litecoin is still around the S/R level of $ 195. With the difference that the course clearly got back above this level. After the last sale, we fell dramatically, but in the end the price gradually returned. We can certainly consider this to be positive. As for volumes, unfortunately they are still below average. Which is not good at all, because if we want to go more significantly, it is better if these volumes appear.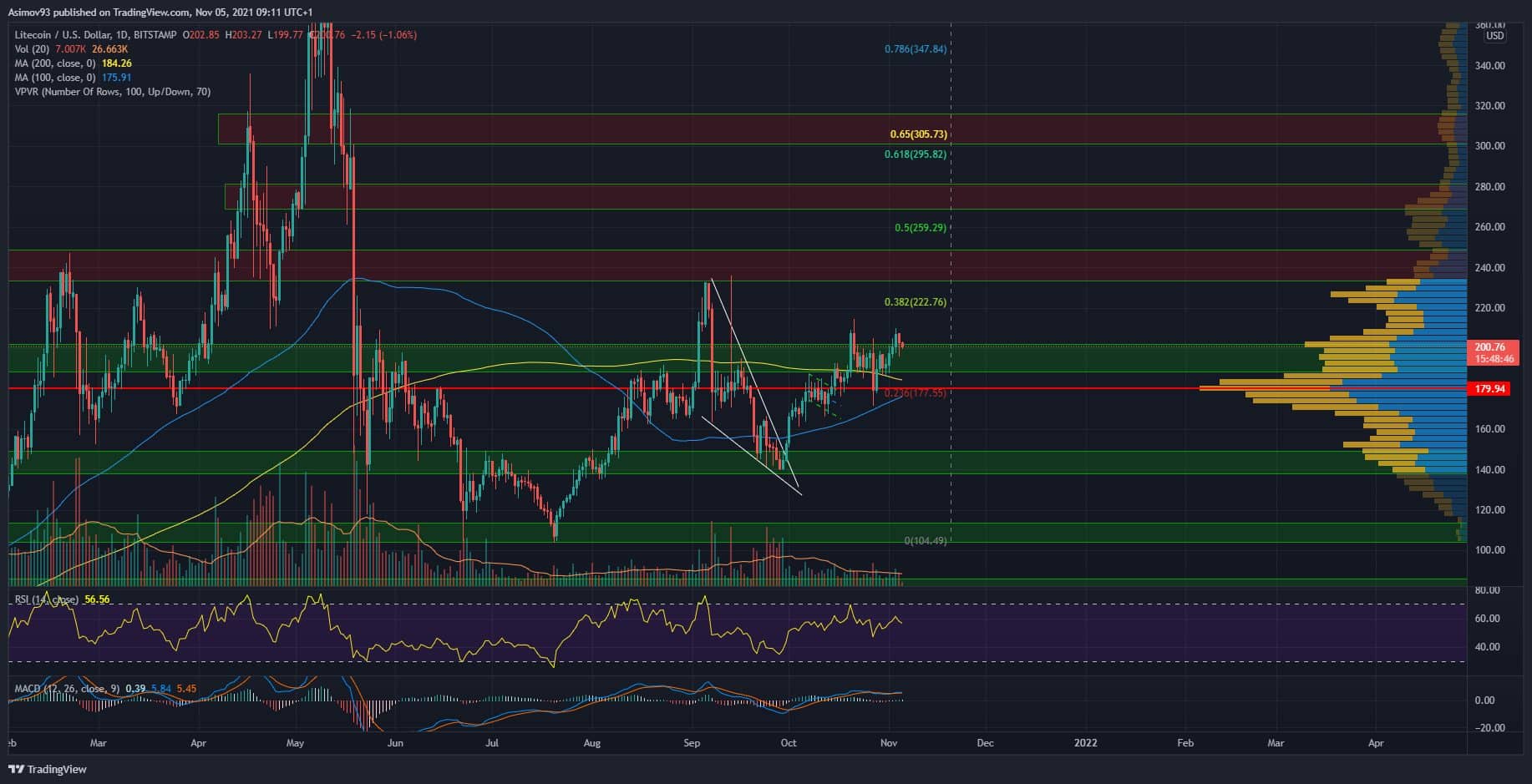 The course is currently consolidating at the stated level. There was a small sale yesterday and thanks to the wick of the Thursday candle, we know that shoppers tend to buy the drop. Which is of course a good signal that tells us that the support is valid for us. It is now essential for Litecoin to continue to rise in price.
Respectively, it is necessary to see the effort as the market tries to overcome the peak from the beginning of September. Which means we need to test the S / R level of $ 240, which is relatively close. At this level, the September growth is over, so a possible breakthrough would be a great success. In addition, according to the volume profile, a larger one ends here market depth. Therefore, with a breakthrough of $ 240, there might not be such a problem with the next step.
Indicators
RSI is now below 60 points. We haven't even gotten over 70 points since September. Any testing of resistance is probably based on the border 70 points. Unfortunately, according to MACD, Litecoin does not have much momentum.