12.11.21 Technical analysis of BTC – Bitcoin consolidates on local support
2 min read
BTC is still relatively quiet since yesterday, with small volumes without any more dynamic price action. The fact is that the consolidation on local support itself looks good so far and, for example, the market will have enough strength to bounce back. If not, the next stop is around $ 61,000.
Current situation at 4H BTC / USD
BTC is consolidating $ 64,000 at the local S / R Level. As has already been said, after such a quick parachute, it is definitely good to see something like this. The bulls are clearly buying support, so we will quite possibly experience a rebound – I would like to point out here that the rebound is never certain, of course. One just has to decide whether to risk it or not.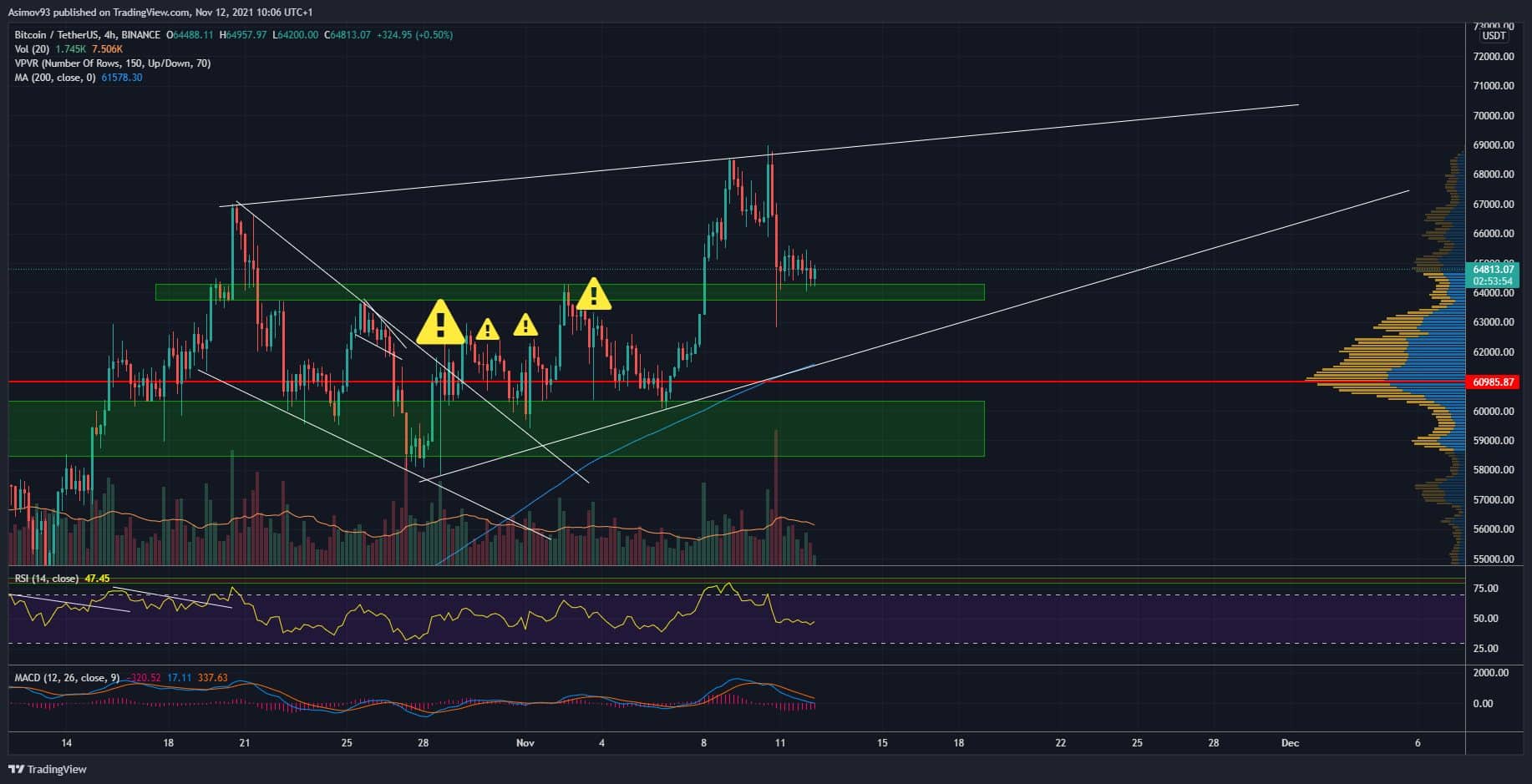 It is also worth noting that as a local support, this level is not exactly weak. There is a support here confluence. Mostly thanks low volume node volume profile. In addition, between $ 61,000 and $ 64,000 is relatively large cluster according to the volume profile. In short, everything is still in favor of the bulls. The bears have strong obstacles in front of them, so the question is whether they risk it.
But if we finally go down, watch the course's reaction to contact with the bottom wall of the drawn structure. As soon as we bounce off the edge, ending diagonal is, in my opinion, in the game. And that can be a really big problem.
Indicators
RSI is at 46 points, so technically BTC is still bullish on the intraday chart. However, we should not go below 40 points, not below the 30 points at all. As for the MACD, the negative momentum was indeed strong during the slump. But now it is gradually weakening.