CoinMarketCap has introduced a list of the 20 most popular metaverse projects | Cardano CEO Charles Hoskinson spoke about the future of his metaverse
2 min read
The CoinMarketCap platform has compiled a list of the 20 most popular metaverse projects among users. Based on the data obtained, Radio Caca ranked first in the list, Decentraland ranked second.
The 20 most popular metaverse projects
The CoinMarketCap sample includes the number of unique visitors, pageviews, and other online analysis obtained from real-time projects. CrуptoCars is the third most popular metaversum behind Decentraland.
Bloktopia placed 4th and Star Atlas ended up with a small loss in 5th place.
Sandbox also collected a lot of views, currently it is in 6th place. The metaverse projects succeeded in the past week, they have just started to unlock their potential.
Below is a list of the most watched metaverse projects that people search for on the CoinMarketCap website.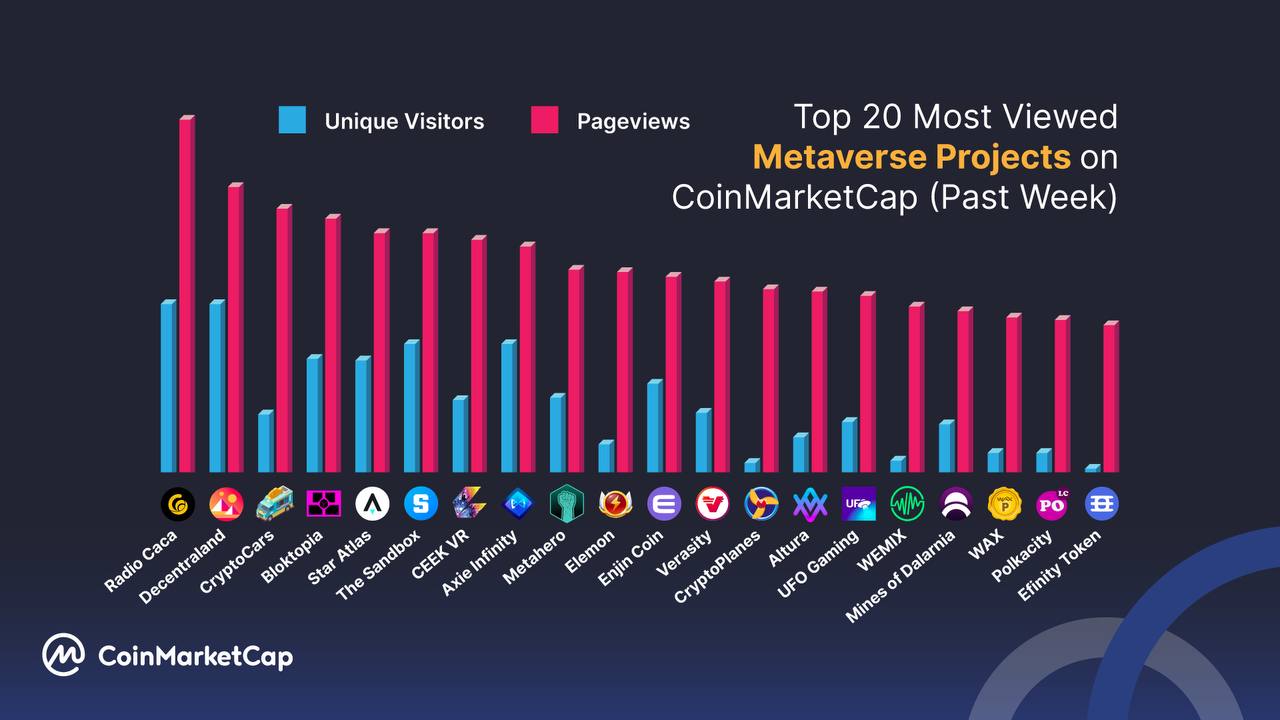 _____
In the Thinking Croup podcast, Charles Hoskinson spoke with presenter Ton Edward about how his Metaversum should have fallen.
The mathematician pointed out that the interface is currently changing, Oculus Rft glasses are appearing, the HTC Vive helmet and Apple are also investing heavily in augmented reality (AG). According to co-founder of Ethereaum, we will probably see Apple glasses by 2025, and when that happens, Samsung will develop its own version. He believes that the widespread (AR), mixed (MR) and virtual reality (VR) revolutions are just around the corner.
Charles now emphasized that this advancement in artificial intelligence, semantics and interface meant that Web З.0 was not just a thin layer on which Metaverse lived.
"You can overlay the digital attribute on the fusion world, when you look at a restaurant, for example, you will see in which time it opens and closes in the AR glasses. You can fully immerse yourself in the digital world and experience true virtual reality.
Where the crypto sector enters the game, the logic of these things requires some kind of control layer and associated database, to ensure uniqueness and scarcity, and the NFT is useful here."
Metaverses are really great, this is the real thing, not some fiction. Abuses could implement a model of trust and a model of scarcity in it, you need a crunch, because you somehow "physicalize" digital, "Hoskinson added.
With NFT, which represents asset ownership in a virtual metaversion owned by the people who use it, developers want to expand beyond the game into areas such as fashion, architecture, virtual concert and performance. This means that metaverse will act as an intermediary where developers can sell digital product and gaming experience.
Blockchain will be the base layer for the multiverse that will connect the different metaverses, says analyst