26% of countries have more ETH than BTC investors
2 min read
BTC, the first and main cryptocurrency on the market, is losing ground to Ether, the largest altcoin in the crypto market. This is what a recent survey of the platform shows CoinText which compiled a study on the popularity of cryptocurrencies in countries.
The survey found that ETH investors outperform BTC investors in 26% of countries worldwide, including the United States.
According to the researchers, this provides a new impetus to the so-called "flippening" debate. The term is adopted by cryptocurrency enthusiasts who predict that ETH will overtake BTC in market cap.
The study focused on the two big cryptocurrencies – BTC and ETH – as well as Dogecoin, Solana and XRP. The data dates back to January 2022 and is derived from a Finder.com search across 27 countries.
Results are weighted using Google's interactive ranking process, reflecting population distribution across countries.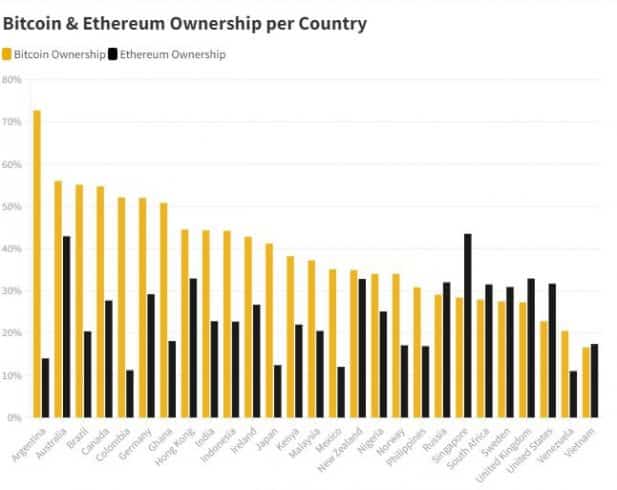 Investments in BTC x ETH. Source: CoinText
US Outlook: ETH > BTC
In the US, the memecoin craze is predominant. In the North American country, there are more investors in Dogecoin (DOGE) than in any other country surveyed.
Furthermore, Ether is the preferred crypto asset for Americans with 31.7% of investors holding ETH compared to just 22.8% holding BTC.
"This is a data point we didn't expect to see. But it does show that ETH has indeed joined BTC as a 'blue-chip' cryptocurrency.
Flippening: country with the most investors in ETH
Also according to the report, 7 out of 27 countries surveyed seem to believe that flippening is likely to occur. After all, more investors in these nations own ETH than BTC.
The country that most believes this is Singapore, which has the highest share of ETH investors compared to BTC investors.
While only 28.4% of Singapore cryptocurrency investors own BTC, 43.5% own ETH, a difference of 15.1% – the highest of any nation.
"With ETH Merge drawing ever closer, Singapore will hold its breath more than any nation in hopes of a price increase once major upgrades roll out," the report highlights.
The other countries favoring ETH over BTC are Vietnam, Russia, South Africa, Sweden and the United Kingdom. The report points out, however, that the data was obtained before the Russian invasion of Ukraine. Therefore, it is interesting to check again whether ETH remains more popular than BTC in Russia.
Altcoins
While Doge is widely adopted among US investors, the report points out that none of the other coins surveyed (DOGE, Solana, XRP) were listed as the most popular digital currency in any country.
However, Elon Musk's "darling" is the cryptocurrency with the most investors in the overall picture, after BTC and ETH.
According to the survey, memecoin was the most held altcoin in the dataset, with 12 out of 27 countries surveyed having more DOGE than any other altcoin – excluding BTC and ETH.
Then comes XRP, which was the most popular in 9 out of 27 countries. Meanwhile, Solana topped the rankings in the remaining 6 countries.