3 Best Korean Kodi Addons in 2021 (For Kodi v19!)
7 min read
Interestingly enough, Kodi can be hugely helpful even when it comes to niche types of content. As you're about to see in our overview of the best Korean Kodi addons, this application still offers both free and paid sources of quality content.
The truth is that you won't find plenty of Kodi addons that specialize in Korean movies and TV shows. After plenty of research, we've decided to highlight the top three add-ons. Still, each of the following recommendations comes with a sizeable library. More importantly, all of that content is frequently updated.
How to Find & Install Korean Addons on Kodi (v19, v18 & Older)?
We've decided to recommend Kodi addons that need to be downloaded from GitHub. With that said, you can learn how to install them by following these steps:
Then, download the addon's ZIP file (it must not be unzipped at any point).
Now, launch Kodi and select 'Add-ons.'
Click on the open box icon (in the top-left corner). Then, select 'Install from ZIP File.'
Navigate to the recently downloaded ZIP file and click to install it.
In case you need to access a repository, select 'Install from Repository.'
Then, click on the name of the repository you want to access and pick 'Video Add-ons.'
Select the addon's name and open its overview.
Lastly, hit the 'Install' button. That's it!
In case you'd like more detailed instructions for the above-described procedure, check our guides on installing Kodi addons from GitHub and ZIP files. The provided links will take you to step-by-step guides with screenshots.
On top of that, you'll also want to learn how to install addons from Kodi's official repository, which comes in handy if you want to install all of the Korean Kodi addons recommended just below.
Best-Working Korean Kodi Addons in 2021
We've done the hard work of sifting through dozens and dozens of addons. So, finally – here are the 3 best Korean Kodi addons that you'll find right now.
Netflix (Compatible with Kodi v19)
Viki (Compatible with Kodi v19)
YouTube (Compatible with Kodi v19)
In this article, we are talking about Kodi and this application's official and unofficial addons – all of which are based on open-source code. Addons for Kodi can come from the official source (you can install them via Kodi itself), or they can be hosted by third-party sources (such as GitHub, for example). In addition, Kodi and its addons are publicly available and free of charge.
TechNadu doesn't claim any responsibility for how our readers decide to utilize the following software. Please note that we don't condone sharing pirated content and copyright infringement. TechNadu is not affiliated with the software mentioned in this article in no way.
Make sure to carefully read everything said in this disclaimer and ensure the proper use of the software.
Disclaimer
Read This Before Installing Kodi Addons on Your Device!
Do you think it's legal and safe to install third-party Kodi addons on your device? ABSOLUTELY NOT – and here's why!
Third-party Kodi addons are often referred to as 'unofficial' or 'illegal Kodi addons.' That's because they let you stream copyrighted content from illegal sources like torrent (P2P) repositories and other websites, which aren't generally safe, to be honest.
So, what will happen if you don't act cautiously? Well, you'll expose yourself to criminal prosecution, often leading to huge fines – once your ISP collects enough data about your online activities. We've seen that happen many times before.
That's the reason why we don't recommend installing third-party Kodi addons.
No matter if you use official or unofficial Kodi addons, keep in mind that Kodi can be safely accessed using a VPN. Connect to a VPN, and you'll be safe online, no matter what. Simple as that.
A VPN can help you do the following five things:
Hide your IP address while keeping you anonymous when streaming via Kodi.
Keep you safe from legal troubles.
Fight against ISP-imposed throttling.
Unblock all kinds of geo-restricted Kodi addons in your country.
Bypass sports-related blackouts.
For more details, please read this guide.
After testing over sixty VPNs hands-on, we conclude that ExpressVPN is the #1-rated VPN for Kodi. If you are interested, please read our ExpressVPN review. Also, if you decide to subscribe, grab this limited time deal – save 49% + get 3 extra months FREE.
1. Netflix
Yes – you read that right. The first option on our list of the best Korean Kodi addons in 2021 is none other than Netflix. This media streaming giant has done plenty to include international movies into its lineup, and you'll find a sizeable library of titles right now.
Some of the most popular picks are Train to Busan, Lucid Dream, 26 Years, Forgotten, Rampant, and plenty of other Korean movies.
As you already know, Netflix isn't a niche OTT platform. It's trying to bring just about any type of content available out there, which means you'll get plenty for your money. This is the reason why we think you're going to love its Kodi addon as well. To learn more, we recommend checking our Netflix review.
2. Viki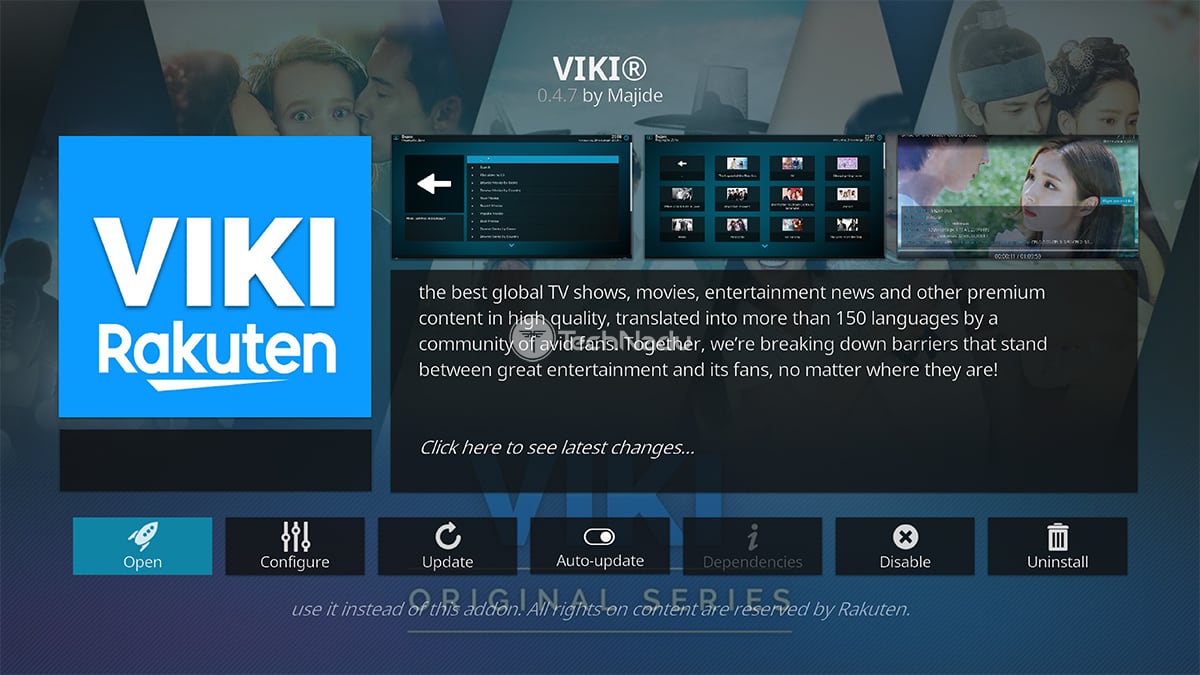 Next, we have something that's similar to our previous recommendation – but also very different at the same time. Called Viki, this is an OTT service owned by Rakuten, the company behind the popular Viber messenger app.
Realizing that there's an opportunity to expand its presence, Rakuten made the right call and brought Viki to millions of users across the world. This is where you'll find Korean, Japanese, and Chinese movies, in addition to TV shows and other types of international content.
It's also worth noting that plenty of movies can be watched free of charge. However, if you're truly a fan of Korean movies, you'll want to check out the Viki Pass Plus subscription – which gets you access to plenty of exclusive titles.
Tip
Viki is available in plenty of countries worldwide. However, some of its titles are limited to individual markets only. To watch everything this streaming service has to offer, you'll want to check the best VPNs for media streaming (and those work with Kodi as well).
3. YouTube
We are going to end our list of recommendations with YouTube. It might be surprising to see this online video platform here – but as you probably know, YouTube is the world's most popular video streaming service, after all.
As you can imagine, we're not talking about the latest blockbusters here. However, if you're into older Korean movies, YouTube can be your best ally. You can find its addon in Kodi's official repository, capable of supporting your user account, syncing your favorites, and plenty more. We definitely recommend trying it out.
Tip
You might be surprised to know that YouTube isn't the same across the entire world. Users in certain regions have access to more titles, and this is quite prominent when it comes to Korean content. So, don't forget to check the best VPNs for YouTube (tested by our team).
Korean Kodi Addons Not Working? Try This!
Just like it often happens with GitHub-based addons, you might encounter problems installing our recommended Korean Kodi addons. However, those problems can often be solved easily, as explained below.
Our first recommendation is to get rid of Kodi's cache, which is something you can do regularly. These are "junk" files that can accumulate over time, causing issues with Kodi. Use the provided link to learn more, and remember to clear Kodi's cache file on occasion.
Then, it's wise to update your Kodi. All of the recommended Korean Kodi addons in this article work with Kodi v19. However, if you use other addons as well, perhaps it's best to stick to Kodi v18.9 for now (until developers update their third-party addons).
If you're seeing an error saying that a dependency fails to install, here's how to install Kodi's dependencies manually. That's especially useful to know when installing addons that come from outside of Kodi's own repository (accessible via the software itself).
And lastly, know that many Korean Kodi addons out there are geo-restricted. So, if you can install but can't run those, use a VPN application. Here's how to install VPNs on Kodi.
Tip
If you need extra solutions to resolving problems with Kodi, know that our team has produced a comprehensive guide that'll answer all your needs. Here's our Kodi troubleshooting guide.
Which Korean Addons for Kodi No Longer Work – Or Have Shut Down Permanently?
It's true that we used to have a broader selection of Korean addons in the past. However, some of the previously most popular addons no longer work or have disappeared altogether, as you can see from the following list.
DramaFever
DramaNice
KissAsian
AZDrama
DramaGO
The addons mentioned above used to come from "unofficial" sources, which is the reason for their unreliability. We suggest avoiding those, and not only because their functionality might be limited. They might also lead to copyright infringement.
That brings us to the end of our article on the best Korean Kodi addons in 2021. In case of any questions, don't hesitate to post your comment below. And, of course, make sure to stay on top of our latest Kodi-focused articles. Thanks for reading!