4 NFT Collections are up this week; check what they are
2 min read
Dapp Radar platform, which regularly features prominent projects in the crypto sector, highlighted some collections of non-fungible tokens (NFTs) that are trending this week.
4 NFT Collections trending this week
According to the platform that provides analysis and portfolio tracking for the decentralized application (DApp) markets, the aforementioned collections show potential to advance and compete with the big ones like CryptoPunks and Bored Ape Yacht Club.
Clementine's Nightmare
Clementine's Nightmare is a play-to-earn game based on NFTs.
Clementine's universe is turned upside down when her world is invaded by nightmarish creatures from other realms of reality. The city and the people she knew are gone, having become distorted by the darkness.
But when all hope seems lost, powerful forces of light arrive to give Clementine and her friends a second chance.
The game's second phase NFT collection will launch in March with a maximum supply of 500 unique assets, for a total of 10,000 NFTs. On the OpenSea platform, already available NFTs are sold for a minimum price of $800.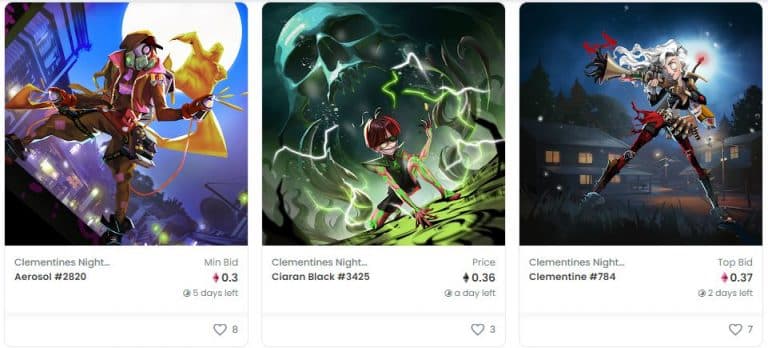 Mfers
Second, Dapp Radar mentions the Mfers collection, which are generated entirely from hand-drawn drawings by sartoshi.
The project is in the public domain. So users can use mfers however they want.
At OpenSea, non-fungible tokens are trading from approximately $6,000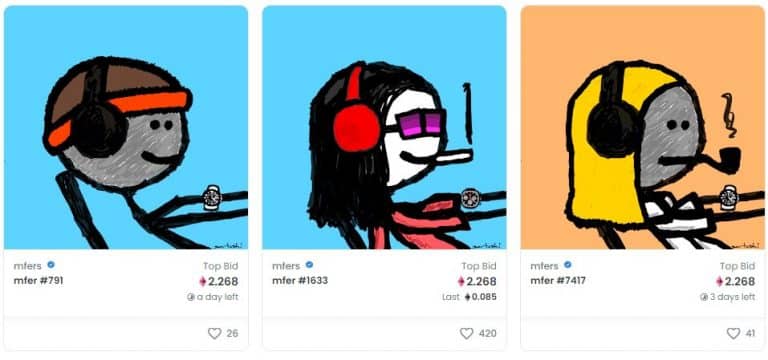 3landers
In third place is 3Landers, a collectible NFT project centered on community, adventure and collaboration. Holders of 3Landers NFT are called 3Landers and become members of a community
NFTs are built on the ETH blockchain. In addition, each of them has unique characteristics, like a DNA. At OpenSea, 3Landers NFTs start at $3,735.

WonderPals
Finally, Dapp Radar highlighted that the collection of NFTs called WonderPals is also on the rise. The collection consists of 10,000 tokens representing "delightfully cute friends" built on the ETH blockchain.
According to the project's website, NFTs were created from a combination of over 200 traits with varying rarity in different categories. There will also be some special tokens within the collection.
"Our vision is to bring more joy to the world and bring people together through community, creativity and fun art!" said those responsible for the collection.
At OpenSea, WonderPals start at approximately $290.