500,000 BTC wallets are used every day, says Coin Metrics
2 min read
Coin Metrics published in its "State of the Network #133" report an estimate of how many BTC wallets are used daily.
According to company estimates, there is a daily average of 500,000 active portfolios. The survey, whose measurements took place last week, took into account the current number of 1 million active BTC addresses.
As highlighted study, the number of active addresses and nonzero BTC balance addresses were, in the early days of cryptocurrencies, the best metric for estimating network usage.
According to the report, it quickly became clear that this approach had many drawbacks. After all, it ended up overestimating the activity of large services, such as exchanges or gambling services.
These entities manage millions of addresses, but they don't match one-to-one with users or wallets.
Thus, the addresses that belong to the same entity, called "portfolio", were grouped.
There are several methods for grouping addresses into groups associated with a wallet. The most efficient, according to the survey, is the so-called "shared input heuristic", mentioned in the BTC White Paper.
This methodology is also called Shared Input Property or Co-Expense Heuristic.
BTC wallets
As noted by the company, active BTC addresses tend to overestimate unique users. This is because users often tend to control multiple addresses.
The chart below shows the daily active addresses in contrast to the daily active BTC wallets.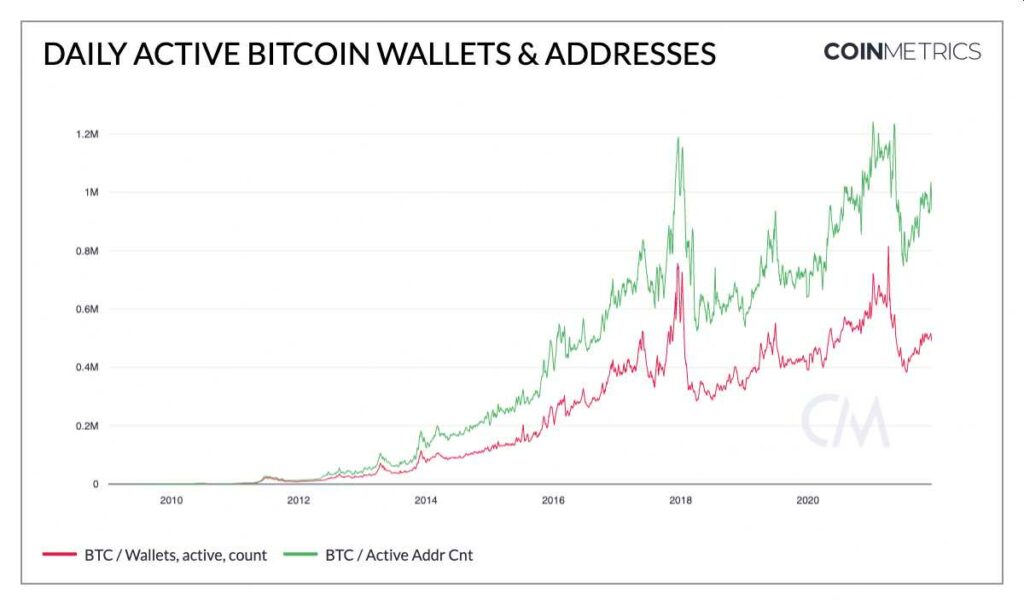 As you can see, the number of active addresses is generally higher than daily active wallets, by a factor of 2, the study says.
"Last week, there were an average of half a million active wallets per day, compared to about 1 million active addresses per day," said Coin Metrics.
The researchers argue that wallet metrics provide a better indicator of BTC users. However, they caution that portfolios should not be interpreted as unique individuals.
"There are groups of addresses that may be under the control of entities, such as exchanges, which facilitate the activity of many users on a daily basis", concludes the analysis.