50k $ or100k $? TOP hedge funds predict the BTC price at the end of this year
3 min read
We have another positive message for cryptocurrency fans. The newly published report shows that 65% of cryptocurrency hedge funds believe that the price of BTC will be between $ 50,000 and $ 100,000 on December 31, 2021.
According to the results of a survey of cryptocurrency price predictions and cryptocurrency market capitalization, which they conducted in the first quarter of 2021 Elwood Asset Management and PWC's cryptocurrency team, which was published in Q2 2021, look very promising. Out of a total of 55 cryptocurrency funds, most were optimistic and expected to reach the April peak of $ 65,000.
There is a bullish mood about BTC
Most of the predictions where the price of BTC will move at the end of the year were within range $ 50,000 to $ 100,000, while 21% of respondents said the price would exceed $ 100,000 to stop just under $ 150,000. 4% of respondents then said that the price would exceed $ 200,000. Less than 1 percent of respondents think that BTC will be below $ 50,000 at the end of the year.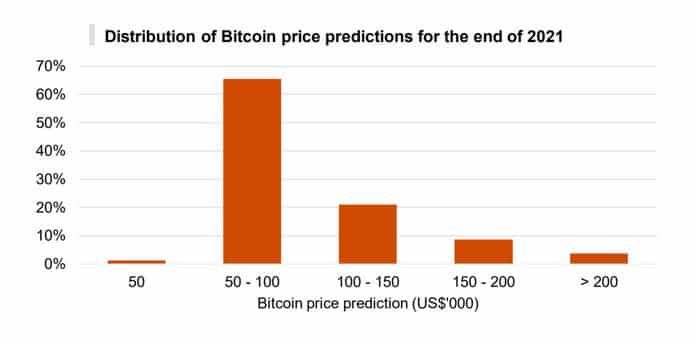 Top alternative exchanges for Binance without KYC verification