A statue in honor of Satoshi Nakamoto was unveiled
3 min read
A bronze statue dedicated to Satoshi Nakamoto, the famous creator of the world's most famous cryptocurrency, Bitcoin, was unveiled in Budapest, the Hungarian capital.
Statue for Satoshi Nakamoto
The work was created by sculptors Reka Gergely and Tamas Gilly and was located in a large park in the city center, near the river Danube. Its unveiling last Thursday was attended by about a thousand people who could admire the originality of the work.
Huge crowd turns up to see Hungary's statue of Satoshi #BTC 🇭🇺 pic.twitter.com/DPrIjJcFOO

– BTC Magazine (@BitcoinMagazine) September 16, 2021
Who is the creator of BTC?
No one has yet been able to find out who is really hiding behind the pseudonym Satoshi Nakamoto.
The authors therefore had to be very original in their effort to create a human figure without adding any distinctive character, thus preserving the secret that still surrounds the character of the creator of BTC. Gilly said:
"It was a big challenge. It is very difficult to create a portrait sculpture of a man we don't know exactly what he looks like. I hope that through sculptural language we have managed to communicate the basic idea of ​​BTC that it belongs to everyone and at the same time to no one. "
The face was created as a mirror in which you can see.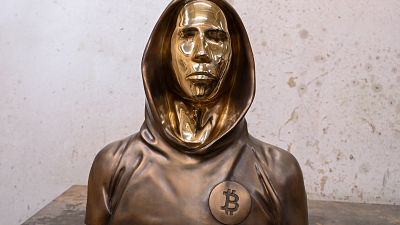 According to the authors, who raised about $ 10,000 in BTC from the cryptocommunity to create the work, this will be just the first in a long series honoring the person who created BTC.
Mythical character Satoshi Nakamoto
Since the mysterious Satoshi Nakamoto published the BTC whitepaper since November 2008, there has been speculation, research, announcement and investigation into who is really behind this pseudonym. According to some theories, the creator of BTC can even be a group of hackers.
At first, he was considered Michael Clear, a graduate of cryptography at Trinity College, but always denied that he had any connection with the creator or creators of BTC.
Some thought it was the Finnish programmer Martii Malmi who created the user interface for the crypto system.
Craig Wright, an Australian businessman, claimed to be Satoshi Nakamoto, but there is no evidence, so the secret of his true identity remains shrouded.
Hungary is one of the most pro-crypto countries in Europe
Despite the fact that Hungary is always portrayed as an illiberal country in terms of cryptocurrencies, the government seems to be very supportive of their development.
In March of this year, a very accommodating tax law was passed for cryptocurrency traders. Under this law, those who trade in cryptocurrencies will pay 15% tax instead of the 30.5% tax that is currently in place for such financial activities.
In addition, there are no specific rules or restrictions for cryptocurrency-related activities, including mining. For this reason, too, the Hungarian cryptocommunity is growing exponentially. Even some Chinese miners who fled the government ban moved to Hungary to continue their activities.
Top alternative exchanges for Binance without KYC verification