Address activity in the ETH network has increased by 50% since the beginning of October
2 min read
The recent rise of the second largest cryptocurrency, Ethereum (ETH), has led to an increase in network activity. According to the Santiment analysis platform, since the beginning of October, address activity on this blockchain has increased by 48% after a sharp decline at the end of September.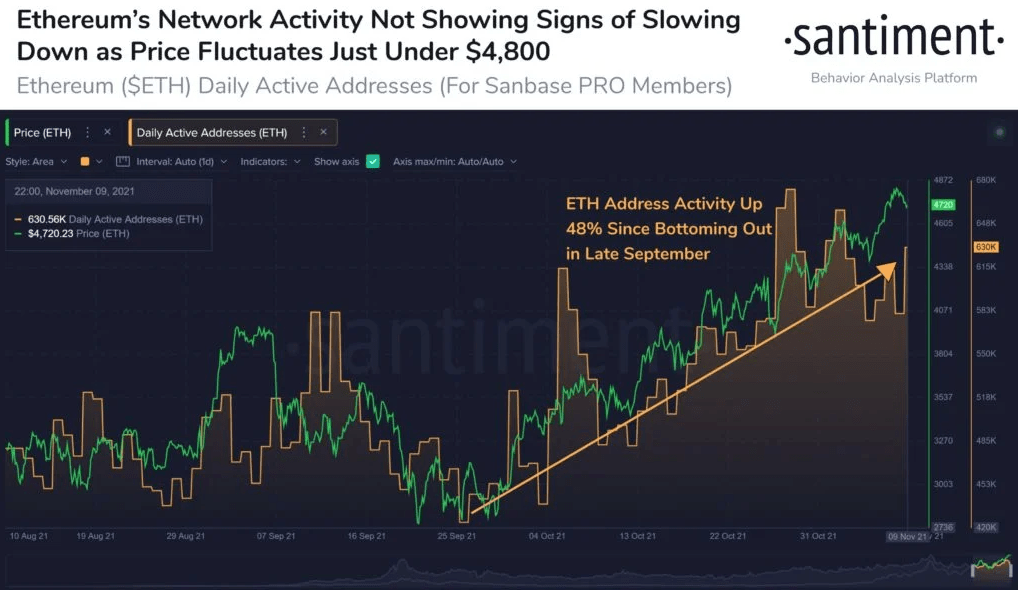 Network activity on Ethereum has been growing since October, what has led to this?
In the same period, Ethereum's value reached a new all-time high, rising by about 43% since October. The second-largest cryptocurrency managed to sustain growth after falling to about $ 1,780 on July 21.
Network activity reflects Ethereum's role as the dominant blockchain used to build thousands of decentralized applications (dApps), helping to grow the native ecosystem.
It is one of the fastest growing networks supporting decentralized finance (DeFi) and nonfungible tokens (NFT). The two products led ETH to see an increase in capital inflows, leading to a higher market capitalization, which at the time of writing was nearly $ 558 billion.
In addition, the network has been upgraded to make it faster and more energy efficient. Significant updates include EIP-1559, which was launched in August and network start to burn part of the commissions paid to the miners, thus reducing net emissions.
The updates are also in line with the move to the Proof-of-Stake algorithm. Before the transition, the network is likely to experience an influx of new users who want to do staking. To date, the volume of deposits in the ETH2.0 smart deposit contract has reached a record level of almost $ 38 billion.
The successful upgrade of the Beacon Chain Altair also helped in this direction: 98.7% of the nodes were upgraded during the launch. The update is considered a significant step towards the implementation of Ethereum 2.0.