Baby Doge to Debut in NASCAR With Branded No. 68 Camaro
2 min read
The charity-focused Baby Doge crypto will be a sponsor this Saturday at the Credit Karma Money 250 for Brandonbilt Motorsports. 
The cryptocurrency craze in NASCAR continues in Atlanta this week with Brandon Brown's No. 68 Camaro being sponsored by Baby Doge. The coin, an offshoot of the meme coin Dogecoin (DOGE), has been labeled as the world's first cryptocurrency that is dog-charity-based.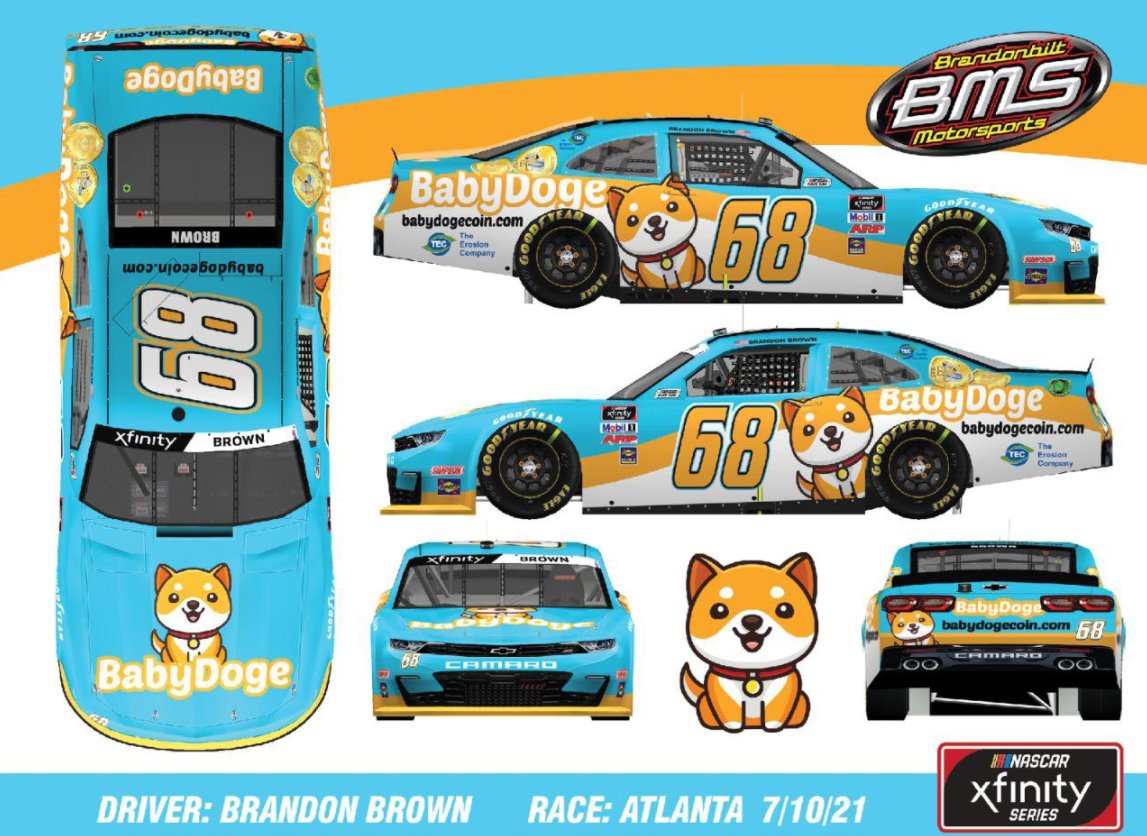 The crypto, which has dubbed itself the "son of DOGE", has donated nearly $100,000 to charities that care for canines. Created in June 2021, the for-charity coin has gained around 500,000 investors after some help from the Dogefather himself, Elon Musk. 
In a statement about his sponsor this weekend, Brown spoke about his desire to help further the cause of caring for animals. "Being a dog owner and animal lover myself, I'm very excited about this partnership and the meaning behind Baby Doge Coin's initiatives. The car looks awesome and I can't wait for everybody to see it on track this weekend."
As of right now, the price of baby doge is on the rise and valued at $0.0031693. That is an increase of +888.05% over the last 24-hours.
Cryptocurrencies racing to NASCAR
Because of the nature of racing sponsorships, cryptocurrencies have found a home on cars before. Recently, NASCAR announced that dogecoin would be sponsoring a car and be run in the Xfinity Series. Piloted by Stefan Parsons, the No. 99 Doge Chevy Camaro set the Twitterverse ablaze when it was announced. Sadly, Parsons crashed early and sent the price of DOGE into a tailspin, losing around 20% value the following week. 
That car was not the first DOGE-sponsored car to run in NASCAR however. It might surprise many that the first time dogecoin sponsored a driver was way back in 2014. The driver, John Wise, was looking to fundraise his trip to Talledega and through a random series of events, saw the dogecoin subreddit come to his aid. The dogecoin clan managed to raise $55,000 for Wise and were able to punch his ticket to Talledega that year.
The car was so popular that a 1:24 scale die-cast car was created, and the livery was featured in that year's NASCAR video game as part of a special DLC pack.
The post Baby Doge to Debut in NASCAR With Branded No. 68 Camaro appeared first on BeInCrypto.