Banning BTC would not make the planet greener
2 min read
A recent survey showed that most people in the UK would not support their government if they took action against BTC for environmental reasons. Perhaps a little anticipated, there were older proponents that banning BTC could be an effective measure to help combat climate change.
Banning BTC is not the best idea
The first ten months of 2021 were another turbulent period for BTC. The primary cryptocurrency reached an all-time high of nearly $ 65,000 in April, but then fell to $ 29,000 in July over the next few months. However, institutional acceptance, the launch of the first BTC futures ETF in the United States, and many other factors brought it back to a new peak of about $ 67,000.
Although many describe the asset as a great hedge against rising inflation and even better than gold, the way it is mined still raises environmental concerns because the process uses a huge amount of energy. According to some reports, BTC production accounts for 0.46% of global electricity consumption worldwide, which is more than the Philippines consumes annually.
However, banning BTC would not help the planet much. At least that's what 55% of Britons think. As in previous similar opinion polls, the YouGov survey revealed that opinions on the subject differ in different age groups.
For example, only 21% of people under the age of 24 would support the authorities if they introduced a total ban on BTC. On the contrary, 63% of older people – people over the age of 65 – would say "yes" to this idea.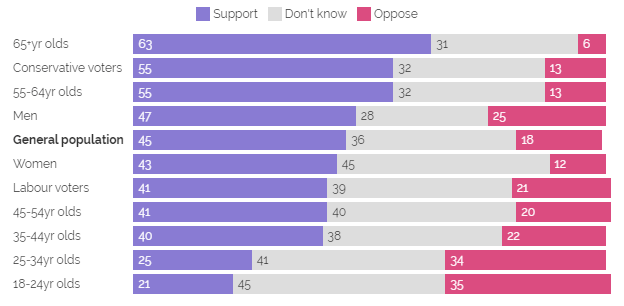 Men were more likely to oppose such a ban than women. It is worth noting that men are much more involved in the digital assets sector than women, which could explain their position.
If you wanna check full survey from YouGov, you van find it HERE.