Bitcoin Cash analysis – ready for reflection?
2 min read
Bitcoin Cash (BCH) as well as Litecoin or ETH have recently had some of the same process. However, this process has stopped and the situation is quite uncertain for almost a few days. Mainly due to the fact that BTC stopped its progress after reaching the new ATH. The market's self-confidence has not lasted very long, which is precisely the result of our king's hesitation.
Current situation at 1D BCH / USD
So just to sum it up, BCH broke through the small bull flag, which brought the price above the S / R level of 630 USD. It was a really solid price action and even accompanied by a volume spike. But rejection came just above that level. She closed the daylight like a Doji. A short decline followed, but in the end the exchange rate still managed to return above 630 USD.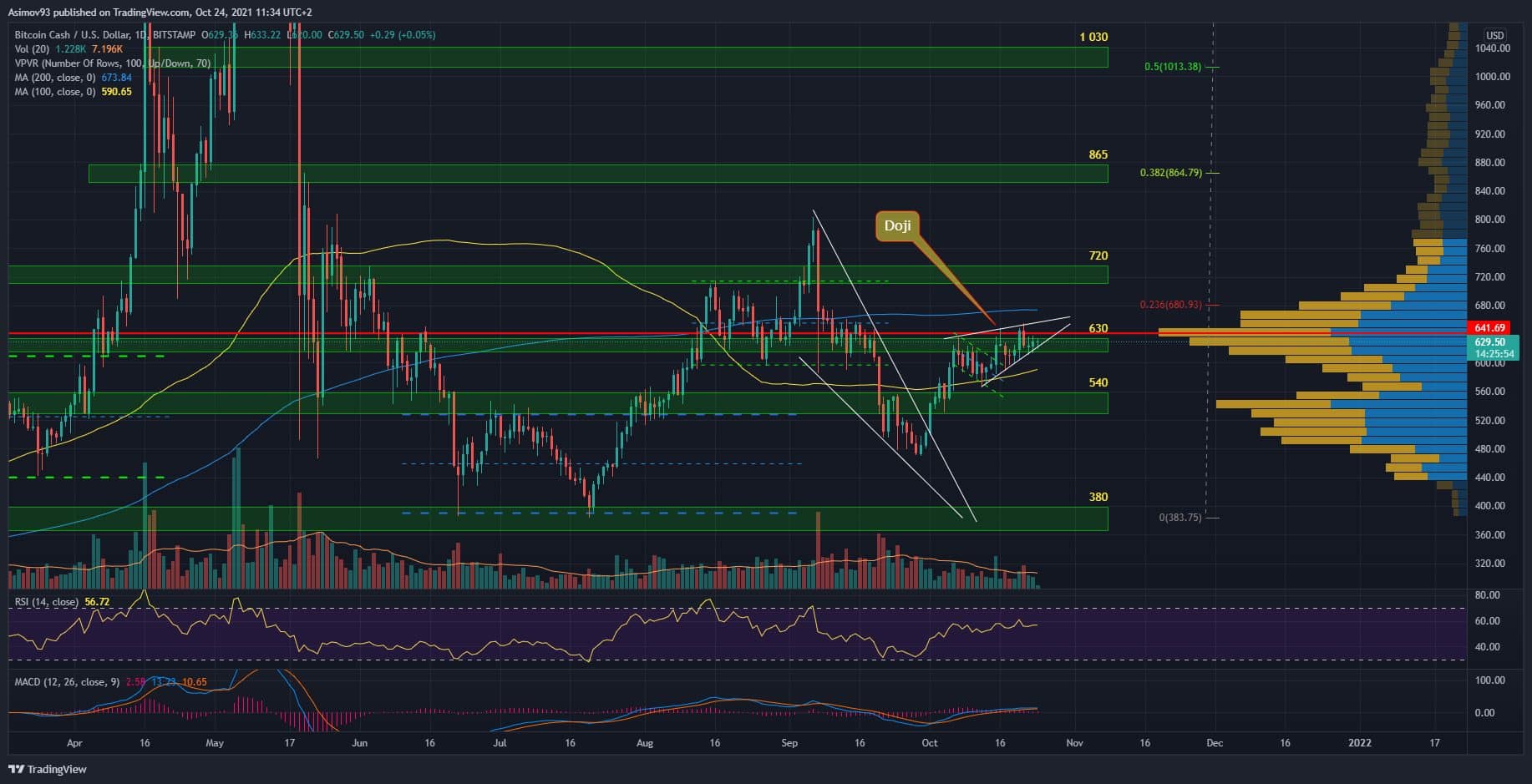 But the market structure itself resembles a growing wedge. This is not a natural bull structure. In addition, the pattern is confirmed by volumes that are steadily declining. Therefore, the situation is not exactly bullish from this point of view. Among other things, the course obviously fails to break through high volume node volume profile. It is of the utmost importance that BTC cash definitely gets above this level.
On the other hand, the exchange rate is still at the S / R level of 630 USD. Therefore, the probability of rebounding to higher price levels is certainly considerable. In addition, we are above moving average (MA 100), so we keep a short-term rising trend. And most importantly, when you manage to overcome the high volume node, MA 200 and S / R level of 720 USD, you can look forward to a huge price expansion, as it was in April this year.
There is almost no resistance to these obstacles. Respectively, they are, but quite weak. You bid pools should not be very liquid in the +720 USD range. Then price growth can be very aggressive.
Indicators
The peak of RSI is about 61 points, so we didn't get high at all. The potential room for expansion is therefore fores. But the market must definitely show some strength. It shows it best when he breaks over the limit of 70 points. It's not very happy on MACD. The histogram is full of bearish divergences and threatens a bearish cross.