Bitpanda Review, How To – Buy Precious Metals For Cryptocurrencies!
3 min read
Bitpanda exchange is on the European fixed-currency cryptocurrency market. The cryptocurrency exchange offers a range of tokens that you can trade safely and quietly. You can also buy gold, silver, platinum and more for cryptocurrencies. In this article, you will find Bitpanda reviews and also Bitpanda trading instructions.
Basic information
Head office: Vienna, Austria
Formation of the company: 2014
Available cryptocurrencies: BTC, LISK, USDT, Tezos + are constantly being added
Fiat currency: EUR
Verification: Required
Trust in society: Strong
Charges: When order is canceled
Customer Support: Very active
Language: English, German, French
Page: https://www.bitpanda.com/en
Bitpanda review
Is Bitpanda Safe?
Yes it is. since 2019 the exchange office has been regulated by the Austrian authorities. This means more work during registration and verification, on the other hand it will never steal your funds and everything must be properly insured. Currency exchange is one of the best services in this respect.
The exchange's wallet uses 2-step verification to capture even the biggest mistakes of new investors.
Interface and simplicity
The cryptocurrency exchange works on both your computer and your Android phone. This is especially useful if you do business on the go.
Like the mobile application, the desktop application is simple and swift to use.
Community and support
Cryptocurrency Exchange offers a fast and efficient email service. In addition, you can also join the Telegram Group where the community will answer most of your questions.
Trading of gold and other metals
The huge advantage is that the company also penetrates the commodities market. Trading gold, silver, precious stones and cryptocurrencies in one place is literally the dream of every investor who does not want to go through complex procedures for investment.
You can trade real gold, silver, palladium and platinum in the exchange. All commodities are stored in safes in Switzerland.
In addition, the first 20 grams of gold, palladium and platinum + 200 grams of silver are without maintenance fees.
As a result, the exchange office has partnered with Pro Aurum and Philoro. They offer shares in real gold.
Bitpanda fees and rates
Bitpanda cryptocurrency exchange works on a fee-based system. This means that the exchange rate always reflects supply and demand and nothing is hidden. So you can easily calculate your fees and decide whether or not the exchange office pays off.
Deposit: Up to 0.05 BTC is free.
Withdraw: The selection is about EUR 0.5 – It varies based on cryptocurrency
Sale: 1.29% charge
Purchase: 1.49 fee
Bitpanda instructions
Step1
Sign up. You will need your email to confirm. Also, your first name, last name and a quick questionnaire about the financial situation are required from the start.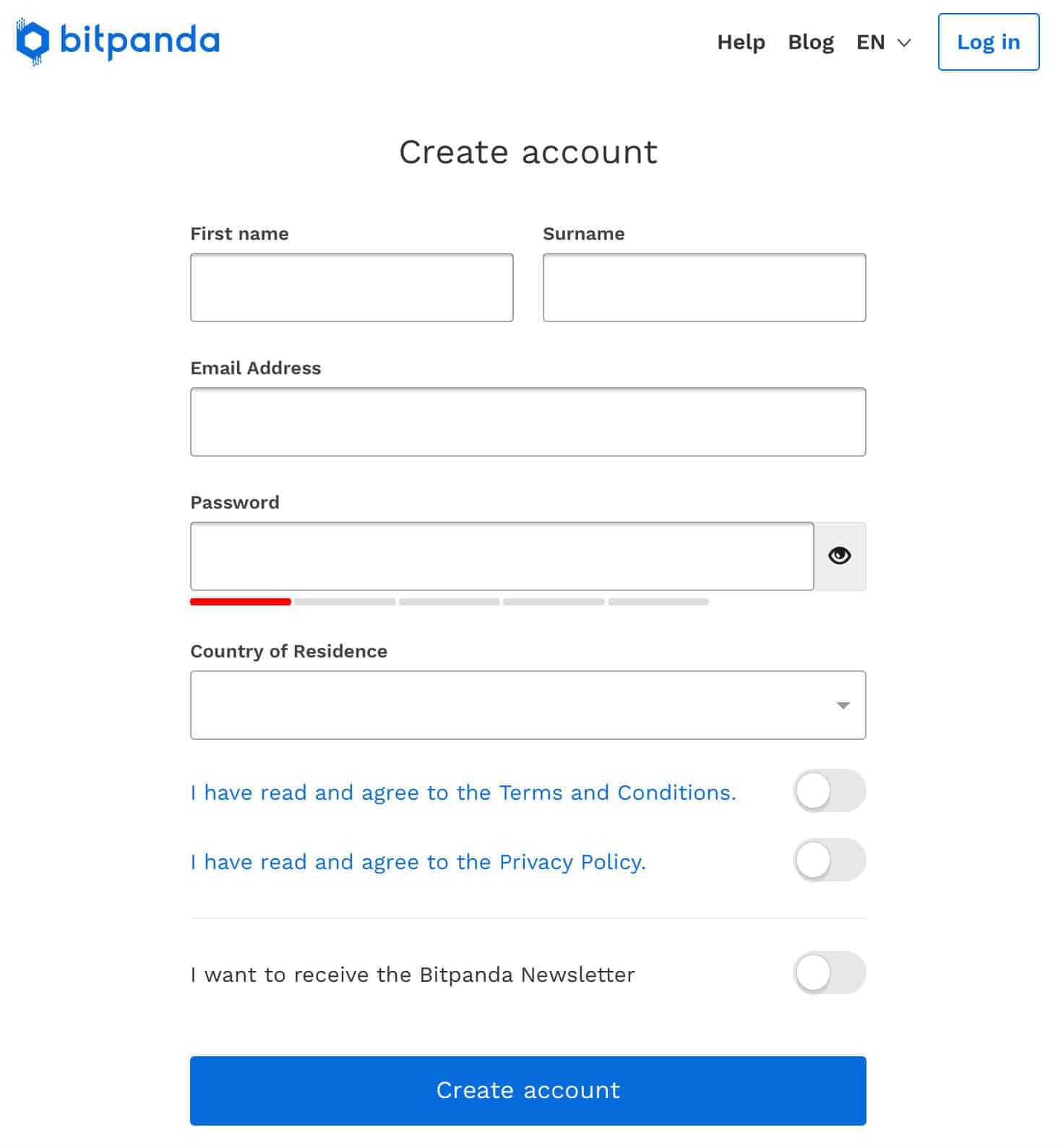 Step 2
The second step is perhaps the most annoying. Given the possibilities it offers, it really pays off. You will need to verify your account to comply with the requirements of Austrian law.
You can verify immediately after signing in. Just click on the big sign on the main page where the stores are located. You will also must to take your identity card or driver's license, provide a bank statement and take a selfie with a paper with your name. Once this is done, you can insert a fiat.
Step 3
You will now need to deposit funds to the exchange office.
In the upper right corner, click on "Deposit". The button is next to the panda graphic. Then select your deposit method. You can choose from credit cards to SEPA bank transfer.
Step 4
Unlike many other cryptocurrencies, fiat is deposited on this exchange, which is then used to buy cryptocurrencies.
On the main page, select the token you want to buy. At the top right is the word "Trade" where you can buy or sell. You choose a purchase that completes and the crypto currency is credited to your account.