Brazil is the 3rd country in the world with the highest adoption of NFTs
2 min read
All over the world, non-fungible tokens (NFTs) have become a real rage, with companies, celebrities, sports teams, TV stations and others launching collections of digital items.
In Brazil, this was no different. On the contrary. According to a recent report by DappRadar, Brazilians are among the most active in the NFT market. More precisely, Brazil ranked third in this regard in the world ranking.
Use of Blockchain in the World
The report in question is called "Blockchain User Behavior Report". In it, DappRadar, a platform that provides portfolio analysis and tracking for the decentralized application (DApp) markets, analyzes trends from a blockchain industry perspective and identifies patterns in the DeFi, NFT and Gaming spaces.
As the document points out, in 2021, the blockchain audience in general has grown significantly. And that growth was driven by NFTs and blockchain gaming, which were unaffected by the cryptocurrency slump.
According to DappRadar, at the end of last year, the DApp industry attracted more than 2.5 million unique active wallets (UAW) daily. This level of utilization represents a growth of more than 700% compared to 2020.
In this regard, China is the country with the largest user base, 204,000 users, despite the cryptocurrency ban.
"The Asian market continues to increase its presence in the industry in general. With a high interest in blockchain gaming and the potential for NFTs, the Asian region is undoubtedly one to monitor closely," the report reads.
In second place comes the United States, which saw its traffic grow by 38%, with more than 175,000 users.
Next are the United Kingdom, Russia, the Philippines and Brazil, which have lost ground to India. However, they continue with the audience engaged.
Traffic from these four countries exceeded 168,000 users and grew by around 30% on average. Brazil had, in December 2021, 39,260 users.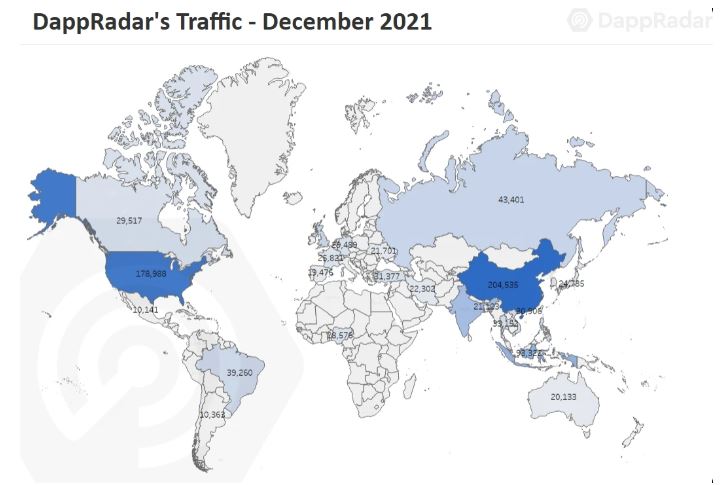 Source: Dapp Radar
NFTs
As for the NFTs market, the report highlights that, despite the volatile cycles of cryptocurrencies, they have maintained a stagnant positive trend.
The role of NFTs in the metaverse and in play-to-earn games contributed to the positive metrics.
Regarding NFTs as collectibles, DappRadar highlights that America is still the most active region. Once again, the US leads traffic on DappRadar NFT.
In second place are the Philippines and Brazil, it appears in third place, above Mexico, Indonesia, Poland and others.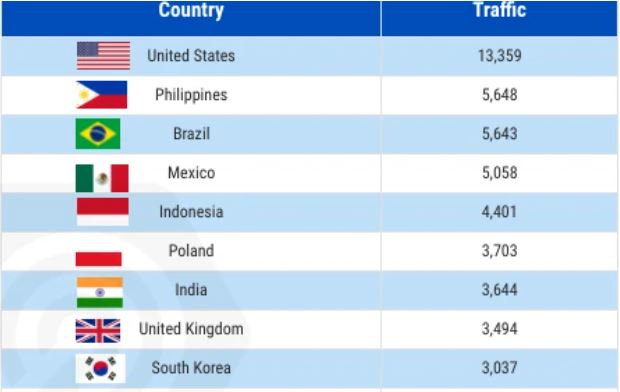 "The huge interest in sports, fashion and celebrities displayed on that side of the globe translates into a growing interest in the NFT space," the document highlights.