BTC dominance hits highest level in seven months, trader warns altcoin investors
3 min read
With the devaluation of the market, Bitcoin increased its total share compared to other cryptocurrencies. According to CoinMarketCap, the BTC dominance index has returned to the 45% region, which has not happened since October 16, 2021.
Although overestimated, the dominance indicator still has its uses. In times of decline, it indicates where investors' money is going. The greater the dominance of BTC, the more money remains invested in the network.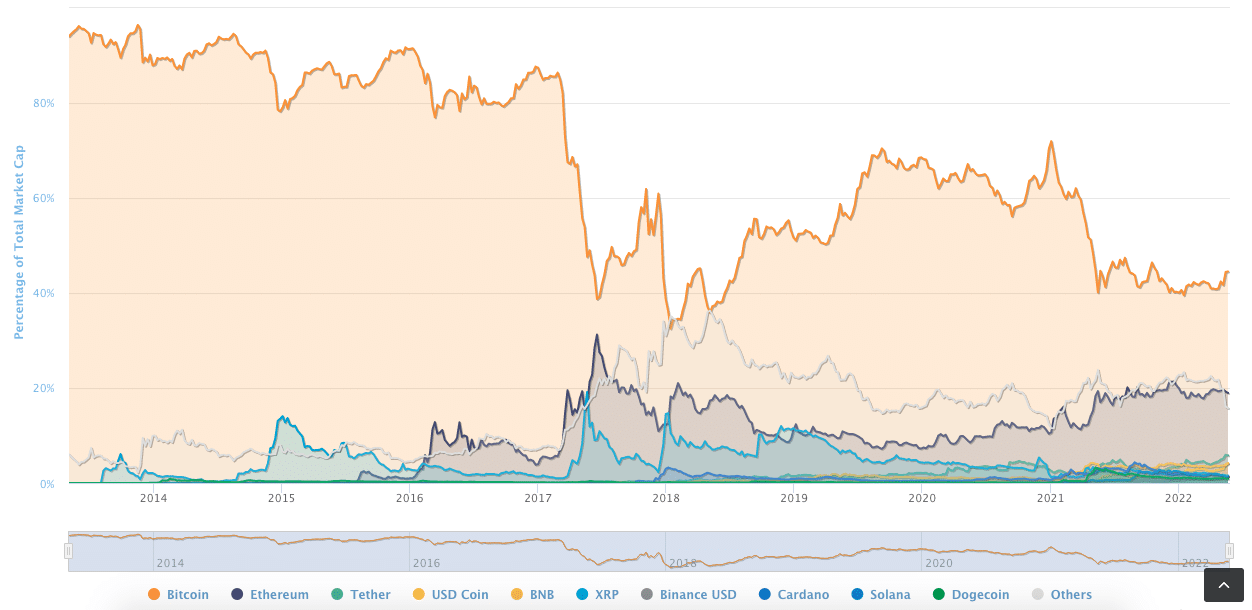 Percentage of BTC dominance over other cryptocurrencies. Source: CoinMarketCap.
Typically, dominance increases are a warning sign for those who invest in altcoins. For analyst Jason Pizzino, alternative cryptocurrencies are not on favorable terms when it comes to long-term investments.
According to the analyst, smart money – coming from big investors – has not yet entered the market strongly enough to prevent further declines. Although many altcoins are already close to their lows, Pizzino believes there is still room for further devaluations.
Be careful when making average price
Pizzino makes a special alert for those who want to make average price with altcoins. The strategy, known as Dollar Cost Average (DCA), allows the investor to mitigate losses and, therefore, have more profits in the long run.
However, Pizzino says the strategy is safe at times when prices are less volatile. But the current situation is very different, with many cryptocurrencies that could still drop into double digits.
"Using the DCA method for altcoins is dangerous as there is still the potential to lose 50% to 70% of that amount. There is no accumulation range yet, which means no smart money buying yet. There is no escape from an accumulation range. The moment is high risk and extremely dangerous in my opinion", he warns.
An example of this risk occurred with Terra Classic (LUNA), whose price collapsed. At first, the cryptocurrency dropped from $100 to $1.00, a 99% drop. At this point, investors thought that the price could not go down any further than that.
The problem is that LUNA recorded two more value losses of more than 90%, which lowered its price even further. Currently, the price of LUNA is below US$ 0.00, that is, in practice, it has turned to dust.
"Cryptocurrency investors using DCA in altcoins are really not doing them any favors. That's what we've been looking at for months and of course most recently in the last few weeks," said Pizzino.
BTC follows the opposite trend
If the scenario is not optimistic for altcoins, on the other hand, BTC is heading in the opposite direction. Despite having dropped 21% since the beginning of May, the rise in dominance suggests a rebound in price.
In this regard, BTC is preparing to absorb large amounts of capital from the rest of the market. With a greater flow of money, the price tends to appreciate, surpassing the average return of altcoins
"Right now, I think it's a great season for BTC. It's been BTC season for the past few weeks. You can see that these lows (of dominance) were around 41%, but now it's above 45%. The next level is in the region between 50% and 56%, so BTC would basically take back more than half of the total market cap," predicts Pizzino.
Can BTC be regulated and centralized? The answer will surprise you