BTC hash rate grows 170% and returns to pre-China ban levels
2 min read
China's ban on BTC Miners (BTC) was the biggest blow to the cryptocurrency network in recent years. However, the processing power (hash rate) recovered quickly and grew no less than 170% in the last 90 days.
As a result, the current BTC hash rate is at 178.5 EH/s (exahashes per second), as per pool data btc.com. This is the highest level since the 179.25 EH/s recorded on May 13th.
In the wake of the hash rate, the BTC's mining difficulty is also trending up. According to the pool, the difficulty should rise 6.51% in the next adjustment, reaching 23.79 T. The adjustment should take place during this weekend.

Ban increased decentralization of miners
The flight of miners from China after the ban, which became known as the Great Migration, was the clearest example of the BTC's resilience in recent years. When miners shut down their machines and left China, the hash rate collapsed.
In just a few weeks, the drop reached 65% and brought the total hash rate to a minimum of 68 EH/s. After suffering such a brutal cut, the market panicked and questioned the system's resilience.
However, as miners relocated to other countries and their machines were turned on, mining recovered. In that sense, what China has done is to benefit the network, making miners more decentralized around the world.
According to data from Cambridge University, around 65% of the BTC hash rate was concentrated in China before the Great Migration. After miners dispersed, this potential went to 0%, while other countries increased their share.
The main winner was precisely China's biggest opponent today: the United States. When receiving miners in regions like Texas, the US now accounts for 43% of the total hash rate, leaving behind Kazakhstan (21.9%) and Russia (13.6%).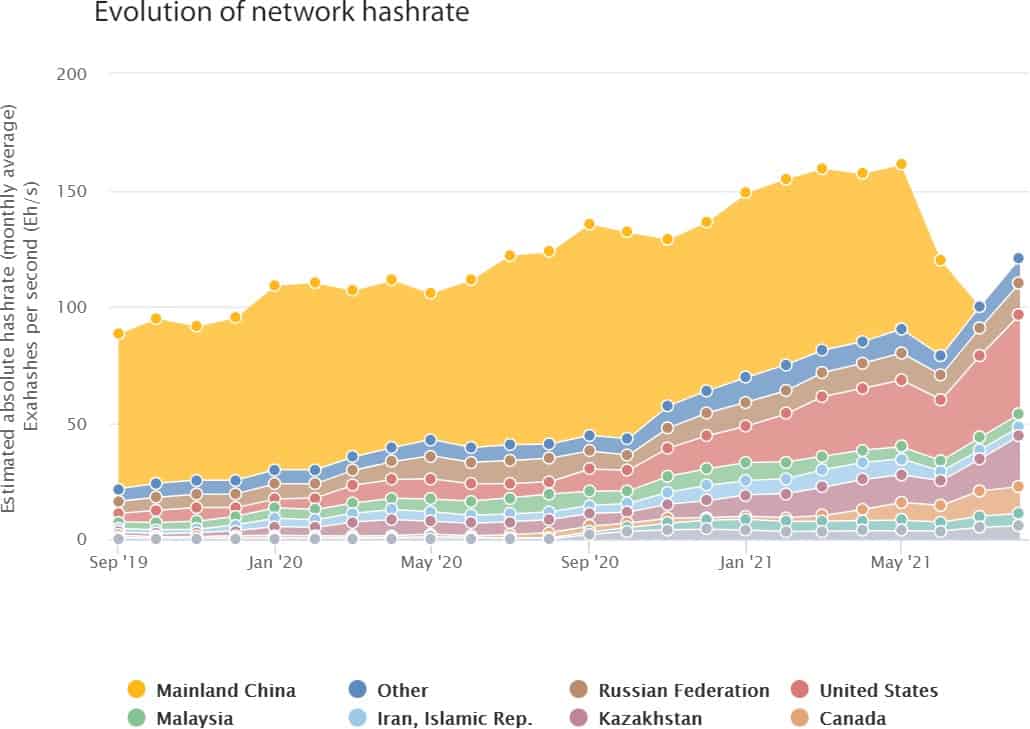 Understand the hash rate
The hash rate is the measure that measures how much processing power is being dedicated to the BTC network. The higher this metric, the more protected the BTC will be against external attacks. In fact, the growth of the hash rate meant that no BTC attack was ever successful.
In addition, the hash rate ensures that transaction blocks are processed at an average time of 10 minutes. When this metric drops, transactions can take a long time to be approved and fees can skyrocket in value.
To fix this problem, the difficulty adjustment comes into play, which takes place every 2016 blocks – or about two weeks. The adjustment reduces or increases the mining difficulty as the BTC's hash rate evolves.
Thus, if the hash rate drops, the difficulty is reduced in order to attract more miners to the market. Conversely, the difficulty is readjusted upwards when the hash rate increases.
How ASIC orders from institutional miners affect the price for terahash