BTC is the worst cryptocurrency for the environment, while Stellar is the best
2 min read
According to Forexsuggest, BTC is the worst cryptocurrency for the environment, releasing almost 453 kg of CO2 into the air when processing a single transaction.
Forexsuggest has studied several cryptocurrencies and calculated the estimated carbon emissions and the amount of resources that would be needed to suppress their effects. As they explain in report, used data from Statista, Business Insider India, Laptop Mag and other sources.
BTC, ETH and BTC Cash: The worst cryptocurrencies for the environment
As expected, BTC and ETH are the two most polluting networks on the planet. They also concentrate the largest hashrate.
In 2021 alone, BTC produced about 56.8 million tons of CO2, two and a half times more than Etherum. The environmental impact is such that the company estimates that about 284.1 million trees would be needed to neutralize all the pollution discharged by BTC miners.
ETH pollutes much less, but its performance is far from healthy: Etherea's miners have so far produced 22 million tonnes of CO2 this year, which requires almost 110 million new trees.
BTC Cash, a BTC fork created in 2017 to mine larger blocks (resulting in an even more polluting network), is third on the list with 1.5 million tonnes of CO2. However, it is the network with the highest year-on-year increase in emissions, when the amount of polluting gases increased by 748%.
The study reveals that BTC mining has reduced pollution levels by 5%, probably after the miners moved out of China and relocated to countries with greener energy sources, such as the United States.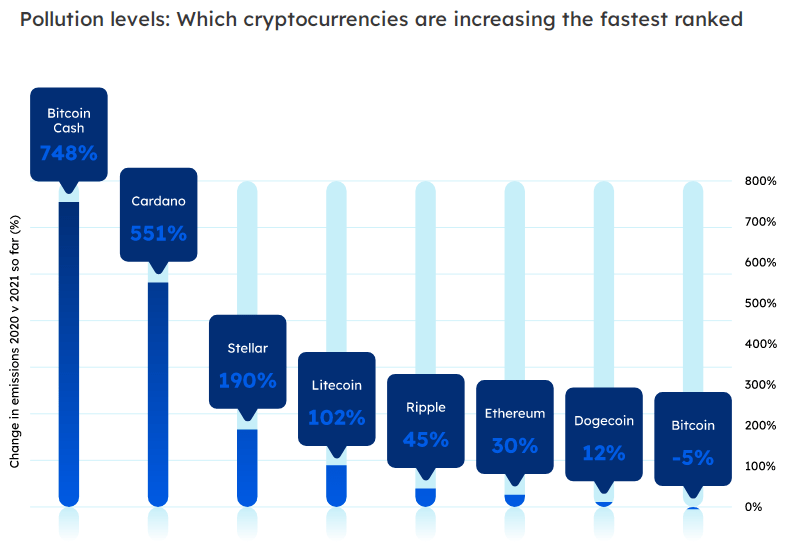 The most environmentally friendly cryptocurrencies in 2021
But the cryptocurrency industry also has its green alternatives.
Nano ranks third in this list. Nano can process about 125 TPS, which requires only 0.000112 kWh per transaction, which is the minimum in terms of CO2 emissions.
The second most economical coin is IOTA, which requires about 0.00011 kWh per transaction.
According to research, Stellar is the most environmentally friendly cryptocurrency, Ripple's competitor requires only 0.00003 KWh per transaction, which is barely a third of what IOTA requires. Stellar emits 0.0204 g of CO2 per transaction, which is almost nothing compared to BTC's 453 kg.