BTC may have set a price floor, according to leading indicator
2 min read
The last few weeks have been quite challenging across the entire cryptocurrency market. However, the price of BTC (BTC) appears to be close to establishing a price floor. This is what the Relative Strength Index (RSI) shows, one of the main indicators for BTC.
On the 9th of January, the RSI was at the lowest point since the sharp correction that took place in May. That is, BTC was as weak as it was at the time when it dropped almost 50%. The last time the RSI was this low was in March 2020 – during the Coronacrash.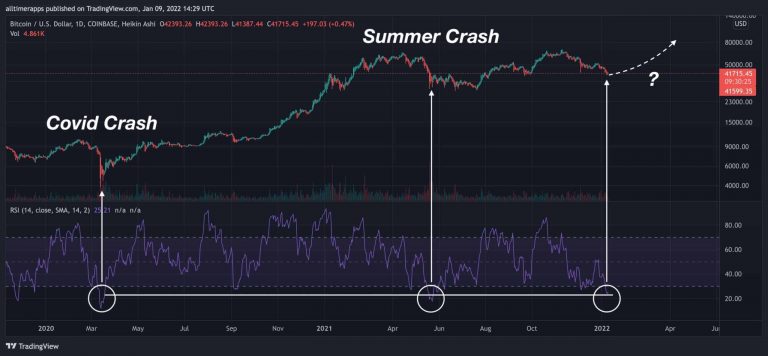 What does this mean for the price of BTC? On two separate occasions when BTC's RSI dropped to current levels, it marked some sort of a local bottom. Once the price reached that bottom, there was a substantial increase in the following months.
In fact, the above projection uses historical RSI to make a valuation estimate. If the indicator's performance is repeated, BTC could start to appreciate almost 100%. In short, the cryptocurrency would come close to the $80K levels.
Understand the RSI
The RSI is a metric that serves as an oscillator of momentum, whether it's bullish or bearish. Therefore, this index measures the change in the prices of an asset, as well as its velocity. The RSI oscillation level transits between 0 and 100.
Within this range, the RSI has two relevant levels: 70 and 30. When the index reaches above 70, the RSI indicates price above "fair value", or overbought. If the RSI is below 30, it indicates undervaluation of the price of an asset.
In this regard, the current RSI suggests that the bottom of the BTC price is closing. In other words, the current price, quoted at around $41,300, would be close to a floor.
Fear and greed
Another possible lower indicator could be the Fear & Greed Index, a gauge for current sentiment across the market based on various criteria such as volatility, market momentum, social media, surveys, dominance, trends, and so on.
Like the RSI, the fear and greed index also has a measure between 0 and 100. Below 25, the index points to "extreme fear" of the market. This week, the index reached 10, the lowest index since the Coronacrash.