BTC miners earned $ 1.72 billion in October
1 min read
Last month, it became the second in terms of profitability in the entire history of mining the first cryptocurrency.
In October, BTC miners earned $ 1.72 billion, according to The Block. Another 10% of revenue came from online transaction fees.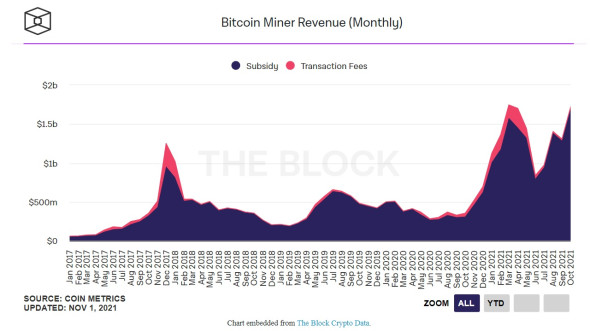 Last month became the second most profitable month in history for miners. The record month was March, when the miners of the first cryptocurrency earned about $ 1.75 billion.
At the beginning of October, the daily profit of the miners exceeded $ 40 million. Then the profit was around $ 14-18 million a day.
BTC gained more than 40% in October. The cryptocurrency has restored its all-time high, which was set in May and exceeded $ 67,000.