BTC Miners HODLing BTC as Revenues Reach Monthly Highs
2 min read
Miners are at a positive net position change, according to Glassnode data. Most are continuing to hold on to the asset instead of selling.
Data from Glassnode shows that BTC miners are focused on hodling the asset as opposed to selling it, as indicated by the net position of these miners. Current figures show a net position change of around 5,000.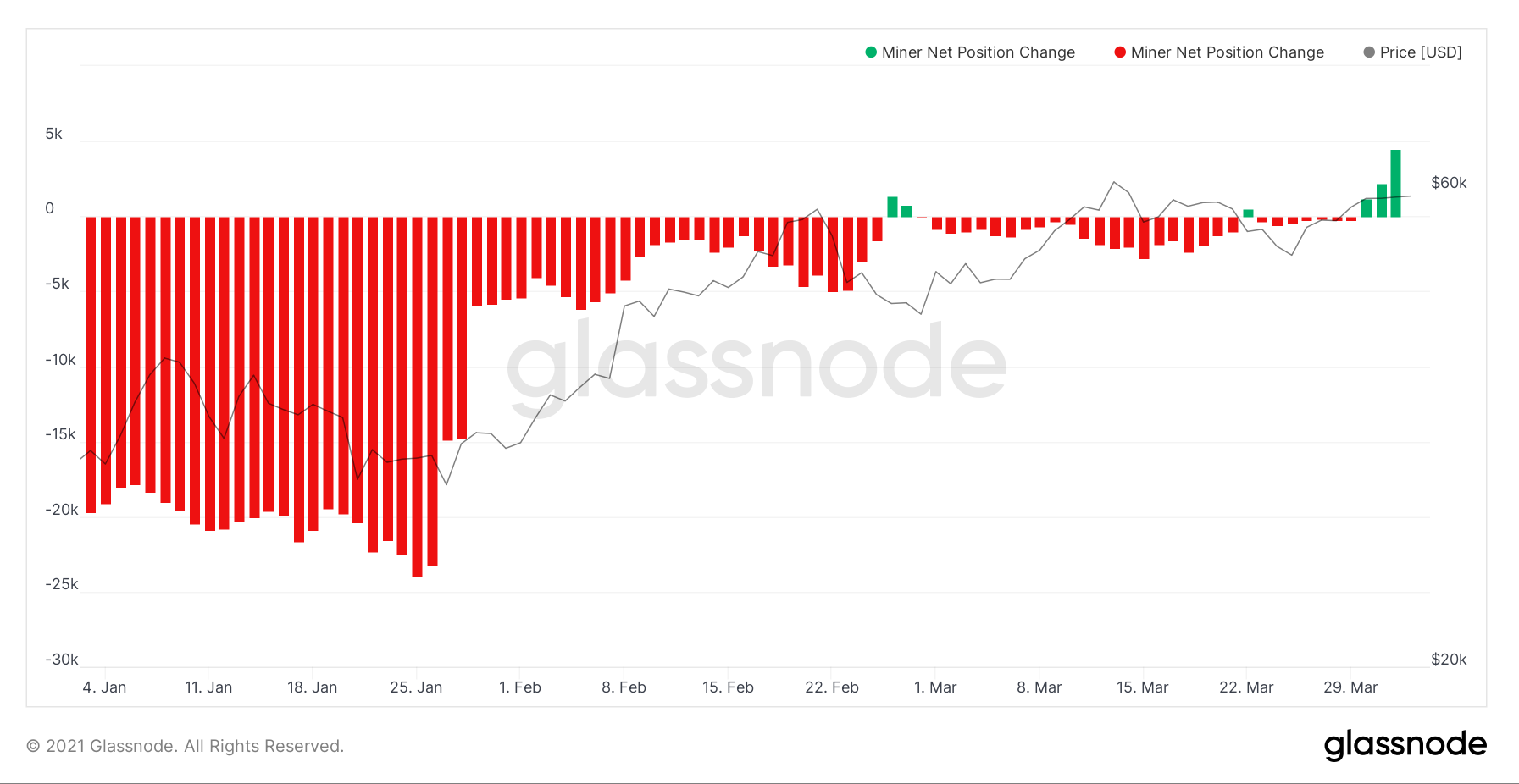 Mining revenue, meanwhile, has remained more or less the same in the past three years. However, monthly BTC mining revenue hit a new record of $1.5 billion in March 2021. This is an increase of 373% from September 2020, according to Arcane Research.
Before the current bull market cycle, miners were in a tough spot. While most in the space are confident of BTC's long term value, the cost of running expensive mining farms to achieve a net positive result is high.
The pools, farms, and companies that have managed to do so in the past 18 months have had to endure a lot. As the difficulty of mining continues to climb, so does the hash rate, which is near approximately 175 exahashes per second.
Mining is currently receiving criticism from multiple sources due to its power consumption. Investor Kevin O' Leary recently said that he would only buy BTC mined using clean energy — and none from China.
Still, BTC mining continues to be popular, so it will be a matter of authorities stepping in to enforce clean energy use. Regulation is still so nascent that this may yet happen.
How High Can BTC Go?
The question of BTC's price is on everyone's mind — but there isn't a unanimous agreement on where it will go.
Many professional investors and firms have now changed their stances on the so-called "digital gold." Citibank targets $318,000 by 2023, while JPMorgan Chase expects BTC to reach $146,000. Both of these firms have offered some positive remarks regarding BTC's role as digital gold.
At the same time, investors and insiders are proceeding cautiously. Bobby Lee believes that the market operates in lengthy bull and bear cycles, with the next bear cycle likely to bring major corrections.
The post BTC Miners HODLing BTC as Revenues Reach Monthly Highs appeared first on BeInCrypto.