A bullish news for bitcoiners? The outflow of BTC from spot exchanges reached an annual maximum
2 min read
BTC investors stopped stocking their assets on cryptocurrency exchanges and began to withdraw them in significant quantities, and the outflow reached an annual high, according to on-chain data. Furthermore, it turned out that most of the selections came from retail investors, but whales and institutions have also recently accumulated BTC.
The outflow of BTC from exchanges reached an annual maximum
Data from CryptoQuant highlighted recent trends in the withdrawals and deposits of BTC investors for cryptocurrency exchanges. To some extent, their behavior is also related to price movements. Holders generally send their coins from cold wallets to trading venues when they intend to sell them and transfer them back when they are planning a HODL for a longer period.
Deposits as such skyrocketed to new highs in mid-May after a FUD triggered by Elon Musk and China. At this point, the price of BTC had already begun to plummet, dropping another 20,000 to about $ 30,000. When the dust settled, most investors reduced their deposits, but it seems that there has been a complete change of mind recently, as the following chart shows.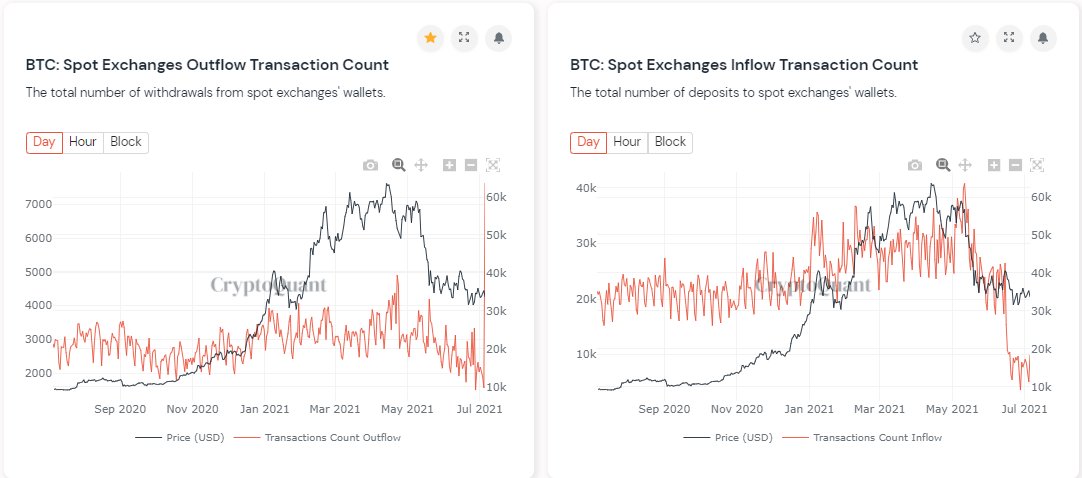 Demand for Canada's first BTC ETF also prompted the company behind it – Purpose Investments – to buy the asset. Its shares have increased by 30% in a few weeks and the Purpose BTC ETF holds about 22,500 coins.
Binance Futures Guide – Long, Short with up to 125x levearge!