BTC whales purchased 60,000 BTC during the highest daily accumulation peak of 2021
2 min read
BTC whales, which hold between 100 and 10 thousand BTC, collected 60,000 more coins during the largest daily accumulation in 2021. The event, which took place on June 3, was captured by the team of the analytical company Santiment and published through the following statement and accompanying chart.
BTC whales bought 60,000 BTC during the highest accumulation peak in 2021
Analytical firm Santiment wrote on Twitter:
"BTC addresses of whales, which hold between 100 and 10,000 BTC, started in July with 60,000 BTC accumulation peaks, the highest daily peak in 2021. These addresses contain 9.12 million coins combined after holding 100,000 BTS 6 weeks ago. BTC less. "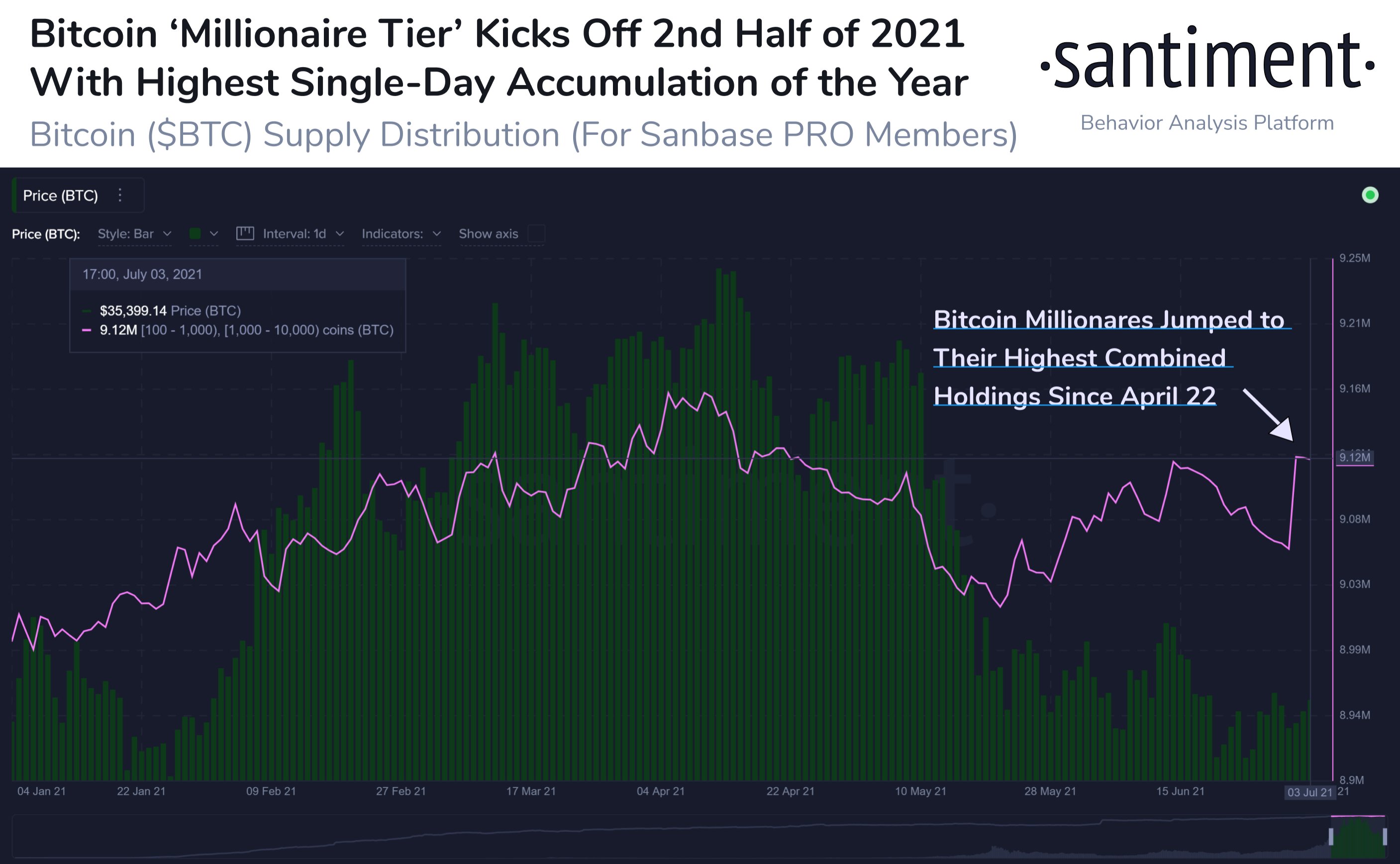 The accumulation of 60,000 BTC by whales was also captured by experienced BTC analyst Willy Woo, who compared the purchase of more BTC with "food", as can be seen in the following tweet, which was supplemented by a similar graph.
"Whales:
Nom, nom, nom… BTC is so yummy today. "
The accumulation peak coincided with the largest adjustment of the difficulty of BTC mining in history
It should be noted that the accumulation of 60,000 BTC also coincided with the last largest negative adjustment to the difficulty of the BTC network. The adjustment of the difficulty of -28% was due to the fact that China kept its word for a ban on BTC mining on its territory.
Despite the short-term FUD ban on mining in China, many traders and investors believe it is a healthy event that further decentralizes the BTC network around the world. Prior to the entry into force of the mining ban, it was estimated that China-based BTC miners control between 65% and 75% of its total hashrat.
The prospect of further decentralization of the BTC network could have caused bullish vibrations and excitement, leading BTC whales to buy another 60,000 coins in a single day.
All content in this article is for informational purposes only and in no way serves as investment advice. Investing in cryptocurrencies, commodities and stocks is very risky and can lead to capital losses.