The analyst predicts that BTC will not look below $ 40,000 and will continue to grow
2 min read
Jurrien Timmer, a macro strategist at the financial company Fidelity, is convinced that the price of BTC will not fall below $ 40,000 and will continue to rise in 2022.
The price of BTC will not look below $ 40,000
Timmer sees $ 40,000 as a key zone of support that bears will not be able to break through. He made this forecast taking into account the Dormancy flow indicator, which takes into account the ratio of the level of capitalization of the asset to the number of dormant coins that are not involved in transactions.
A few days ago, I discovered that the $ 40,000 level could play the same role in the BTC market as the 30,000. I came to this conclusion based on the S-curve growth model of the actual BTC value.

I came across an indicator that confirms this hypothesis: Dormancy flow. Its value has reached the level of oversold recorded at previous lows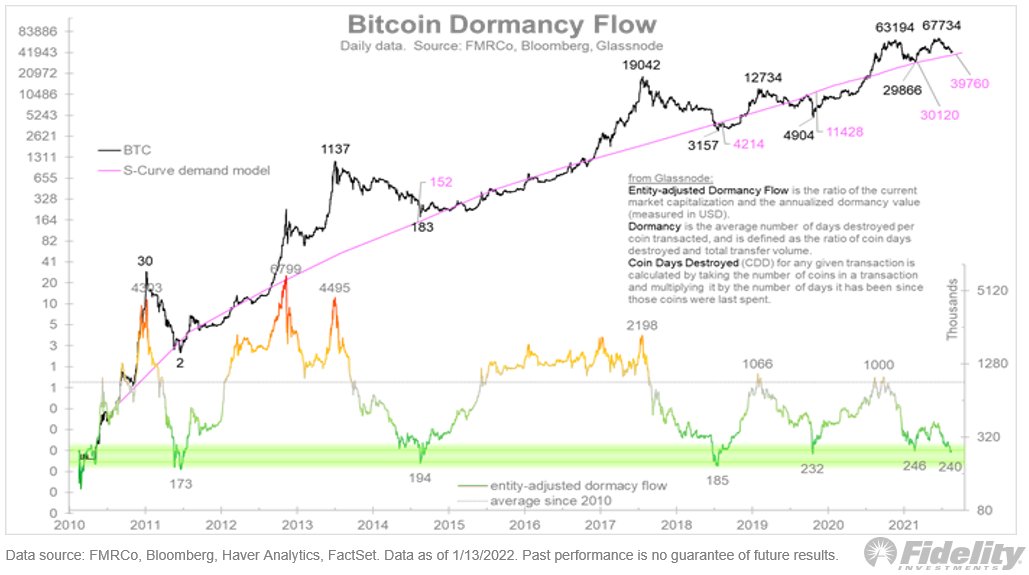 According to Timmer, the BTC market was due to rising inflation in the oversold zone. The strategist treats BTC as a store of value, and therefore compares it to gold. The BTC rate in relation to the value of the precious metal fell to the bottom, reached in September 2021. Accordingly, in his opinion, the price of the coin should go up.
Three Arrows Capital hedge fund chief Su Zhu also predicted a rise in BTC prices after analyzing Dormancy flow. According to him, on January 11, the indicator signaled the purchase of BTC for the sixth time in trading history. Taking into account the trends of previous years, it can be assumed that the value of coin will increase until the ATH update.