Buy Bitcoin now? Investors need to know that
5 min read
For everyone who is toying with the idea of ​​buying Bitcoin, there have been positive impulses in the past few weeks. In the last few days alone, the Bitcoin price has increased by almost 10 percent and at times recaptured the 23,000 US dollar mark. In a month-to-month comparison, however, the cryptocurrency enjoyed a bullish mood on the market with a plus of almost 40 percent.
According to a study by Nickel Digital Asset Management, some institutional investors are expecting a Bitcoin price of USD 100,000 in the next three to five years. If you follow this Bitcoin forecast, it could be a good time to add Bitcoin to your portfolio. But how do you come up with such bullish forecasts?
Buy Bitcoin: For confident investors with foresight
Studies like the one cited above should always be treated with caution. It is in the nature of things that institutional investors who buy Bitcoin themselves and plan to continue doing so have an interest in market sentiment being good. Accordingly, they may also be inclined to make corresponding forecasts in order to bring more people to the market and thus ensure rising prices.
But the "three to five years" quoted in the study is no coincidence. If you look at the economic structure of Bitcoin, long-term price increases are not so unlikely. Key word: shortage of supply.
Haven't found a suitable Bitcoin wallet yet? Then take a look at the Bitcoin wallet comparison 2023.
Bitcoin Halving and the HODL Waves
After all, Bitcoin is strictly limited, there will never be more than 21 million BTC. As of now, there are already over 19.2 million on the market. And there are fewer and fewer. Because with the Bitcoin halving, which takes place every four years or every 210,000 blocks, the supply of new coins is halved.
The next date is expected to be March 12, 2024, when the mining reward will drop to 3.125 BTC per block. In the past, this event always caused strong price increases. After the last halving, which took place on May 11, 2020, the BTC price rose from just under USD 8,700 to over USD 69,045 on November 10, 2022.
Assuming an increasing demand, the halving points to price increases again this time. Investors who believe in the future of the "orange coin" will therefore be inclined to buy Bitcoin. And to keep them too.
The statistics speak a clear language here: more and more people are holding BTC for a longer period of time. In every investment cycle, new investors are added who are also looking for short-term profits. But the investors who hold their coins for a longer period of time are steadily increasing.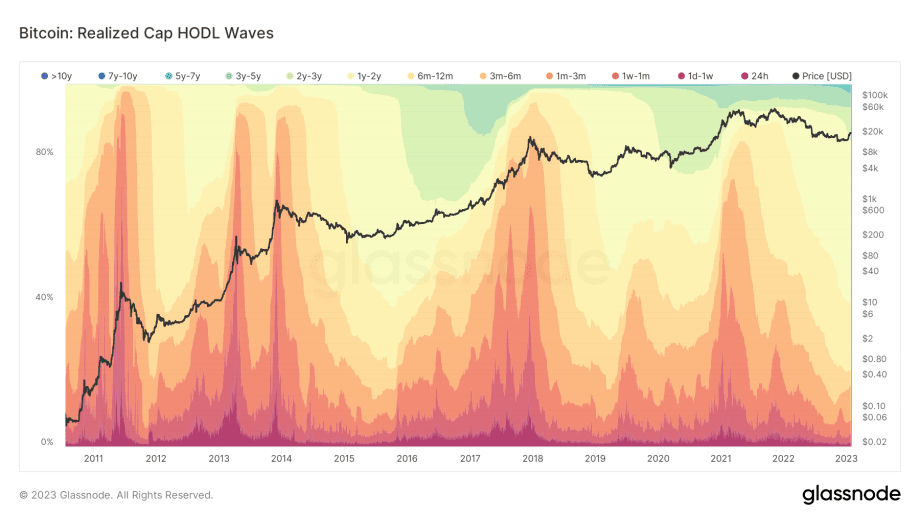 As can be seen from the chart above, 44 percent of investors have currently held their coins for 1 to 2 years (yellow peaks). In contrast, there are fewer and fewer short-term investors (red peaks).
Haven't found a suitable Bitcoin wallet yet? Then take a look at the Bitcoin wallet comparison 2023.
Current market situation: bull trap or long-term recovery?
So much for the long-term perspective. But how does it look in the short term? Ultimately, given the current market situation, investors should primarily be asking themselves whether the recent jumps in prices are just a bull trap or whether a long-term recovery in prices can actually be assumed.
According to one report According to blockchain analysts Glassnode, the current phase could actually point to a sustainable recovery. Among other things, they analyzed the supply profitability cycle of Bitcoin, which compares metrics of realized gains and losses by investors. The analysts come to the following conclusion:
The current bear market, which started in November 2021, has seen two major moments of capitulation, realizing losses of minus 2.9 percent and minus 3.7 percent per week. This regime has now changed so that profits dominate. A promising sign of healing […]

glassnode
Nevertheless, there are also signs that miners and short-term investors could increasingly use the current and future market situation to realize profits.
Buy Bitcoin: What is the best method?
We can see that those who are convinced of the long term could dare to invest. In the short term, it's still too early to call the ultimate bull market, but things aren't looking nearly as bleak as they did a few months ago. 2023 could be better than 2022. So buy Bitcoin now?
As always with investments, don't rush things and keep a cool head. Emotions are not good advisors and lead to hasty decisions. It has therefore proven useful for many to invest in batches – for example by setting up a savings plan on BTC.
You invest a constant amount at regular intervals and "stack satoshis". This way you can relax and increase your bitcoin holdings without having to worry about the "right time". Many professional investors agree that catching it is next to impossible anyway.
For many, this can be a convenient way to get into bitcoin. But of course that also depends on personal preferences – of course you can also put everything in the market at once. Or you prefer to invest in a more differentiated way and build up crypto portfolios.
No matter which strategy you choose: Choosing the right broker is important. If you don't have one yet, take a look at our broker and exchange comparison.
Buy Bitcoin: Preparation is everything
Before you start buying Bitcoin, you should familiarize yourself with the matter and think carefully about what you are investing in. Are you actually convinced that an investment in the future of Bitcoin makes sense? Only then should you invest your money. Finally, despite careful consideration, there can never be a guarantee that there will be price gains. Therefore, the following also applies: Never invest money that you cannot do without.
The storage location for Bitcoin is at least as important: the crypto wallet. Because if you want to buy Bitcoin, you have to be aware: As soon as you store your BTC on exchange, you are at a disadvantage if the exchange suddenly goes bankrupt and the private keys disappear – this can happen in the world of cryptocurrencies.