Cardano (ADA) is attracting more and more scammers
3 min read
After the recent Cardano rally, Charles Hoskinson warns of more and more scammers who want to take advantage of the ADA hype.
Since Cardano founder Charles Hoskinson announced September 12th as the date for the "Alonzo" upgrade, the ADA course has been flying high. While Cardano-Hodler are eagerly awaiting the integration of smart contracts into the mainnet, not only investors are trying to make a profit from the current ADA hype. Fraudsters are also making use of the hype surrounding the alleged ETH killer and try to deprive the unsuspecting of their ADA with fake profiles, malware and fake giveaways.
Cardano is celebrating an all-time high
This development has not escaped Charles Hoskinson either. On August 23 turned The Cardano inventor and CEO of the Cardano development company IOHK therefore addressed the community with warning words. In a live stream
Whenever big events are imminent, prices are rising on a large scale, and volatility is high, there is a huge increase in fraud.

Charles Hoskinson via Periscope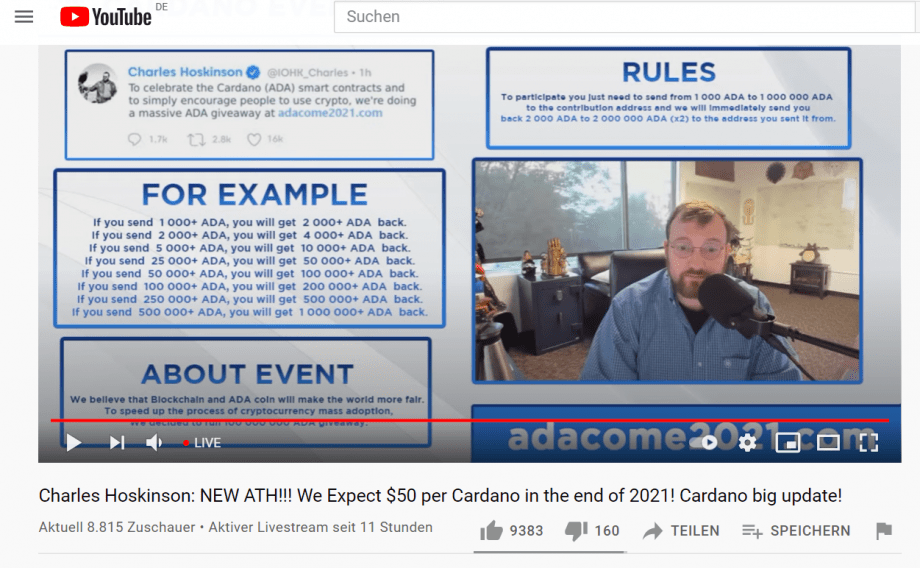 Charles Hoskinson sees another danger in counterfeit Cardano wallets, which can be found in the Google Play Store, for example.
We saw several fake versions of Daedalus and several fake Cardano applications on the Play Store with people saying, "Oh, you need to download the new version of the software and restore your wallet to get your Ada" – that's all Scams. we [Emurgo, IHOK, Cardano Foundation, Anm.d.Red.] never ask for your keywords, we never ask for your private keys and we will never ever ask you to install monitoring software to help you

Cardano founder Charles Hoskinson
In fact, Google is taking action against such apps; Only recently eight fraudulent apps were banned from the Play Store. But the number of scam apps seems to surpass the IT giant's zeal:
Hoskinson on the 150 USD: I have not given a price forecast in 10 years
Since April 20, an ADA price forecast of USD 150 by the end of the year has been circulating on the web, which is said to come from Hoskinson himself. The message was from the crypto blog Coingape spreads and is apparently based on a fake YouTube video. The article has since been deleted, but can be found in various news aggregators. On too Coinmarketcap, one of the most visited websites in the crypto space, the duck is still squeaky fun.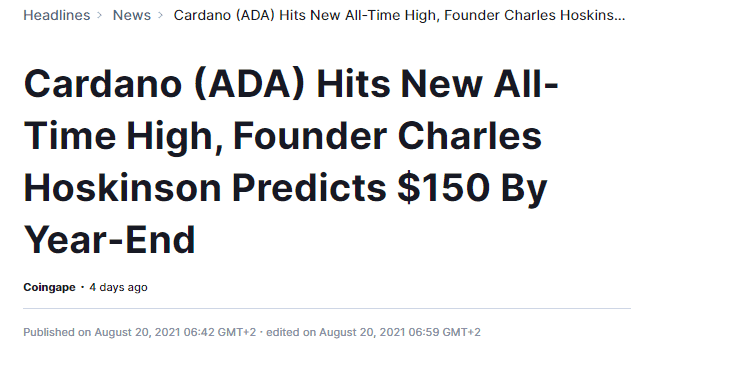 The fake news also landed on the screen of the alleged originator of the Cardano forecast.
I have this [ADA be on 150 USD] never said, i would never say that. In my entire time in the crypto space, I haven't made a price prediction once. Not once have I made a price forecast for Cardano or any other cryptocurrency,
emphasizes Hoskinson in the stream.
ADA course breaks records
150 USD by the end of 2021 should meanwhile be a bit too thick, even for ambitious ADA Hodlers. After all, that would correspond to a (fully diluted) Cardano market cap of around $ 6.75 trillion – more than three times the current total market cap. However, Cardano investors cannot complain about a lack of bull feed. At the time of writing, ADA is trading at $ 2.89. This means that the Cardano rate has increased by more than 130 percent within 30 days. Among the "ETH killers" only Solana (SOL) performed better. Here the growth in the same period is around 170 percent.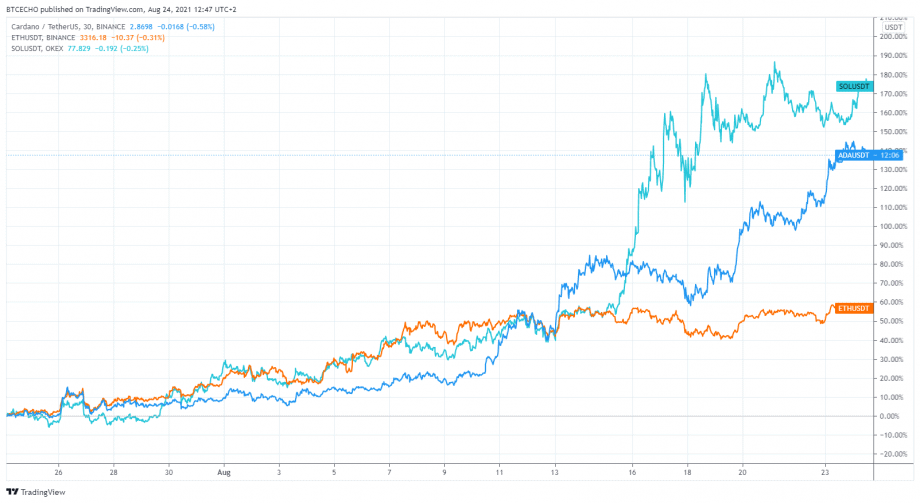 It wasn't until August 23 that ADA set a new all-time high of USD 2.95 after breaking new course records last week. The high expectations of the Alonzo Hard Fork are also reflected in Cardano's market capitalization even without a USD 150 exchange rate. At press time, it was around $ 92 billion – the third highest after BTC ($ 930 billion) and ETH ($ 387 billion).
To get to ETH's market capitalization, ADA would have to rise to around USD 4.2 – not an overly unrealistic scenario given the recent 2x rally. However, it remains to be seen whether the Alonzo hype is sufficient to level out the network effects of the smart contract leader ETH in the long term.
Cardano founder announced the development of the Proof-of-Burn application for the ADA token