Cardano locked value in DeFi hits record; CEO says it's just the beginning
2 min read
One of Cardano's (ADA) main goals is to develop its long-promised decentralized finance (DeFi) ecosystem. And, it seems, the initiative is starting to gain traction.
The Total Blocked Value (TVL) of Cardano in DeFi projects reached a historic record of US$ 188.88 million. In the last 24 hours, TVL has jumped just over 5.3%, according to data from the DeFi Llama platform.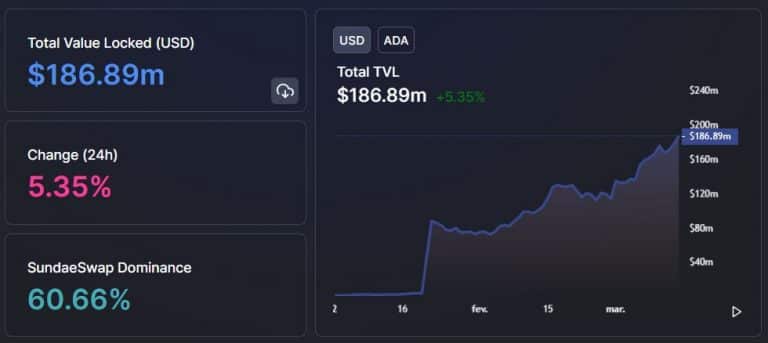 Despite the current rise, Cardano is still the 28th platform in terms of TVL – a metric that reveals the growth rate of a DeFi ecosystem, indicating that the network still has plenty of room to grow.
Cardano is behind, for example, Theta, ThorChain, EOS, Gnosis, Kusama, Mixin, Celo and many other protocols.
Cardano DeFi Ecosystem (ADA)
One of the main releases Cardano's DeFi focus was decentralized exchange (DEX) SundaeSwap on January 20 this year.
Since then, Cardano's TVL has jumped from $3.2 million to its current value of $186.9 million. So a jump of over 5,740%.
Today, DEX SundaeSwap is the project that accounts for the largest percentage of Cardano's total TVL, 60.66%, or US$ 113.3 million.
Second place is taken by the recently launched decentralized finance platform MinSwap, with $71.69 million blocked. In third place is MuesliSwap with a TVL of US$ 1.82 million.
After TVL's all-time high from Cardano, the CEO of IOHK – the company behind the Cardano ecosystem – stated that growth is just beginning.
What most also don't understand is that many Cardano DApps are waiting for the Vasil hardfork in June to launch to benefit from pipelining. So it seems we ain't seen nothing yet on TVL .

— Charles Hoskinson