Cardano Price Prediction 2021, 2023, 2025
4 min read
Cardano(ADA) price prediction for 2021
There have been various views on how much Cardano could be worth by the end of the year, and here we examine the Cardano predictions. According to Wallet Investor, the ADA coin will jump in the price of $4.7 at the end of this year, and within 5 years from now, it will be worth about $12.5.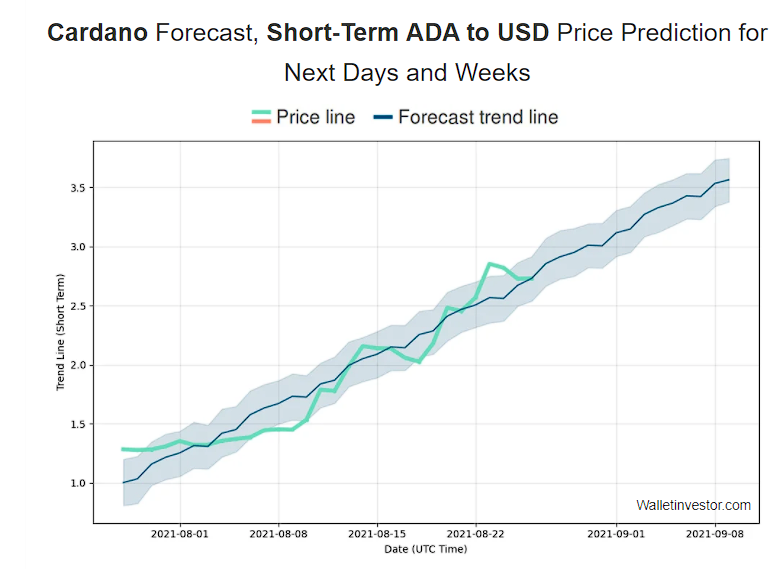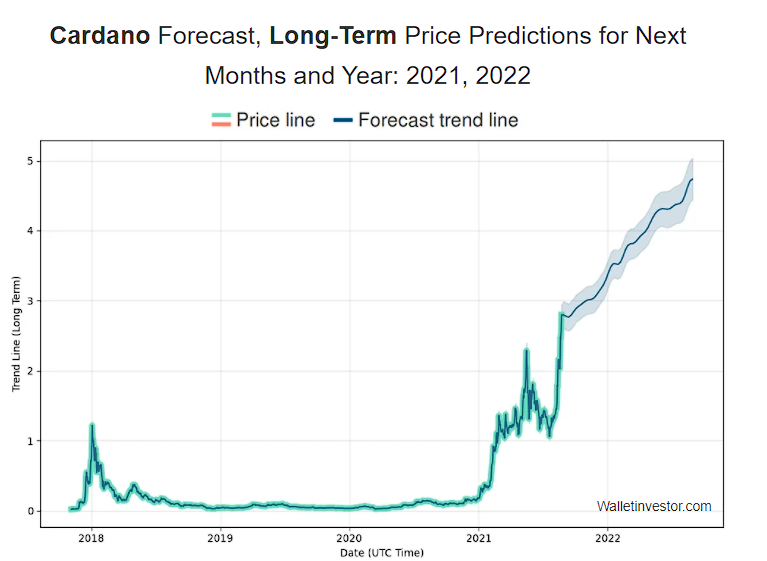 Digital Coin believes that ADA price will increase significantly over the coming years and its Cardano USD predictions put at an average price of $3.89 for 2021. In a matter of 5 years, the coin will reach $9.2.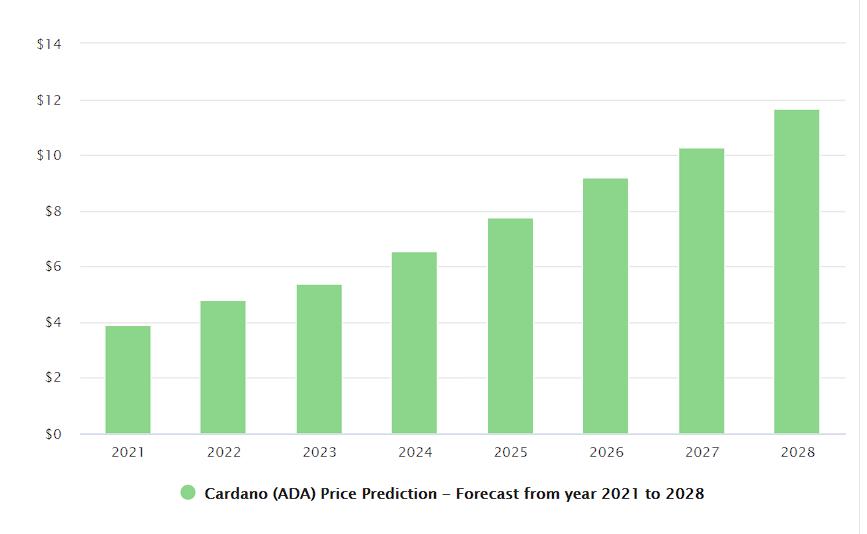 Previsioni BTC predicts that Cardano could be worth as much as $13.33 by the end of 2021 and even make a more outrageous prediction that it would be worth $16.07 by April 2022. While this seems impossible considering its current price, the cryptocurrency market has been known to be unpredictable, and anything can actually happen. Long Forecast predicts a peak of $2.59 by the end of 2021.
ADA price prediction 2023
According to Cardano, this will be the third generation crypto to overcome the problems other currencies have encountered. It was designed to offer fast transfers as well as a platform for financial applications. The Basho and Voltaire phase is likely to get introduced officially, which is akin to contributing to the overall performance, scalability, and security of Cardano(ADA).
Wallet Investor also has a long-term Cardano forecast where it sees the token would reach $8.139 by 2023 December. Digital Coin also predicts an increase in the price of the token and expects it to be worth $4.79 in 2022 and reach $5.36 by 2023. Previsioni BTC is optimistic in its predictions as it expects Cardano to reach $10.71 by April 2023 and by December of 2023, 13.59 USD.
Cardano price prediction 2025
In 5 years or more, Cardano might achieve greater victory as there are lots of partnerships and integrations planned down the line.
This is going to impact ADA positively for the longer term. Cardano might even go up the ranking order and establish itself as one of the top 10 cryptocurrencies in the world.
By 2025, Cardano might reach $5. It can even touch the $10 mark. In the next five years, by 2025, Longforecast expects that the asset would be trading in the range of $1.98-$2.46. Digital coin sees Cardano reaching $7.73 while another ADA coin price forecast predicts it will be worth $11.6 in 2028.
Adam Web, the author of Smartereum, believes that ADA has a bright future and expects that it will be worth about $10 in the next five years. Cryptoground.com predicts that the price of Cardano will reach $3.1682 in 2022, and by 2026, it would be worth $5.1274.
What makes Cardano a good investment
If you are planning to invest in Cardano, you will most likely be wondering whether it is worth it and if it is a good investment. If we are to judge solely by the growth in the price over the past few years, Cardano is a great investment because it is more likely to increase significantly in the next few years.
The fact that it is similar to ETH and shares similar functionality means it has lots of growth potential.
The low cost of Cardano means there is potential for growth and cost less to acquire more coins as compared with other coins. Cardano offers security and scalability through layered architecture, which makes it unique and special.
Cardano is one of the best-performed cryptocurrencies with good potential. However, this should not be taken as investment advice, and if you're thinking of investing, it's always recommended to do thorough research before making any such decisions.
Frequently Asked Questions (FAQ)
Will Cardano ever reach $10?
It might take some time, but Cardano's price can reach that value if the developments happen as per the Cardano roadmap, and it is likely to do so in the next five years.
Cardano price prediction: can Cardano hit $100?
Yes, Cardano's price can reach $100. The real question should be how long would it take the currency to reach this number. Using an analysis of the current price, it is crystal clear that the digital currency would not be reaching $100 anytime soon. At least not in the next life to ten years.
Does Cardano have a future?
Cardano ADA cryptocurrency has seen significant gains in the 2021 market, which has seen it rise in value. This was mostly due to the crypto bull run and the emergence of DeFi. At the same time, most of the DeFi applications have been running on its competitor, ETH blockchain. Cardano still has significant potential, and with its continuous development, it can become a force to reckon with in due time.
What makes Cardano special?
Cardano is the only peer-reviewed blockchain project. In simple terms, what this means is that academics reviewed its code to determine its validity and scalability. Its layered architecture also makes it incredibly safe. The three qualities that make Cardano truly special are its scalability, interoperability, and sustainability. It has a long-term goal of becoming the High Assurance Code, and according to the founder, the high level of the code maintains the integrity of the platform and will prevent a situation like the ETH-ETC split.