The cars from Mad Max are being auctioned for BTC, they will deliver to home
2 min read
Lloyds Classic Car Auctions, Australia's largest auction and valuation company, has hosted an event that will give people the opportunity to buy some of the famous cars made for the 2015 movie Mad Max: Fury Road, starring Tom Hardy and Charlize Theron.
Cars from Mad Max
The film, directed by George Miller, is also famous for some of the most spectacular motorized stunt sequences ever made. Veterans were prepared for these scenes and adapted into steampunk-style war machines that are unparalleled in the film's history.
Vehicles, including cars of various sizes and trucks, will include a working engine and all optional accessories of a set design, but weapons mounted for filming will of course be removed.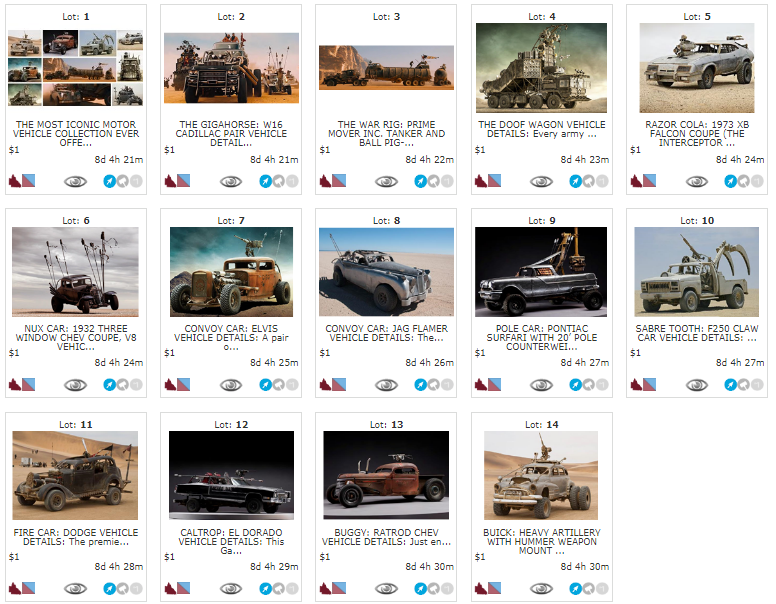 A total of 13 vehicles are up for auction, from the massive War Rig tanker to the modified 1973 Ford Falcon XB coupe called the Razor Cola and the hot rod version of the 1932 Chevrolet coupe.
The auction will take place online on September 25 and 26 from 10 am to 7 pm (AEST) at the official website Lloyds and will be completely secret, which means that bidders will not know how many other potential buyers are willing to pay.
In addition, it is important to emphasize that none of the items indicate a minimum price, and as these are secret bids, the auction becomes a type of tender in which bidders offer precise and unchangeable amounts. A somewhat cruel method, which is certainly inspired by the logic of the Mad Max film series.
The offer includes a tax on goods and services. In addition, the applicant does not pay any registration fees, and delivery is guaranteed worldwide.
Enthusiastic fans of the film or interested investors can pay in any national currency and in any virtual currency, from Australian dollars to yen, BTC or other altcoins such as Ether, to stablecoins.
The sale will take place during the event "Grand CARmata", Where the collection of vehicles Holden ltd.
Using a blockchain
To show that it keeps pace with technology and innovation, the company has begun integrating blockchain systems into its operations and, in collaboration with Blockstars Technology, has created an exclusive collection of NFTs featuring the classic 1971 Falcon GTHO Phase III in a variety of colors.
The auction, which consists of a total of 50 NFTs, began on September 10 and will end with the aforementioned "Grand CARmata" event.
Lee Hames, chief operating officer of Lloyds Auctions, said:
"This is a world first for the auction house, which offers the public proven classic cars, and we are very excited to take the lead in this trendy technology that Blockstars Technology has created for Lloyds."