Check out the five cryptocurrencies that appreciated the most in November
2 min read
Contrary to what several analysts predicted, the month of November was not so positive for the market. In fact, with the exception of the Metaverse, most cryptocurrencies showed very modest valuations. BTC , for example, registered a drop of 7.11% in the month.
However, some cryptocurrencies clashed and achieved gains of up to 600%. So, see now what were the biggest valuations of the month of November.
As with the weekly list, this list will take into account CoinMarketCap's Top 100 cryptocurrencies as well as the valuation over the November 1-30 period.
Kadena (KDA)
KDA, the 65th cryptocurrency in CoinMarketCap, experienced strong growth in 2021. As a result, its price rose from $6.90 to about $17 monthly. The market value of KDA is $2.7 billion.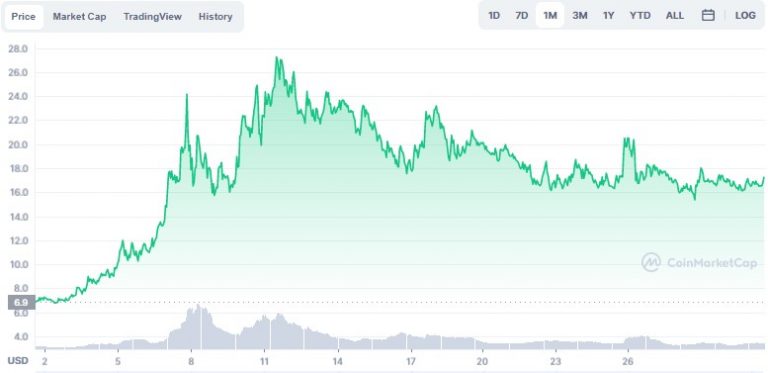 The Sandbox (SAND)
It is clear that the Metaverse could not be left out when the subject is appreciation in November. The representative of this market is the SAND token, whose price closed the month at US$ 8.01, up 203%. SAND's market value, at $5.3 billion, is 39th on the overall list, but ranks 4th among Metaverse tokens.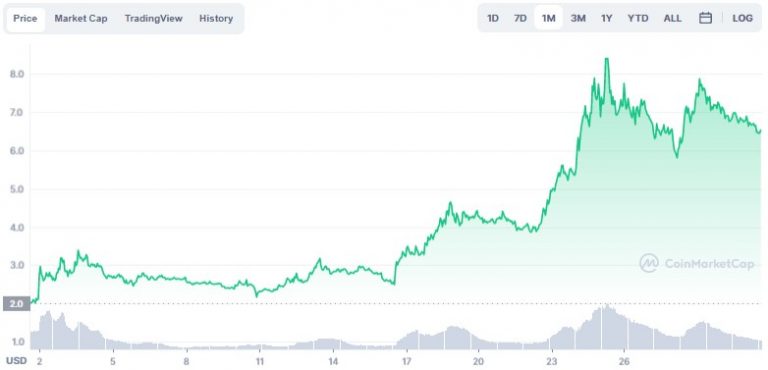 Crypto.com Coin (CRO)
The Crypto.com exchange token was boosted by the strong exchange advance in the market. With an impressive 260% appreciation in the month, the price of the token evolves from US$ 0.21 to US$ 0.76. This result made the token approach the Top 10 in market value, occupying the 13th position.
With marketing actions and strong sponsorships, Crypto.com left its mark above all in US sports. Such actions took the market value of the network to reach the figure of US$ 15.4 billion.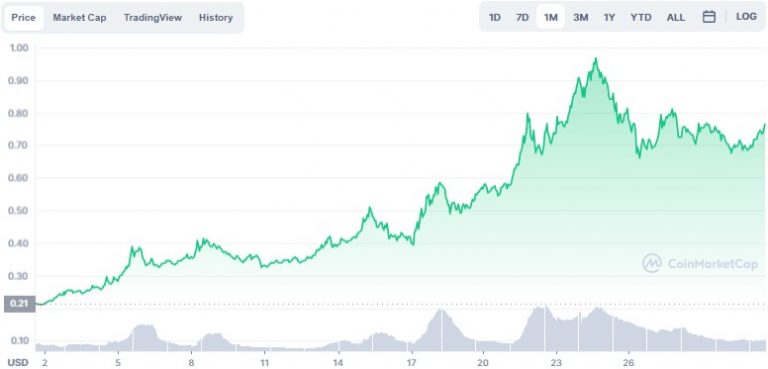 Loopring (LRC)
Loopring is a protocol for building decentralized exchanges (DEX) within the Ethereum network. Despite having gone unnoticed, the LRC racked up 270% gains in November, closing the month at $2.80. Its market value is US$3.1 billion and it ranks 52nd.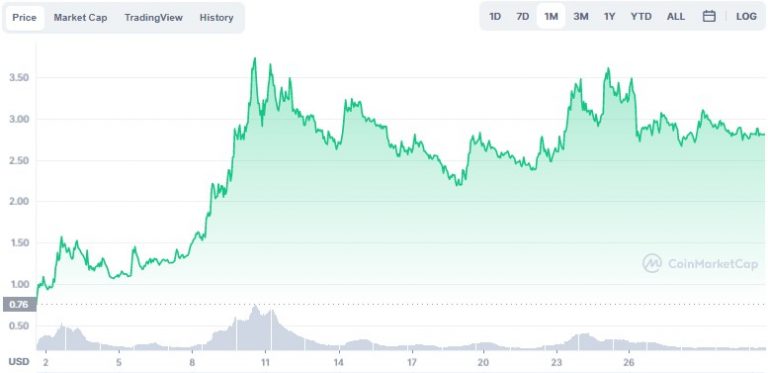 GALA
Finally, GALA ended the month with the best performance among the entire Top 100, even surpassing the Metaverse cryptocurrencies. The price of the token registered an astonishing 600% increase in November, going from US$0.09 to US$0.63. Its market value closed in 50th position, at US$ 3.5 billion.