Christmas growth?
2 min read
Every year before Christmas, the same story circulates through the financial media: they say, now is the time for Christmas growth! How realistic are these Christmas growths and are they statistically applicable in the BTC market?
Christmas growth
In the tradition of stock markets is meaning of Christmas growth or Santa Claus Rallye. The idea is that from a few days before Christmas to a few days after the New Year, the stock market tends to grow.
Here are some common explanations for this phenomenon (in no particular order):
Investors are more positive during the holidays, and therefore more inclined to buy stocks.
Wall Street rests and does not "manipulate" markets.
Private investors and companies are ready to allocate capital in the new tax year, so buying pressure is growing.
Investors have ended up with liquidations, the annual PnL has been set, so the selling pressure is less.
There are probably other explanations, but these are the ones I have heard most often. Which one is closer to the truth? I don't know. Maybe a little of everything… Everyone talks about Christmas growth as a fact. But is there an implied growth in this period every year?
Let's take a look.
This story begins in the stock market. So let's look at how the S&P500 index usually behaves during this period.
The graphs below show the performance of the S&P500 in recent years.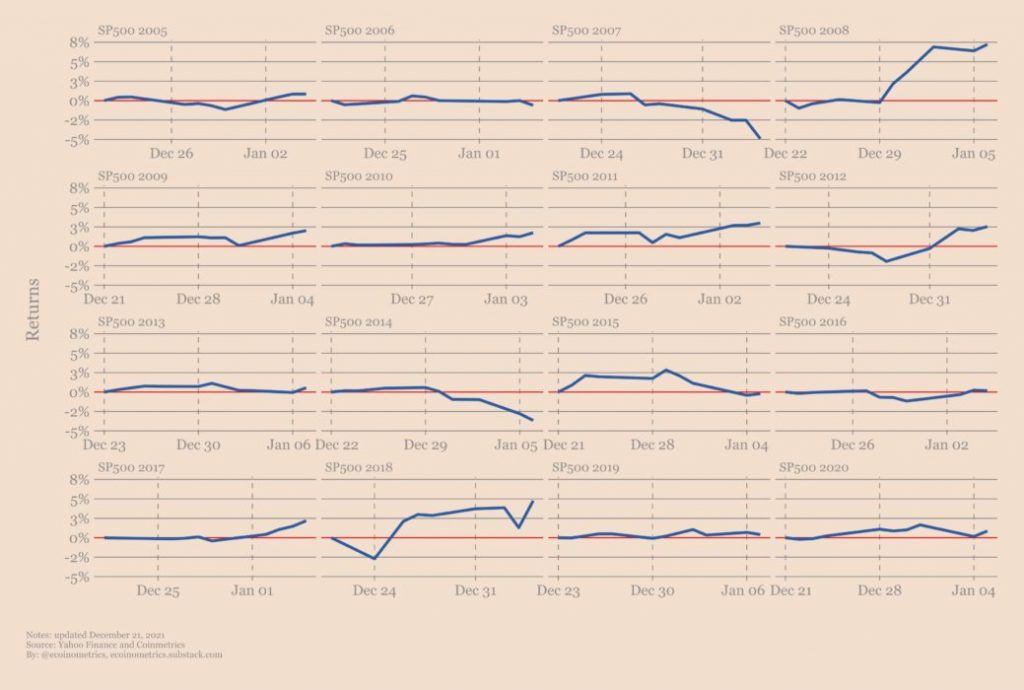 There seems to be some deviation in the direction of growth at this time of year. Of course, the numbers are not too big. But over the last 16 years, the same two-week period has yielded positive returns.
What about BTC? Is there a similar picture?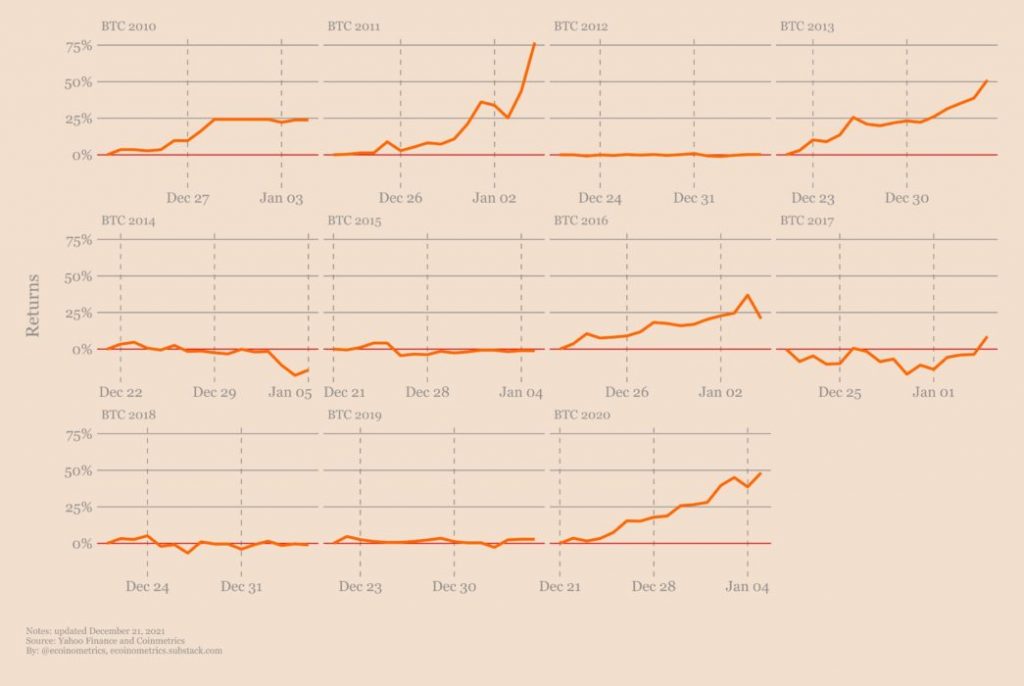 Growth is not guaranteed every year. Just for fun: what about Gold?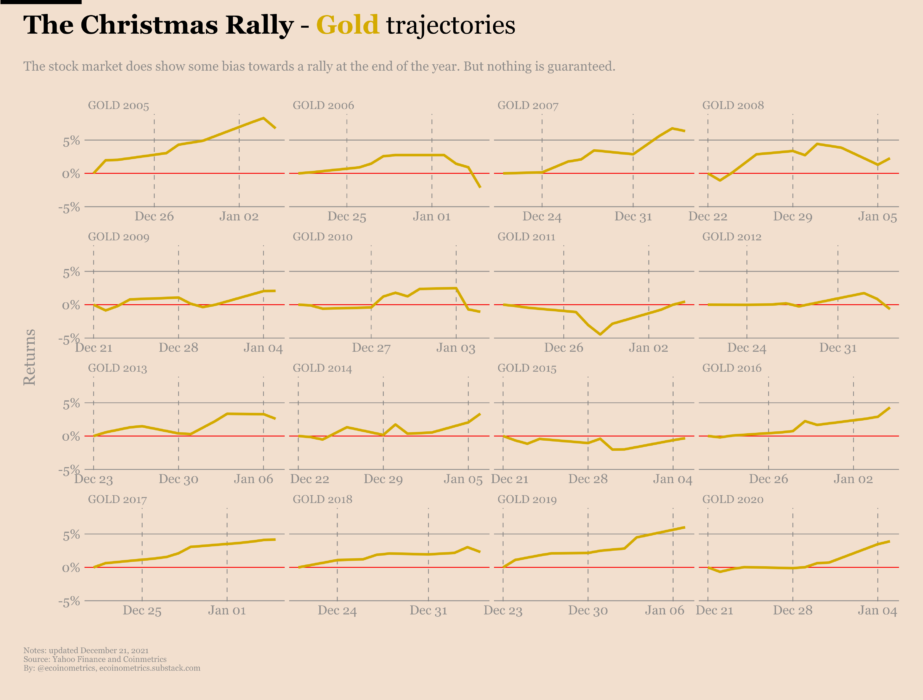 In 12 of the last 16 years, this two-week period has yielded positive returns.
So is there really a Christmas effect on financial assets? To get a clearer picture of the alleged pattern, let's map the yields of, say, S&P500, NASDAQ 100, gold, crude oil, and BTC.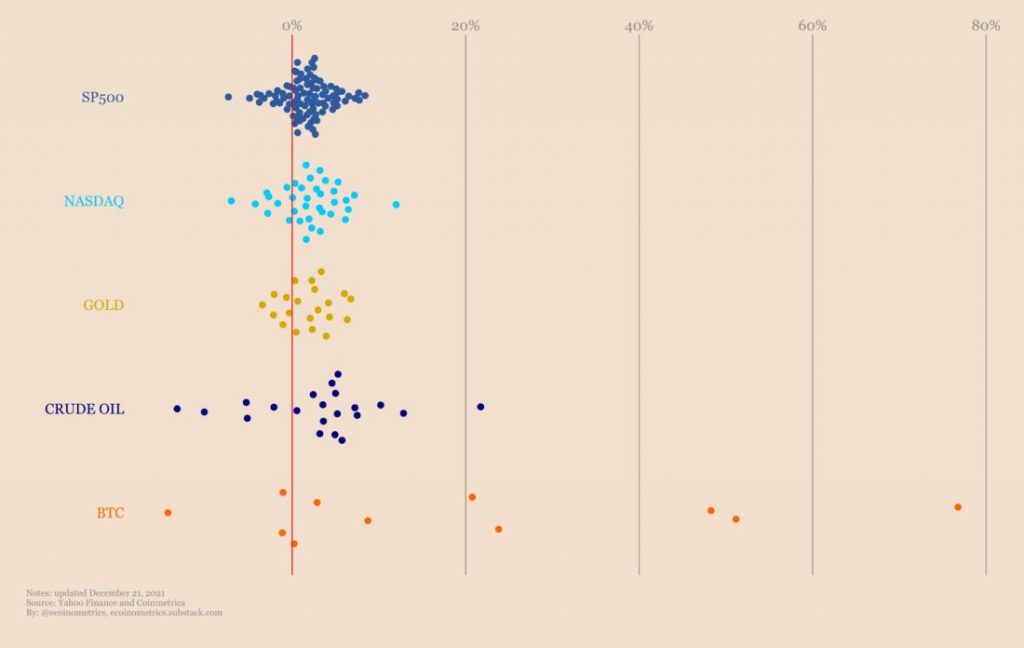 I think the picture speaks for itself. Overall, positive returns can be expected from purchases a few days before Christmas and sales in early January.
So what to do with this information?
I always try to look at things in terms of probabilities: make hypotheses, consider scenarios, evaluate expected results based on available data, and make decisions based on that.
Based on the data available so far, it is clear to me that betting on Christmas growth brings positive expected returns for all the assets mentioned here. So from the point of view of pure statistics, this seems quite reasonable.