Crypto hacks and scams in 2021: new record?
2 min read
Crypto hacks and scams are nothing new in the cryptocurrency sector, but every time they occur, they are still a shock to investors. Especially for the victims of these attacks. It seems that bull markets always come with an increased number of attacks.
These attacks have accelerated with the recent rise in cryptocurrencies. Prices have risen widely and many new investors have joined in, it seems to have been an attraction for attackers. Be that as it may, the number of attacks increased in 2021 and data show that it is likely to break last year's record.
Crypto hacks and scams are accelerating in 2021
The most hacks and frauds occurred in 2020. In a total of 38 cases identified, it was the year with the largest number of hacking and fraudulent incidents in the crypto market. However, in 8 months in 2021, 32 cases of hacking and fraud have already been detected. Six months remain until the end of the year and the bull market is raging. It can therefore be expected that further attacks will take place before the end of the year.
According to an analysis by Crypto Head, the number of attacks has been steadily increasing every year since 2017. In 2017, one of the most memorable bull runs in the cryptocurrency sector began. It is no surprise, then, that there has been a sharp increase in the number of attacks. In 2016, only 5 cases of crypto hacking and fraud were detected. The following year in 2017, however, this number jumped to 21.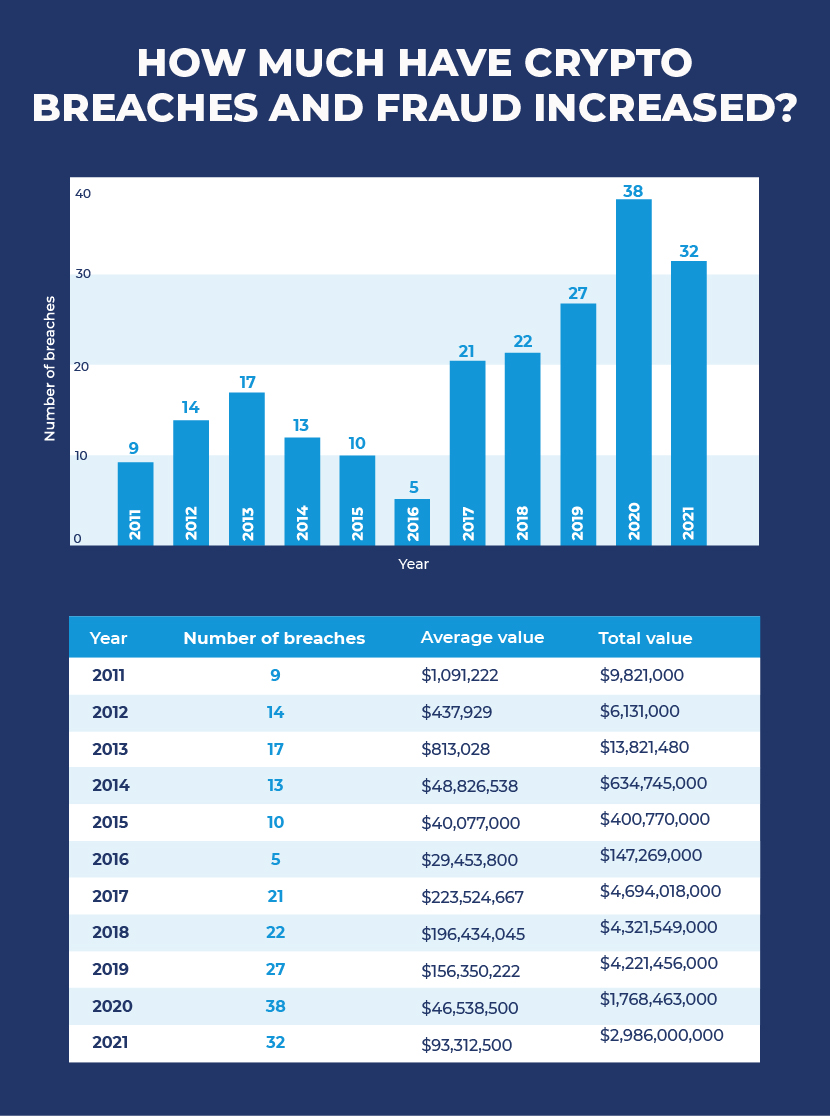 With four months left and DeFi exploits still increasing, the number of attacks in 2021 can break the record very noticeably. These hacks and intrusions are even more sophisticated. Attackers are now developing tools that make their attacks more difficult to intercept and track.
2017 – the highest amount stolen
On average, in 2017 alone, attackers spent an average of $ 223.5 million. A total of 21 attacks a year totaled $ 4.7 billion in crypto hacks and fraud. Creating a record in the highest amount stolen in a single year.
Although 2020 has a higher number of attacks, a total of $ 1.8 billion has been stolen. This amount was already exceeded in 2021. So far, 32 combined attacks in 2021 have been worth $ 2.9 billion.
These attacks mostly focused on the top coins in the crypto market, which, by the way, also provide the most liquidity. About a third of these disorders were targeted at the anterior cryptocurrency, BTC. ETH is in second place with 12.8%. Unknown coins account for about 9.2%, while ERC-20 tokens were targeted 7.4% of the time.