Crypto Market Overview 28/12 | Whales break records! Ethereum in the footsteps of Bitcoin?
3 min read
Welcome to our crypto market overview 28/9.
Can Bitcoin and Ethereum maintain their growing potential? Will we continue at a bulish pace? Bitcoin has reached a new ATH again, and a similar scenario is repeated almost every day. Ethereum surpassed $ 716 and Bitcoin broke $ 28,000.
Yesterday, we reached a marketcap value of $ 723 billion. This week we are recording a low of USD 609 billion and a high of USD 733 billion. At Bitcoin, we have a low at $ 22,665 over the same period, and we see a high BTC at $ 28,220 over the same period. We are currently worth $ 26,860 for one BTC coin. Bitcoin dominance is 69.4%.
Overview of coins from top capitalization yesterday:

Bitcoin (BTC) $26 827,47 USD (5,56%)

Ethereum (ETH) $698,13 USD (11,26%)
The best growth yesterday was:

Swipe (SXP) $1,73 USD (26,49%)

Chainlink (LINK) $12,51 USD (15,64%)

Bitcoin Cash (BCH) $352,40 USD (11,29%)

Ethereum (ETH) $694,35 USD (10,52%)

0x (ZRX) $0,385747 USD (9,84%)
The biggest drop was recorded:

Filecoin (FIL) $23,12 USD (-2,22%)

NEM (XEM) $0,237993 USD (-2,19%)

XRP (XRP) $0,294397 USD (-1,26%)
All data is provided from coinmarketcap.com
[BTC / USD] In 2020 to present value: + 248%
The current price for one Bitcoin [BTC] is 26,845.86 USD. Bitcoin is listed on 87 stock exchanges with a total of 400 active markets. The 24-hour volume [BTC] is $ 49,684,852,376, while Bitcoin's market capitalization is $ 498,866,862,809, which ranks it first in all cryptocurrencies.
Bitcoin has been creating new ATH almost every day in recent weeks. Sunday is no exception. We reached a value of almost $ 28,300. Current support is at $ 24,500. The resistance starts at $ 29,000 and continues to $ 30,000. It's hard to judge whether investors will try to reach $ 30,000 by 2020. They have a few days left. Many investors are thinking about 2021 and how far Bitcoin can grow. $ 50,000? $ 100,000? $ 250,000? While $ 50,000 is real enough, we can't predict it yet, it will depend on the behavior of retail and whales and we'll see where they move it. We definitely know from experience that without a stop loss it could fall uncomfortably down. We therefore recommend using it.
[ETH / USD] In 2020 to present value: + 445%
The current price for one Ethereum [ETH] is $ 695.96. Ethereum is listed on 99 stock exchanges with a total of 400 active markets. The 24-hour volume [ETH] is $ 17,569,205,312 and Etherea's market capitalization is $ 79,343,790,830, ranking it 2nd out of all cryptocurrencies.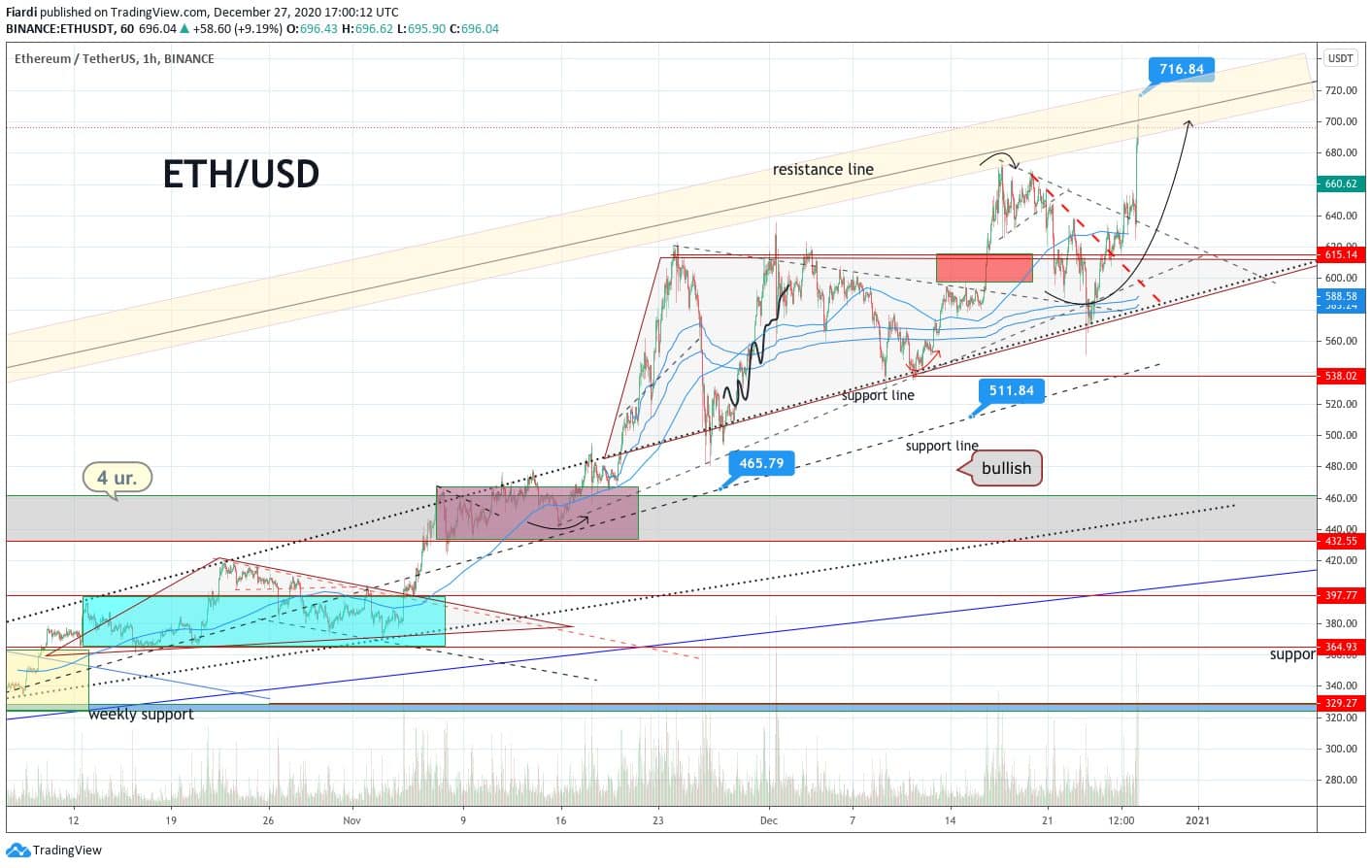 Incredible growth during 2020. As part of this, we have been following the bullish open channel for 10 months, which took us to USD 700 on Sunday. On the chart we see resistance to $ 700, we have already wicked to $ 716, but on the 4 hour chart we see the bears trying to defend $ 700 and send it below. Support is at $ 616 and $ 580.
Investors will probably decide in a few days. If we broke the yellow line of the resistance line, investors would also break the ten-month bullish channel, falling out of the channel could lead to a fomo and really bull run madness to $ 1,000 as early as January 2021.
Thank you for your time and reading crypto market overview 28/12.