Crypto winter may never come again, says Cameron Winklewoss
2 min read
One of the two co-founders of the Gemini cryprocurrency exchange, Cameron Winklevoss, says there may never be another crypto winter.
There may never be another crypto winter.

– Cameron Winklevoss (@cameron) July 4, 2021
'Crypto winter' means a long period of cryptocurrency-related bear markets, such as 2014-2015-2016 or 2018-2019-2020.
In 2014, after peaking at $ 1,100 at the end of the previous year, the price dropped below $ 300 and dropped to 170 the following year. It was not until 2016 that it began to recover, but did not reach over $ 1,000.
In 2018, after reaching a new peak of $ 20,000 at the end of the previous year, the price dropped to 3,200 and rose temporarily to more than $ 13,000 the following year. However, BTC started at just over $ 7,000 in 2020, dropping to $ 4,100 in March, but then returned in December to beat the current ATH.
In both cases, the crypto winter lasted almost three years.
Why will next winter be different
According to Cameron Winklevoss, it could be different this time, although in theory there is a chance that something similar could happen again. However, the short to medium term is a different matter.
It is worth recalling that the term "crypto winter" refers to a long bear period, while in the short or medium term we should instead talk about the risk of a bear period.
Since mid-April 2021, when the price of BTC reached a new all-time high of almost $ 65,000, a decline has begun, which has actually begun a bearish period that now lasts nearly three months. During this bear period, the price dropped to or below $ 31,000 on five occasions, with one drop below $ 29,000. Since the fall of May 19, the price has ranged sideways from about $ 30,000 to $ 40,000.
According to Santiment, trading volumes have also been the lowest of the year in recent days.
"BTC almost reached $ 36,000 again, then dropped back to $ 34,000 over the weekend, thanks to a small trading volume over the weekend."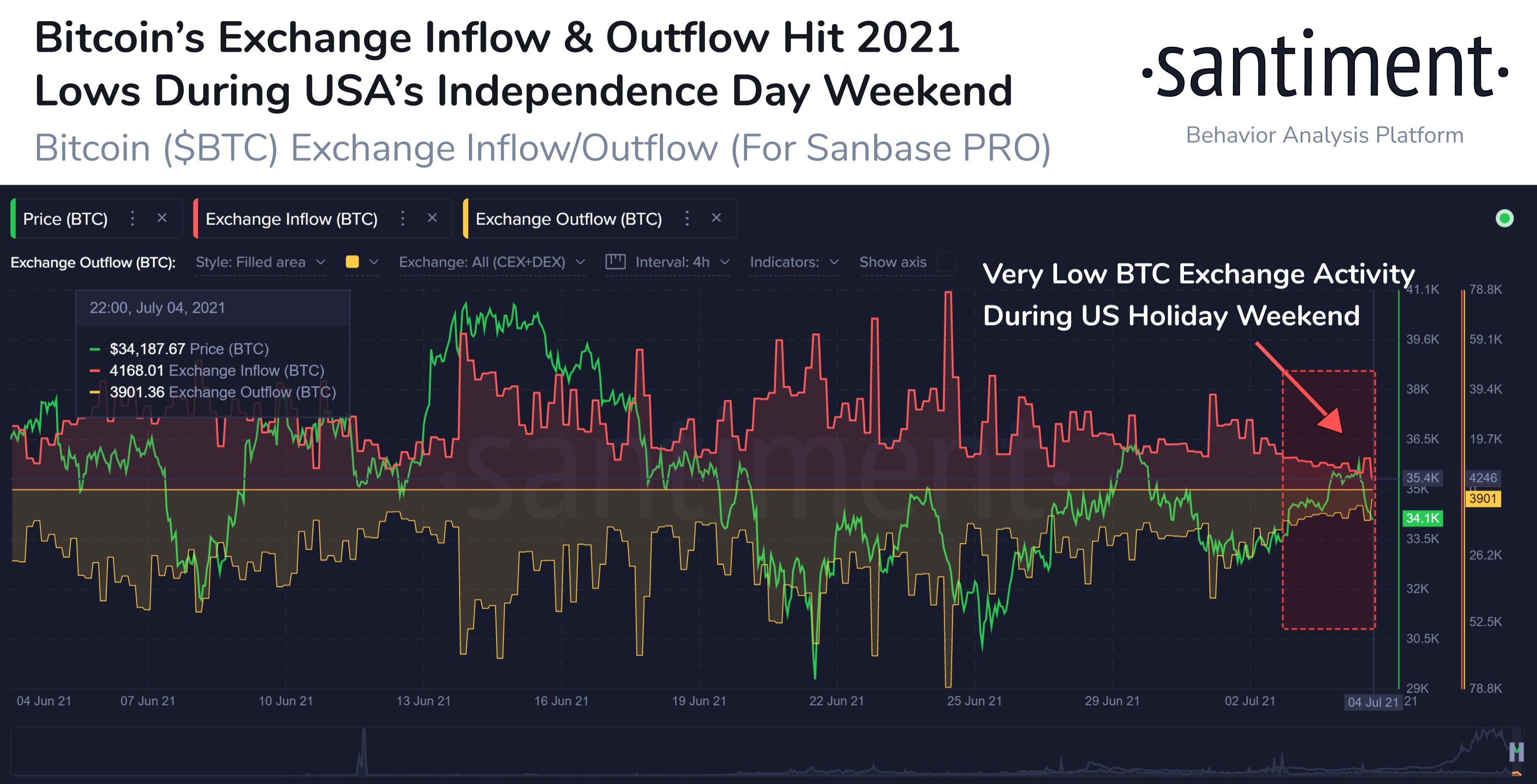 This could indicate the immediate end of this phase, although Santiment does not say in which direction the price of BTC could move once the lateralization of the month and a half has ended.
It is possible that some enthusiasm may return to crypto markets, and Cameron Winklevoss is not immune to this sentiment at this time. In fact, if, as in 2013 or 2017, the price of BTC rises in the second half of the year due to a new speculative bubble, it is difficult to imagine that the crypto winter will not come once the speculative bubble bursts, as it did in 2014 or 2018.
Do you agree with Cameron Winklewoss?
1inch DEX aggregator: 1inch review of the popular DEX with interesting airdrops