Cryptocurrency trading volumes decreased by 40% in June
2 min read
Cryptocurrency trading volumes declined significantly in June, according to Cryptocompare, a price and volume tracking platform. Trading volumes decreased by at least 40% month-on-month, with spot and derivative trading suffering mainly as a result of China's intervention. The resulting volatility seems to have caused many traders to lose interest.
Trading volumes fell sharply in June
Cryptocurrency trading volumes fell sharply in June, according to data from Cryptocompare. Data collected by the price and volume tracking platform show that trading has generally fallen by at least 40%. Spot volumes suffered the most and users traded 42.7% less than in May. A total of $ 2.7 trillion was traded last month.
Derivatives trading also fell sharply. Trading fell 40.7% month-on-month to $ 3.2 trillion. Analysts say the decline has one key reason: interventions in China last month. This caused cryptocurrency traders to look to the future of the market and accelerate the decline in volume.
Internet traffic on stock exchanges also decreased
As a result, internet traffic on stock exchanges has also dropped drastically. Stock exchanges recorded 369.1 million visits in June, which is a month-on-month decrease of 42.2%, according to The Block survey.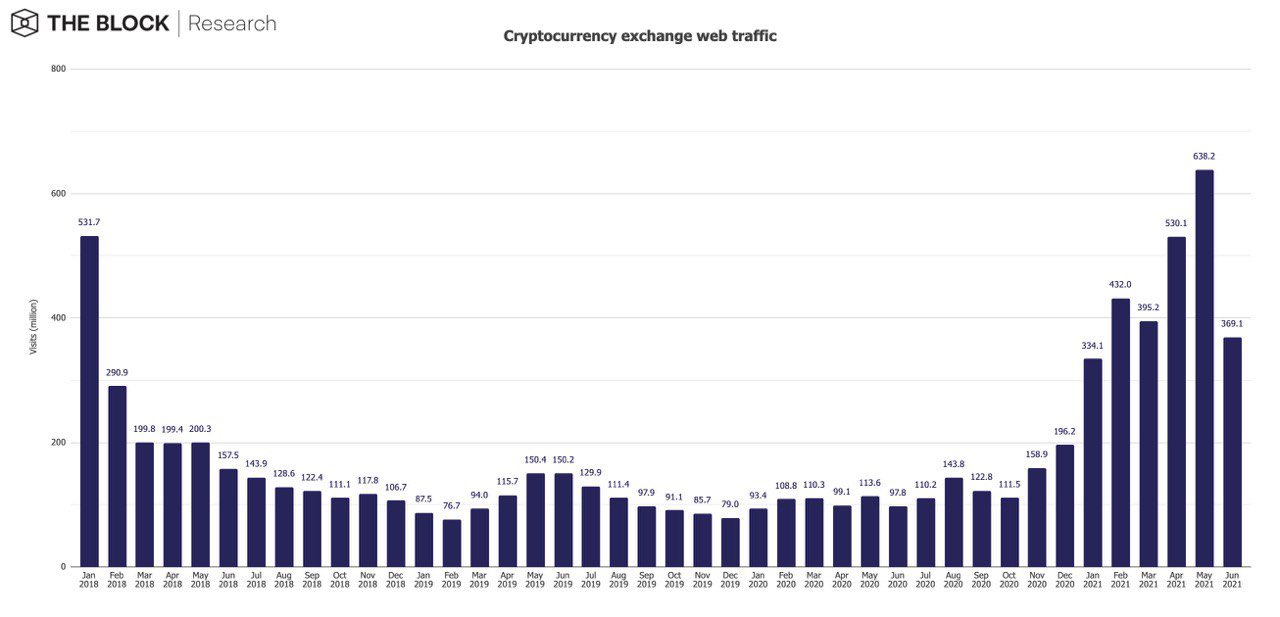 Binance recorded the sharpest decline in trading volume by 56%.
There may be reasons why customers are avoiding Binance right now. Since last week, payments to the stock exchange have been blocked by several organizations. The exchange has also faced opposition since last month for failing to comply with local laws in several countries.
But the most likely catalyst for this decline is a fall in prices BTC affecting the whole cryptocurrency market. BTC reached ATH in April and is now trading in the $ 30,000-35,000 range. This discouraged swing traders and cooled hype about cryptocurrencies.
Some analysts believe that this decline will continue in the near future. Scott Minerd, CIO of Guggenheim Partners, said the "real bottom" of BTC could be around $ 10,000.
What do you think about the decline in trading that took place in June?
How Binance Liquid Swap works, make money by providing liquidity