Currency.com: A Unique Trading Platform Offering Tokenized Securities
6 min read
Currency.com prides itself as a first-of-its-kind cryptocurrency trading platform that also offers a full spectrum of non-crypto assets including stocks, indices, and commodities just to name a few.
That way it is not just your run-of-the-mill cryptocurrency exchange. The term "tokenized securities exchange" is perhaps a much better fit to describe the platform.
In this review today, we're going to focus mainly on five aspects that determine the overall quality of services offered by an exchange — ease of use, security, financial instruments offered, customer support, and fees.
But before we delve into each of those details, let's quickly go through a basic overview of the platform.
What is Currency.com?
Currency.com is a Belarus-based platform legally owned by Currency Com Limited. It is a regulated exchange authorized by the country's financial regulators to offer tokenized securities.
For those out of the loop, a tokenized security is a conventional asset turned into a crypto token. A good example would be the tokenized shares of Tesla, Google, and Netflix that you can buy directly on Currency.com without having to convert your crypto into fiat.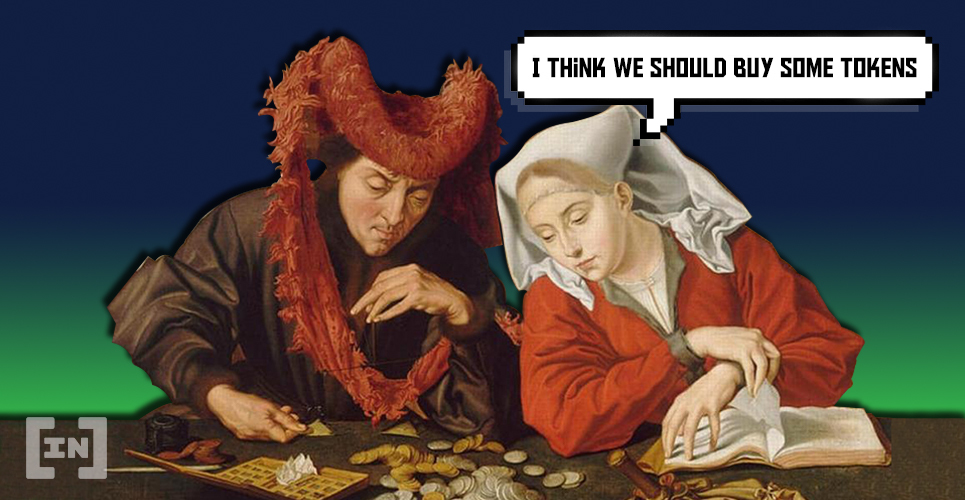 As of March 2021, the platform supports the following asset classes:
9 cryptocurrencies including BTC, ETH, Tether (USDT), BTC Cash, Ripple (XRP), Litecoin, Uniswap, Chainlink, and Compound.
More than 1,400 equities from the US, the UK, Canada, France, Germany, Hong Kong, Italy, Japan, Netherlands, Russia, and Spain.
125+ tokenized currency pairs including EUR/USD, USD/JPY, GBP/USD, EUR/GBP, USD/RUB, AUD/CAD, and so on.
More than 14 tokenized indices including NASDAQ100, CAC40, S&P500, FTSE China 50, and DAX30 just to name a few.
15 of the world's most popular commodities as tokenized assets. Examples include Brent Crude, Gold, Platinum, Natural Gas, and Coffee Arabica among others.
The platform has recently listed a tokenized version of Belarus 252/USD, a bond issued by the government of Belarus.
Currency.com is available worldwide with the exception of the United States, Bahamas, Bermuda, Botswana, Cambodia, Democratic People's Republic of Korea (DPRK), Ethiopia, Ghana, Iran, Pakistan, Sri Lanka, Syria, Trinidad and Tobago, Tunisia and Yemen.
Trading Tokenized Securities With Currency.com: Getting Started
The registration process is pretty simple. Just go to the  Currency.com website and hit the sign-up button. You will only need to enter your name, email address, home address, and phone number.
That's it – now you're in.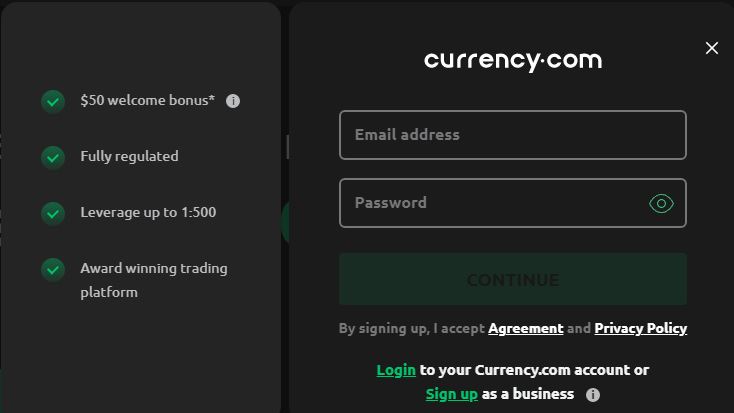 Being a regulated exchange, Currency.com is quite serious about its CTF and AML commitments, and further on you will be asked to verify your account by submitting a few essential KYC documents.
We can't deny the fact that the KYC process may be something tedious and could possibly be even time-consuming. But then this is a trade-off for the peace of mind for your fund's safety and security that you usually get when dealing with a regulated platform.
Depositing Fund
Once your account is created, you can go ahead and deposit funds into your Currency.com wallet. You could deposit either fiat or any of the nine cryptocurrencies supported by the platform (BTC, ETH, USDT, BCH, LTC, LINK, XRP, UNI, and COMP).
For fiat deposits, Currency.com  recommends using your  Visa/MasterCard debit or credit card as the fastest method. A bank transfer is also an option but you may have to wait 1-5 days for the deposit to show up on your wallet balance.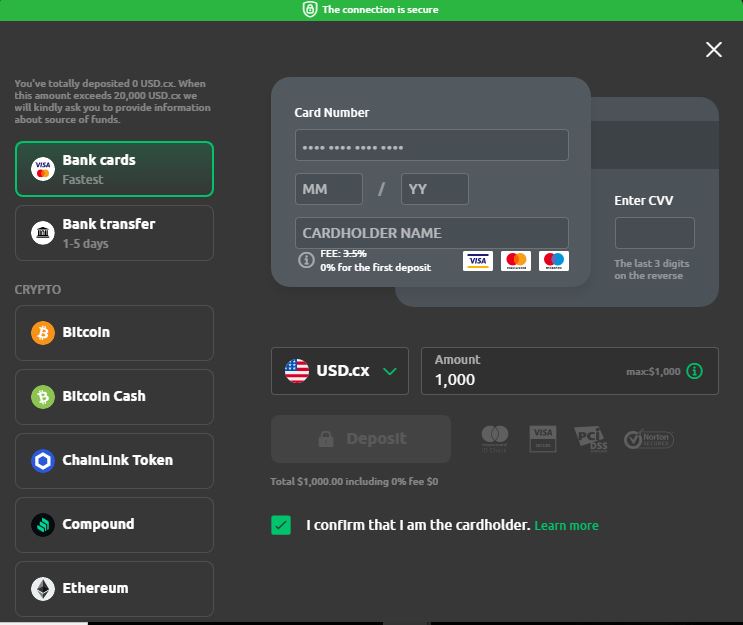 The minimum deposit amount is $10 if you are depositing fiat using a credit/debit card and $50 if you are using a bank transfer. And if you are depositing a crypto, the minimum deposit amount is 0.001 BTC or 0.003 ETH (or a rough equivalent amount if you deposit any of other supported cryptos).
Withdrawal Options
Currency.com supports  withdrawals of both fiat and crypto funds. To make a crypto withdrawal, you simply  select a wallet that you want to transfer your funds to and click on the "Withdraw" button.
With fiat money you have two options to choose from – you can either withdraw to your bank account or to your credit/debit card.Bear in mind that a bank transfer is possible when a recipient account is on your name.
Currency.com: Trading Dashboard and Features
If you are new to the crypto world and crypto trading, it's best to jump on a Demo Account to get comfortable with the platform, its features and even practice different trading strategies without risking your real money. You could switch between your Demo and your Live Account at the click of a button
Overall, the user dashboard comes loaded with all the features including charts and analytics that you would want. The interface doesn't look too cluttered meaning even inexperienced users are less likely to find it intimidating.
Key Features
Learn section: In our opinion, the Currency.com website has quite a sleek and neat design and covers every aspect of the platform that you would like to examine thoroughly before coming aboard. In addition to that, there is also a separate educational section dedicated to helping new users to learn the ins and outs of Currency.com and the services it offers.
Customizable layout: The charts are customizable giving you the option to mold and improvise them to meet even the most specific of your requirements.
High leverage: Most of the conventional asset classes usually do not exhibit the same level of high volatility as we get to see with BTC and its brethren. To get around that and give traders a fair shot at enhanced returns with every asset class, Currency.com offers high leverage of up to 1:500.
Indicators: The platform comes loaded with 75 indicators along with a wide variety of chart drawing tools. You also gain access to professional chats that you can save for future references. This is a pretty handy feature that allows getting rid of the tediousness of having to rebuild charts again and again.
Risk management: Given the high leverage on offer, the platform also focuses on having proper risk management options with stop-loss, guaranteed stop-loss, and take-profit order options.
Security
Being a regulated exchange, Currency.com is expected to maintain certain high standards when it comes to the security of its technological infrastructure and user funds. The platform claims to store all user data in state-of-the-art servers protected by "military-grade security" alongside a trained and thoroughly vetted workforce.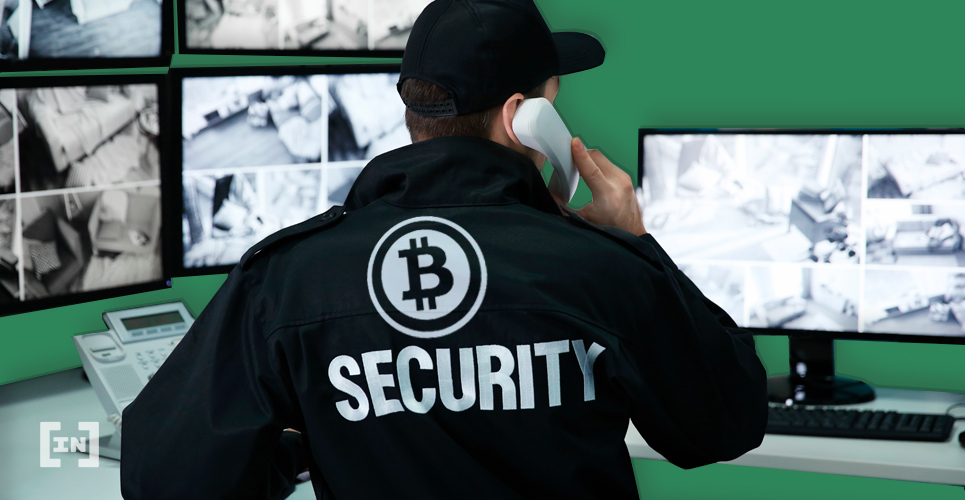 There are additional measures for privacy and data security including 2FA, PGP/GPG encryption for email verification and an ultra-secure system for facilitating document uploads.
The company promises complete segregation of user funds from its operational accounts. This is ensured by storing all user-funds in a bank account that is never used for lending or borrowing purposes. This is a fail-safe measure to ensure that Currency.com users can be timely refunded even if the platform fails to fulfill its liabilities.
While BeInCrypto is unable to independently verify how accurate some of these claims are, we have reasons to believe that, as a regulated exchange, Currency.com is under constant scrutiny for how it runs its business (or manages it activities).
Fees and Commissions
Currency.com is transparent about its fee structure. There is a 3.5% commission on deposits paid by a bank card, whereas a bank transfers is commission-free.
For each withdrawal to a bank card you pay 3%+$3, and for a withdrawals via a bank transfer 0.15 % (min 20 USD, max 150 USD) is charged.
For cryptocurrencies, the taker and maker fees are 0.075% and 0.025% respectively. There is no trading fee on tokenized assets and currencies.
The figures above are accurate as of March 2021. Currency.com maintains an updated log of all commissions and platform fees on its website.
Final Thoughts
The only bone of contention we could find is the quality of customer support. While the feedback is largely positive, we also found a few negative comments from disgruntled users describing their not-so-great experiences with customer support. Maybe that's an area the company can work on to improve.
Other than that, Currency.com appears to be a fairly balanced trading venue that brings a unique and comprehensive set of tokenized financial instruments to the crypto community. It is regulated and promises good security hygiene. Competitive commissions and tight spreads add more to the overall good vibe.
Check out the currency.com website for more insights
The post Currency.com: A Unique Trading Platform Offering Tokenized Securities appeared first on BeInCrypto.