Currently, only 16% of all ETHs are sitting on exchanges
2 min read
Total demand for Ethereu (ETH) is still increasing and, according to on-chain data, the total supply held on exchanges has fallen by about one third in the last year alone.
Investors are withdrawing ETH tokens and the offer on exchanges is declining
Blockchain ETH is probably the most used network in the cryptocurrency space. After all, it is home to many of the two hottest trends of the past year – nonfungible tokens and decentralized finance.
Realizing the potential of the protocol, investors began to allocate significant funds to its native cryptocurrency. Mark Cuban and Robert Kiyosaki are among the most important names, even outside the community that has openly admitted to owning the second largest cryptocurrency.
On-chain data from analyst firm Santiment shows that most investors are bullish on Ethereum, as the number of ETH tokens on exchanges has dropped dramatically over the past year. The percentage decreased by about a third to 16.1% for the year. The analytical company therefore came to the conclusion that "this is a good sign for patient hodlers".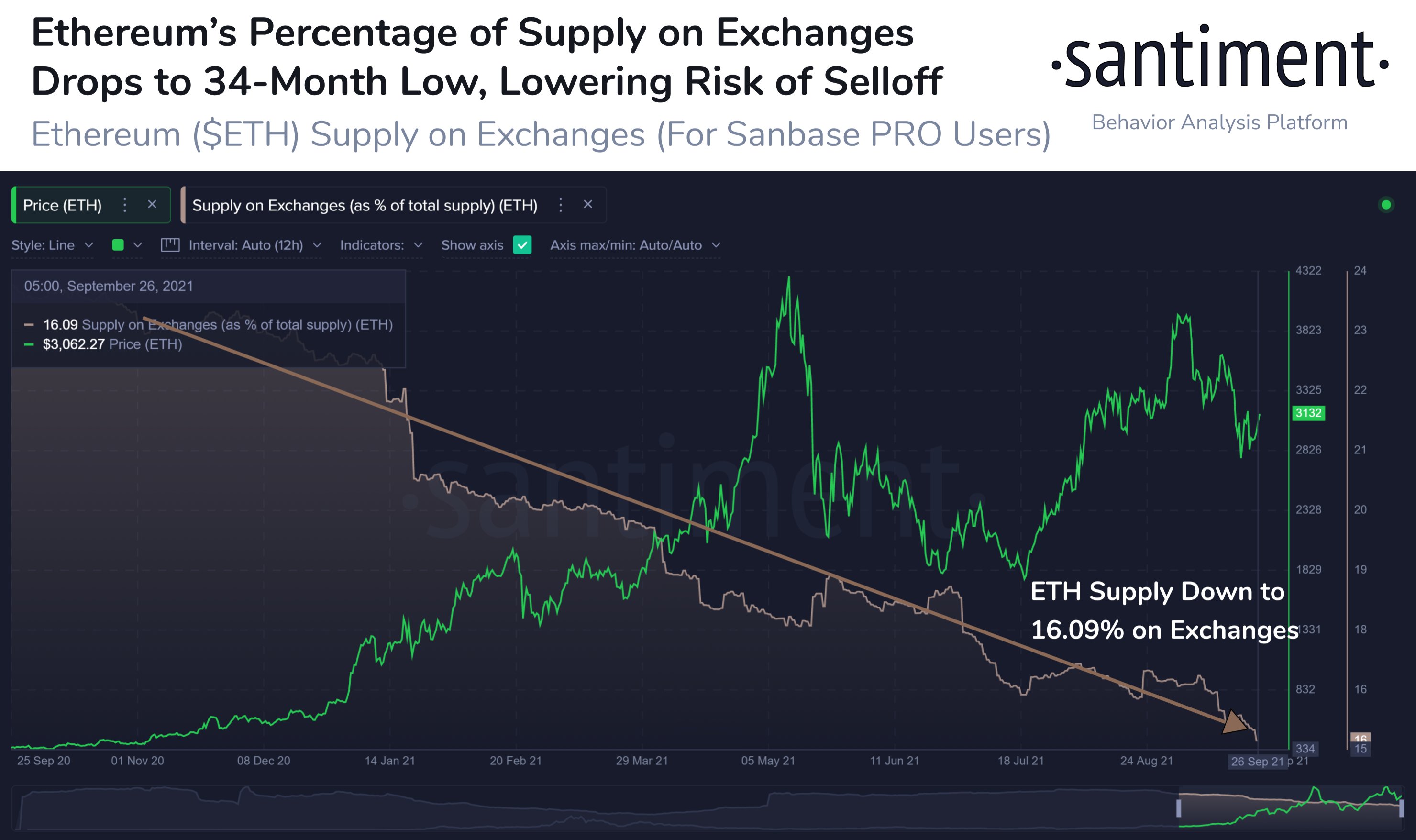 The declining offer of ETH held on exchanges basically means that investors are in no hurry to sell their coins, which could be considered a bullish sign. The view of what happened to its value in the same time frame in which the supply on the exchanges fell is quite impressive in itself.
On September 26 last year, ETH traded around $ 350 (those were the times). In the following months, it was fully launched and by the end of 2020 its value more than doubled.
The year 2021 token began very well, as the second largest cryptocurrency continued to grow, surpassing its 2018 ATH and reaching other highs. It all culminated in mid-May, when it set its current record of $ 4,400.
Despite the subsequent correction and volatility, ETH still costs around $ 3,100 today. This means that in the same time frame, the price of the asset soared by almost 800%.
Let's hope that in 4 years we will write a sentence here: The year 2025 started the token very well, because the second largest cryptocurrency was still growing, it got above its ATH from 2021 and reached other highs. It all culminated in mid-May, when it set its current record of $ 20,400.
Robert Kiyosaki predicts a huge stock market crash in October and says it could happen to BTC as well