Daily profits from BTC mining are growing
2 min read
Despite the ban imposed by China a few months ago and the controversy over excessive energy consumption, profits from BTC mining are rising.
According to the latest Glassnode report, the daily earnings of BTC miners have exceeded $ 40 million, an incredible + 275% compared to pre-2020. According to data, the daily record was set on March 14, 2021 with a daily profit of $ 64.7 million. For the full month of March, profits would exceed $ 50 million on average. At the time, the price of BTC was around $ 60,000.
Profits from BTC mining: numbers
Thus, the earnings for the miners would be about 1000 BTC per day.
The report states that most of this amount comes from block fees, which is about BTC 900 per day, while transaction fee revenues would be constantly between BTC 75 and 125 per day.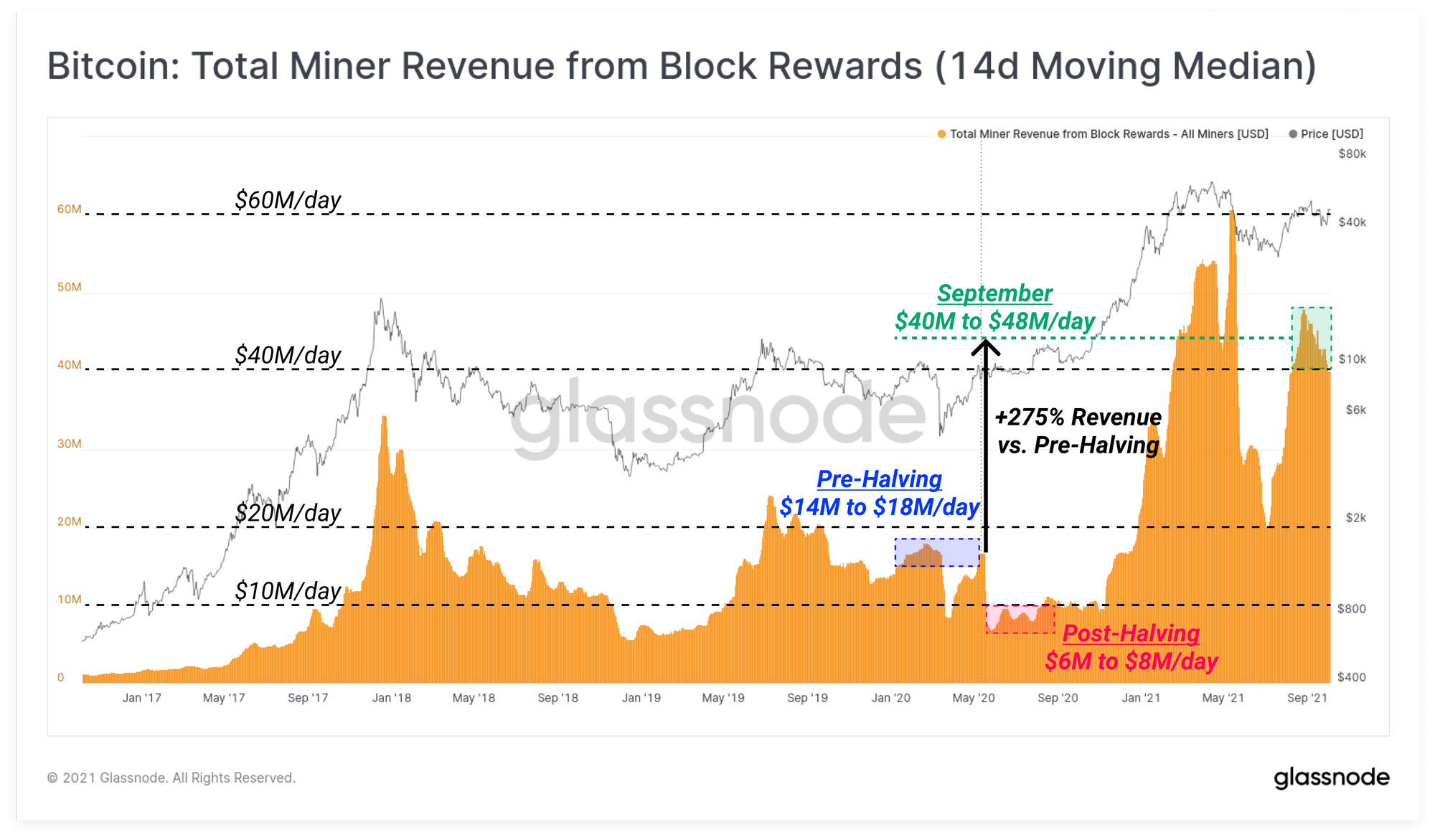 Miners' profits also depend on high electricity consumption. And this is one of the main reasons for the Chinese ban, where about 45% of all BTC mining operations in the world were based.
China's ban on cryptocurrency does not appear to have caused much problems. Chinese miners immediately relocated their farms to countries such as neighboring Uzbekistan, Vietnam, Laos, Texas and Canada. These countries have an abundance of cheap energy for various reasons.
The real challenge for the future for this activity is to use an increasing number of alternative energy sources, such as solar, wind, hydro and nuclear. According to the recent study The University of Cambridge cryptocurrency miners currently source 38% of their energy from renewable sources.
The Chinese ban has increased the profitability of the business
According to some experts, the Chinese mining ban has led to an increase in the earnings of miners. Darin Feinstein, founder of Blockcap and Core Scientific, told CNBC in August:
"For the first time in the history of the BTC network, mining has stopped completely in the targeted geographical area, which has affected more than 50% of the network."
When fewer people mine, it means that fewer blocks are solved every day. Fewer competitors and less difficulty in solving the blocks mean that every miner should see a significant increase in profitability and more predictable revenues, as Glassnode points out.
In an interview with CNBC, Feinstein also said that most of the decommissioned facilities in China were old, not very efficient and with limited profits. However, this situation created a hashrate deficit, making it less difficult to solve the mathematical calculations needed to mine BTC.
And according to experts, this situation will last at least until the end of 2021, which will lead to higher profits for miners.
Factors that could affect the further growth of the price of BTC