DappRadar releases aridrop of 10% of its tokens to old users
2 min read
The DappRadar token evaluation platform will airdrop your RADAR token. According to the official announcement, the total distributed will correspond to 10% of the project's token offer.
An airdrop occurs when a certain blockchain protocol performs a free distribution of its tokens. The distribution can be of all tokens or a part, and usually serves as a way to provide liquidity or to reward project users.
Distribution rewards old users
In the case of DappRadar, the airdrop will aim to reward old system users. To qualify, the user must access the token site and connect your wallet by clicking on the "Go to Airdrop" option. Once this is done, the system will verify if the address is entitled to receive the tokens.
There are two ways to qualify for the airdrop. One of the requirements to participate is to be a registered user in the system and to have used at least one of the projects listed on DappRadar in the last six months.
Another option is to have used at least 10 decentralized applications (dApp) since the wallet was created. In both cases, projects must operate on the ETH (ETH) network.
Those who qualify for the airdrop will receive the equivalent of up to $750 in RADAR tokens, but will have to pay $40 in airdrop fees. In other words, the user can earn US$710 net.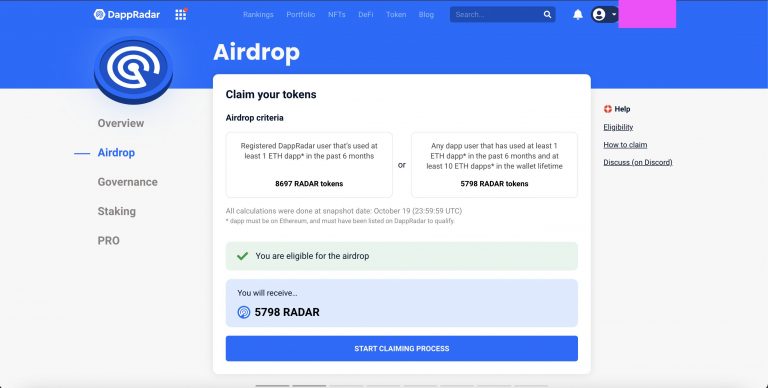 Governance token
The release of the RADAR token is part of a series of changes announced by the project in late November. This token will allow users to vote on the future development of the platform, as well as gain access to unannounced benefits and rewards.
Along with the token, DappRadar made a change in its positioning. Now, the site claims the title of "world dApps store (The World's Dapp Store). However, the change was also one of positioning, as the service started to include not only dApps, but also blockchain games.
Currently, DappRadar provides data on activity and trading volume for a wide range of dApps. The site has data from 33 blockchain platforms, more than 2,000 NFT collections and 9,000 dApps. Types range from decentralized finance (DeFi) protocols like Uniswap and PancakeSwap to popular games like Axie Infinity.