Decentraland may rise 40% analyst says
2 min read
The Decentraland (MANA) price has been consolidating after overcoming a crucial resistance hurdle of the prevailing chart pattern.
That's what the day trader pointed out Sarah Tran. According to her, although MANA is retreating, a 42% rise is still on the radar. But for that, the token price cannot fall below the critical support level of $3.28, the apex of the technical standard.
"The price of MANA topped the top of the symmetrical triangle on the 12-hour chart on December 23rd. This suggests that MANA is ready to kick-start a new high. The prevailing chart pattern projects a 42% rise from the break point towards $4.93 coinciding with the resistance line given by the Moment Reversal Indicator (MRI)," she said.
Also according to the analyst, although the price of MANA has trended down as it consolidated after the aforementioned break, the bullish outlook remains intact if MANA remains above the vertex of the triangle at $3.28.
Decentraland
Tran also pointed out that the first resistance line for the cryptocurrency price is at $3.48. That's because this is where the 12-hour simple moving average (SMA) of 50 and the 12-hour moving average of 21 intersect.
"MANA will face further headwinds at the 38.2% Fibonacci retracement level at $3.53. Then on the 12-hour 100 SMA at $3.71. Then, at the 50% retraction level at US$ 3.85", she said.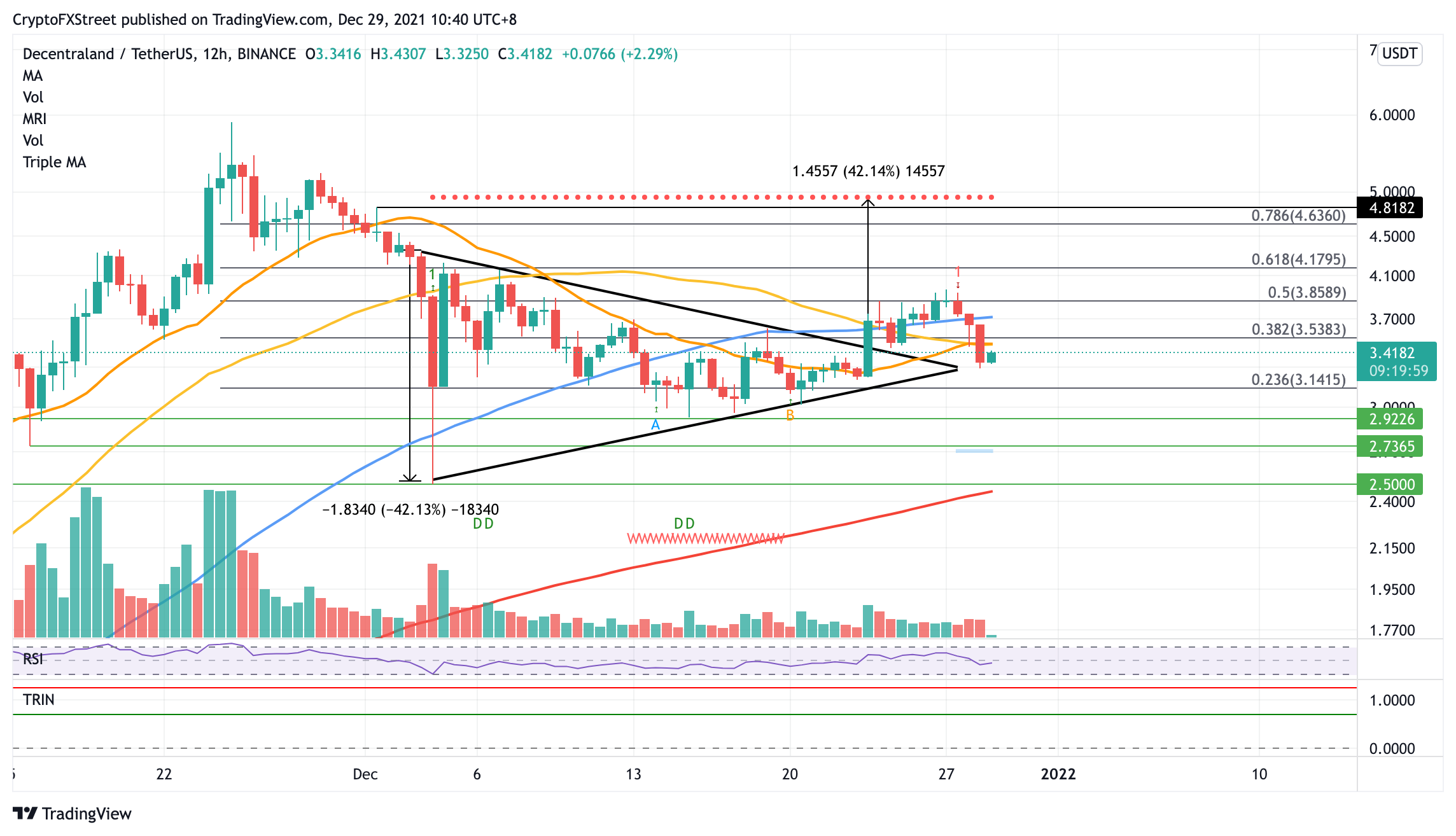 Finally, she pointed out that the MANA price will face additional obstacles at the 61.8% Fibonacci retracement level at $4.17 and then at the 78.6% Fibonacci retracement level at $4. 63.
"If buying pressure continues to build, the token could hit the $4.93 high target," pointed out.
However, if a spike in sell orders occurs, the Decentraland price may find immediate support at $3.28.
"However, if MANA were to slip below the aforementioned defense line, the optimistic forecast would be invalidated. Further supportive position may emerge at the 23.6% Fibonacci retracement level at $3.14. And then, at the November 7th high of $2.97", she concluded.