Determining If Bitcoin's Count Is Bullish or Bearish
2 min read
On Oct 20, the Bitcoin (BTC) price moved above the $12,050 resistance area, regaining all of the losses stemming from the early September fall.
Despite this move, it's not yet clear whether this is a new upward move or an upwards correction.
Bullish Bitcoin Wave Count
BTC's bullish count suggests that the price has begun a bullish impulse (shown in orange below), currently trading in wave 3. The impulse is expected to be a part of a longer-term wave 5, which could take the price all the way to $14,000.
If the count is correct, the BTC price has just completed sub-wave 3 (blue) and will soon begin to correct. A decline below the sub-wave 1 high at $10,950 would invalidate this particular wave count.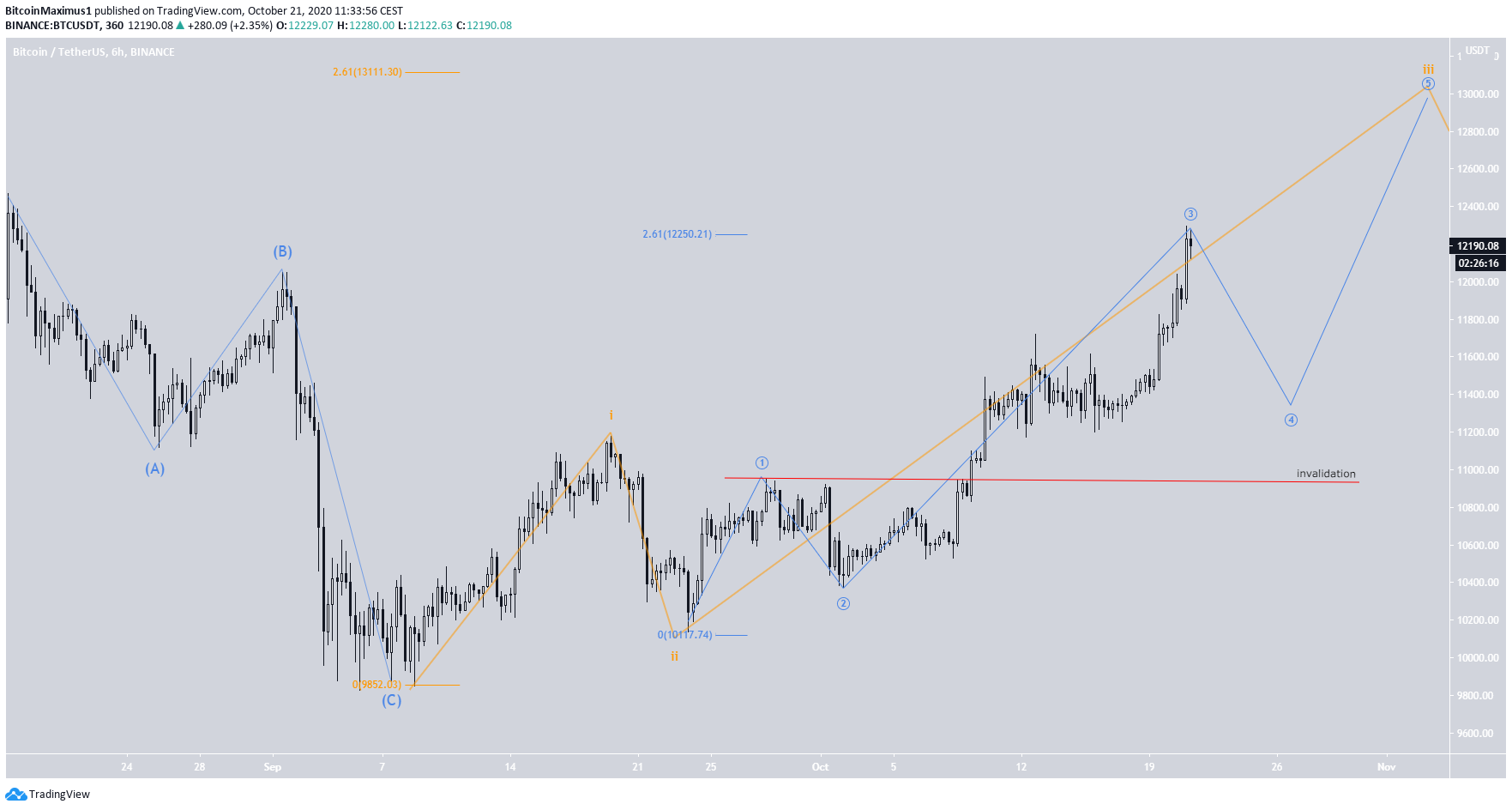 Alternation
To determine the target for the potential corrective move, we need to look at sub-waves 1-2 (blue).
Due to EW rules, sub-waves 2 and 4 need to alternate between each other. The correction for sub-wave 2 was a flat correction, which completed a deep retracement (0.618) and took the same amount of time as sub-wave 1.
Ideally, sub-wave 4 would be a shallow zig-zag (0.382 – 0.5), which would end near $11,325. Furthermore, it should complete at a shorter time than sub-wave 3. Since sub-wave 3 took 18 days, we would expect sub-wave 4 to complete after about eight days.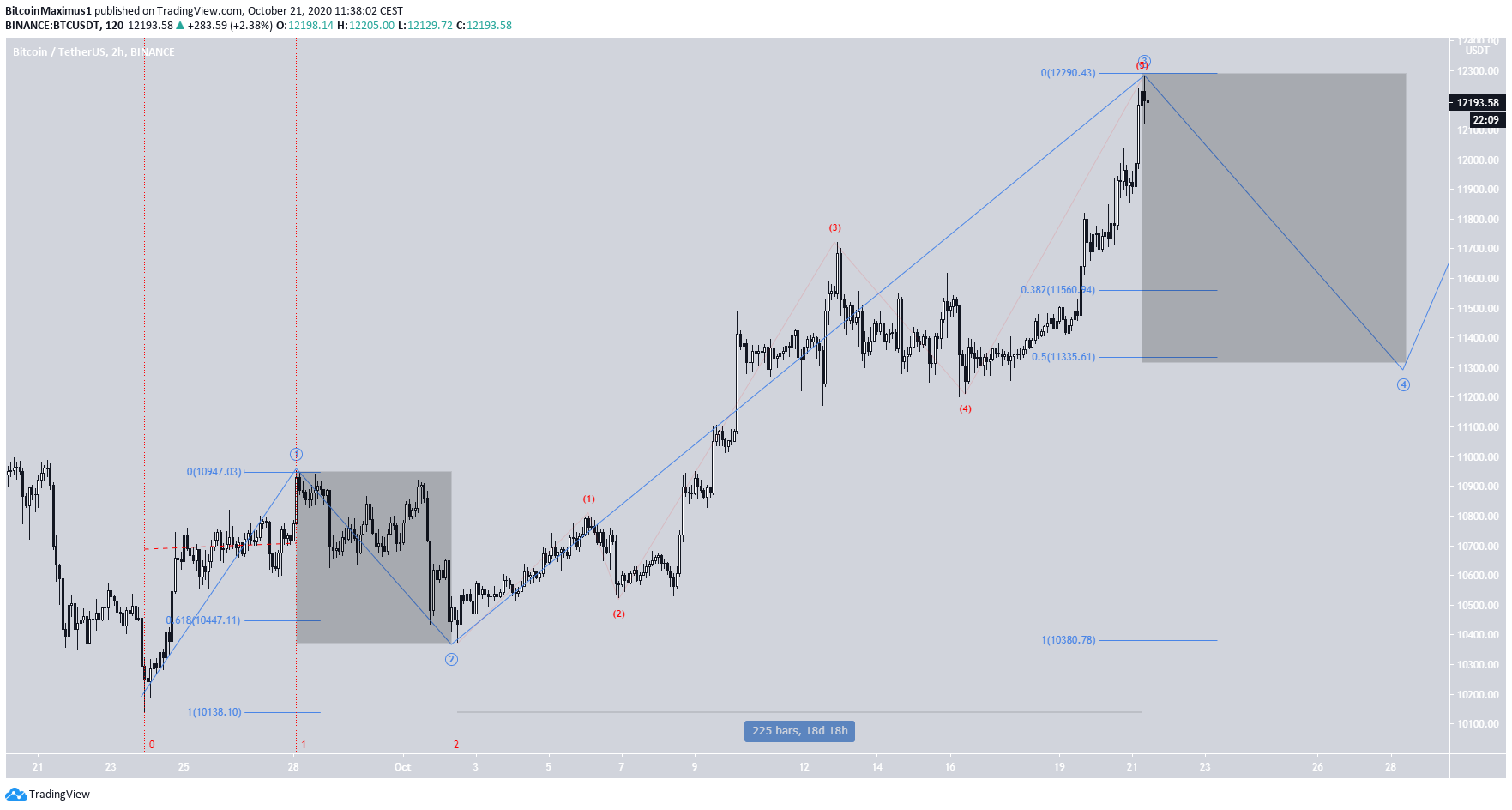 Bearish Wave Count
The bearish wave count suggests that the current rally is corrective, being part of the C-wave (black) of a longer-term B wave (white).
Since the initial A wave (white) took place in three subdivisions, the correction is considered a flat correction (3-3-5 sub-wave count). The B wave (white) has increased above the 0.85 Fib level of the entire decline, making it a valid flat correction.
While the price could technically rally above the $12,470 high of Aug 17 and create an expanded flat, those are rarer corrections.
What should follow after the completion of the current move is an impulse which completes the C wave. The three most likely targets for the bottom of this wave are at $9661, $8947, and $8048, the 1, 1.27, and 1.61 Fib projections of wave A (white).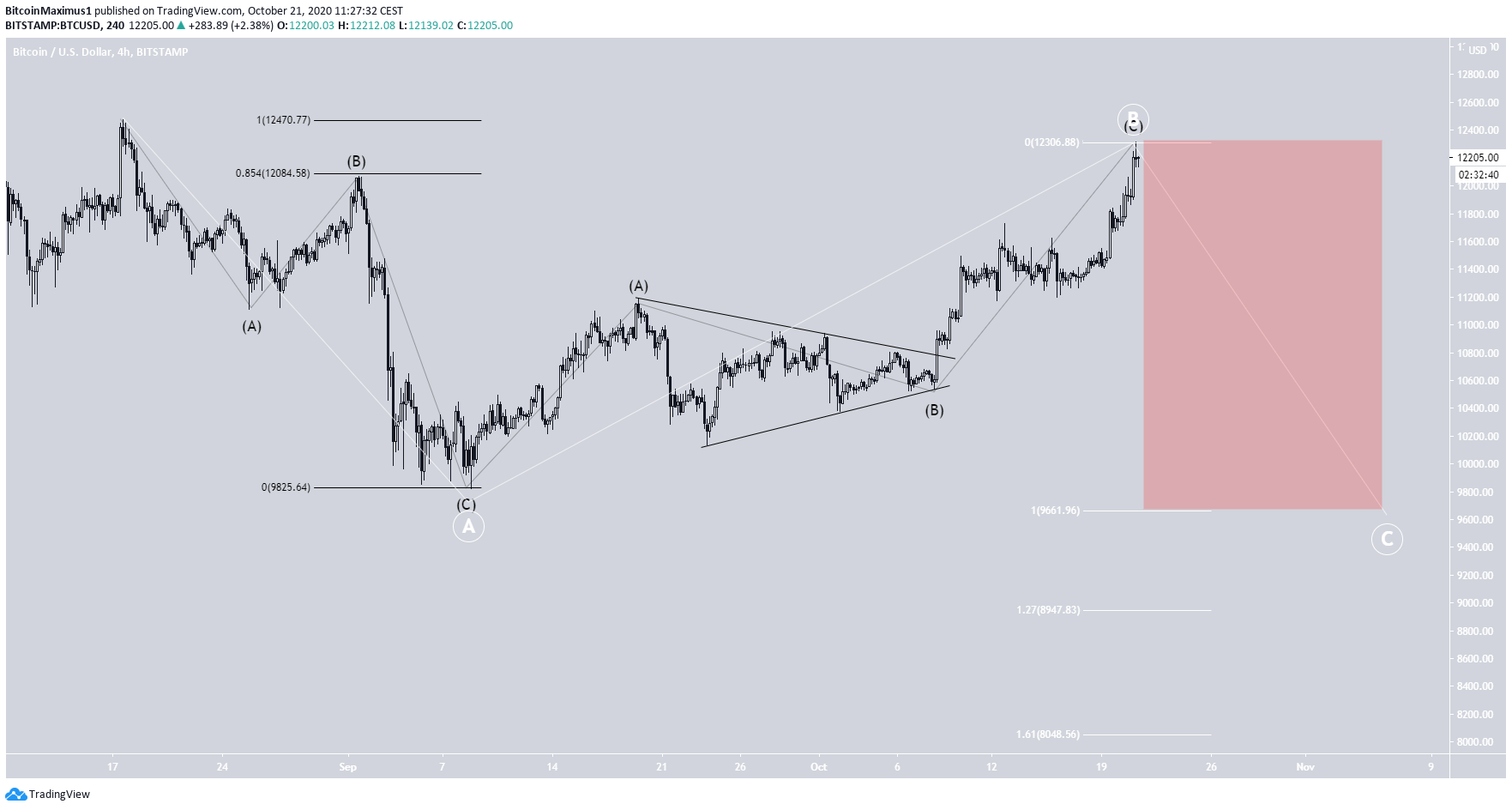 To conclude, the decline from the current resistance level will be crucial in determining whether the trend is bullish or bearish.
For BeInCrypto's previous Bitcoin analysis, click here!
Disclaimer: Cryptocurrency trading carries a high level of risk and may not be suitable for all investors. The views expressed in this article do not reflect those of BeInCrypto.
The post Determining If Bitcoin's Count Is Bullish or Bearish appeared first on BeInCrypto.