ETH Crosses $3,100 Making Vitalik Buterin a Young Billionaire
2 min read
ETH has struck a new all-time high on May 3, making its co-founder, Vitalik Buterin, a crypto billionaire.
ETH prices are currently trading at their highest ever levels just over $3,100 during Monday's Asian trading session.
The asset first topped the psychological $3,000 barrier just a few hours before but has continued to push higher resulting in a gain of 6% since the same time yesterday.
Since the beginning of 2021, ETH has made a whopping 325% to current levels, far outperforming BTC (BTC) which has doubled in price over the same period.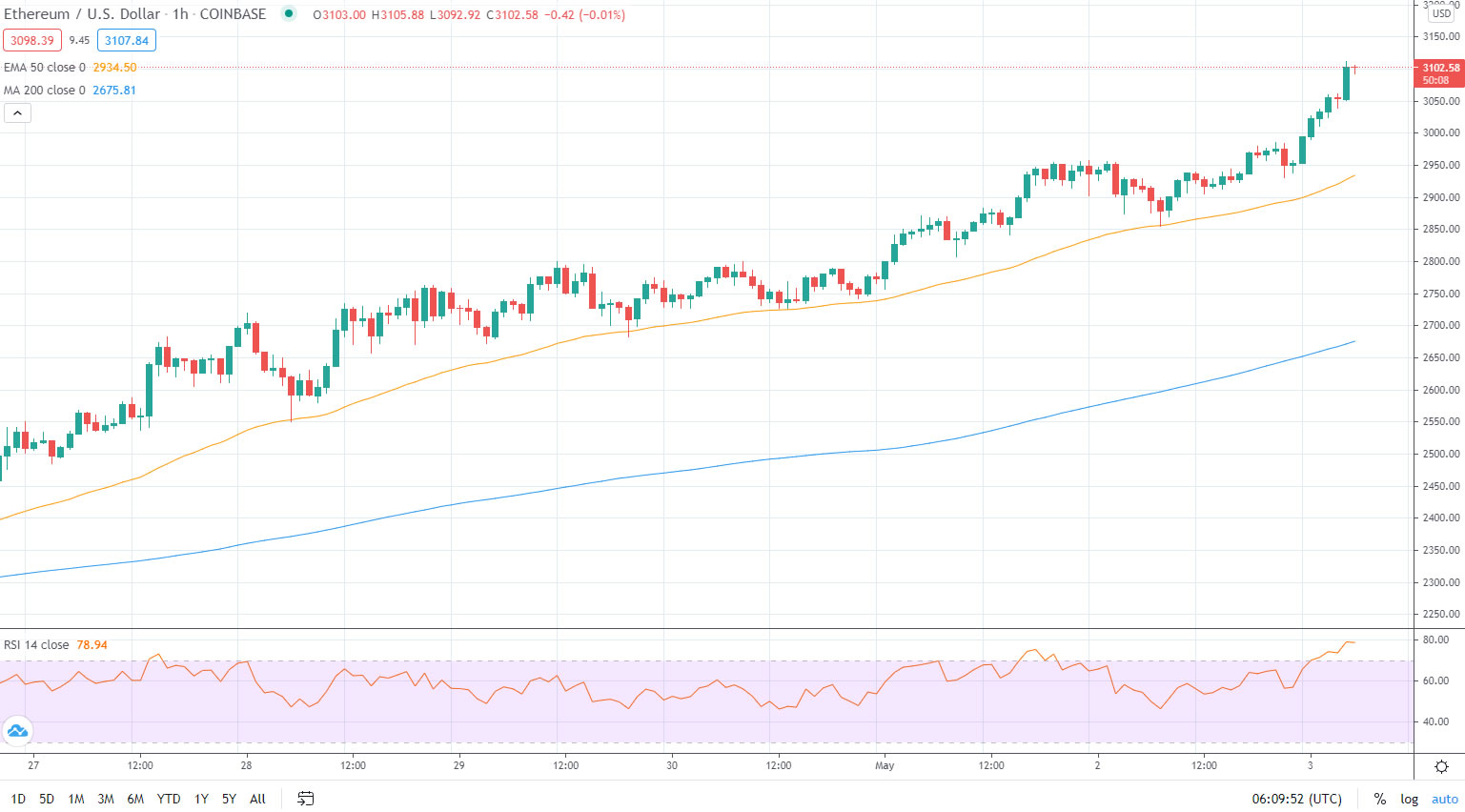 Buterin the ETH billionaire
The big move has made ETH's co-founder, Vitalik Buterin, a billionaire through his ETH holdings. In October 2018, Buterin shared his ETH address to disclose to his personal holdings. He added that there was more: "I also have some other addresses, but they're quite small relatively speaking."
Today, that 333,520 ETH is worth a staggering $1.03 billion.
In a note to investors on April 29, Fundstrat predicted that ETH prices would top $10,000 but did not specify when;
"We're maintaining our overweight ETH vs. BTC recommendation from April 2020 and reiterating our ~$10.5k price target from January this year."
Wall Street bank JPMorgan has also been sending notes to investors advising them to be bullish on ETH. Last week Business Insider reported that JPM analysts stated that ETH was not as leveraged as BTC and as a result not as volatile. Strategists predicted that it would continue to outperform its big brother in the long run;
"To the extent owning a share of this [ether's] potential activity is more valuable, the theory goes, ether should outperform BTC over the long run,"
Market cap monster
In terms of market capitalization, ETH has now reached a record of just shy of $360 billion. According to CompaniesMarketCap, this makes the asset larger than PayPal and Bank of America. MasterCard is not far ahead with a market cap just below $380 billion.
Crypto YouTuber, Lark Davis, commented that with the asset's deflationary economics shift and move to proof of stake, it is going to become a "passive income beast" with staking earnings.
"The more I think about it, the more I feel like I may never sell my ETH. It's going to be a deflationary asset with 5% annual rewards, ETH at $10,000 will be a passive income beast!"
Those that staked when Beacon Chain launched in early December would have seen compounded returns in the price gains and the extra yields in ETH itself. With this narrative strengthening, the number of ETH millionaires is also likely to increase.
The post ETH Crosses $3,100 Making Vitalik Buterin a Young Billionaire appeared first on BeInCrypto.