ETH hashrate is at new highs, miners exodus from China finished
2 min read
The ETH hashrate recently reached a new all-time high (ATH) as miners resumed operations following Chinese authorities earlier this year.
Recall that hasheŕate of Ethereum peaked at 632.8 TH / s on May 19, 2021, just after the second largest cryptocurrency reached an ATH of over $ 4,300. However, Hashrate began to decline after the Chinese authorities took action against cryptocurrency-related activities, in particular mining, on 21 May 2020.
The move not only dropped the price of Ethereum from $ 3,399 to $ 2,502, but also affected the network hashrate, which fell to a three-month low because miners had no choice but to close their farms and move to countries with more friendly crypto regulation. .
ETH hashrate on the new ATH
In September 2021, the number of ETH miners in China decreased, and many appear to have resumed operations in other regions, as evidenced by the growing computing power of the network. According to the Etherscan platform, the network hashrate has reached an all-time high of 715.4 TH / s, indicating that the miners have recovered from the effects of the Chinese intervention and the exodus is likely to be over.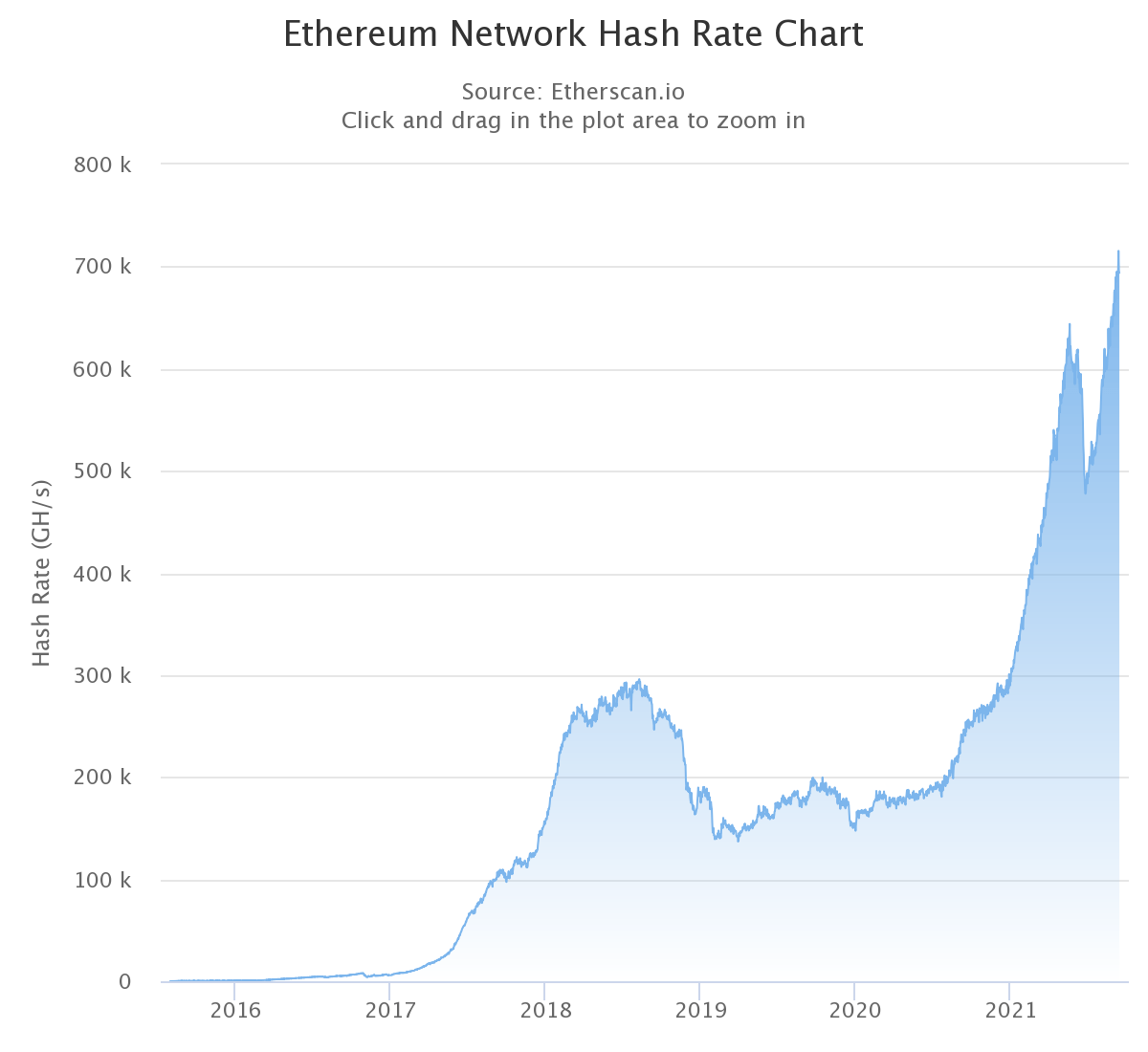 Ethereum miners have proven resilient in the last few months, despite Chinese intervention and the recent London hard fork, which was launched earlier last month. An upgrade that is an integral part of the network's path to version 2.0, which eventually ends with a migration from the proof-of-work (PoW) algorithm to Proof-of-Stake (PoS) for Etherum.
Hard fork London was implemented to reduce network charges by burning an algorithmically determined base fee associated with transaction processing. According to the data on Dune Analytics more than ETH 295,339 (more than $ 1 billion) was burned from the hard fort, which was originally intended as a reward for miners.
With the upgrade, many believed that there would be a massive exodus of miners from Ethereum to other networks. Despite speculation, ETH miners remained determined.
BTC hashrate is also recovering
Meanwhile, the computing power in the BTC network has also begun to recover from Chinese intervention and continues to strengthen as many BTC miners (BTCs) resume their activities in more friendly jurisdictions.
Metrics in the chain, such as the hashrate and difficulty on the BTC blockchain, show that the worst for the network may be behind us. The BTC Hashrate has more than doubled since the low in 2021 and is currently above 130 GH / s.
Top alternative exchanges for Binance without KYC verification