Ethereum Q3 Volume Dwarfs Bitcoin's, Fueled by DeFi
3 min read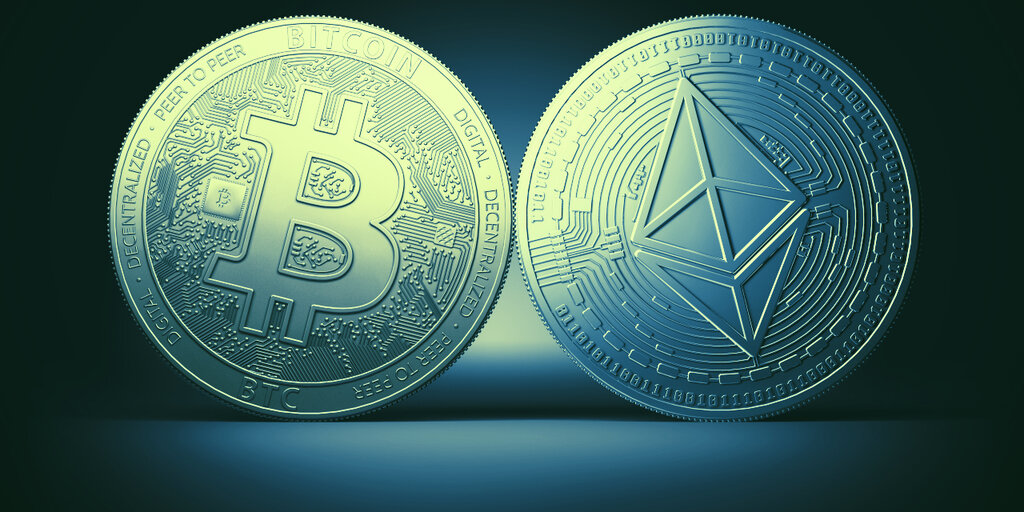 The Ethereum blockchain is now processing more than twice the daily transaction volume of the Bitcoin blockchain, riding a massive wave of growth in stablecoins and the DeFi apps that use them.
A new report from crypto research firm Messari on Q3 activity in DeFi and stablecoins has revealed that the current rolling 30-day average for Ethereum is around $7 billion; Bitcoin's is under $3 billion.
Ethereum now transacts two times more value than Bitcoin daily.

This is what a cryptoeconomy looks like when it starts to find product-market fit.

— Ryan Watkins (@RyanWatkins_) October 21, 2020
If current rates hold, Ethereum is on track to see more than $1 trillion in annual transaction volume, a major reversal from 2019, when Bitcoin transaction volume was more than double that of Ethereum. 
Though Bitcoin's price has climbed over the last three months from the mid-$9,000s to above $13,000, Bitcoin volume has remained mostly steady since October 2019, indicating that attention has shifted toward Ethereum's "unstoppable" decentralized application platform, and away from the more straightforward store of value utility offered by Bitcoin as "digital gold."
The Messari report pegs the impressive growth in Ethereum's transaction volume on the accelerated use of stablecoins, most commonly used in interactions with DeFi applications. DeFi stands for decentralized finance, a group of blockchain-based applications running primarily on the Ethereum chain. DeFi apps use automatically executed blocks of code known as smart contracts to perform financial operations like issuing loans or generating interest on user deposits.
Many DeFi loans are issued in stablecoins, or crypto tokens pegged to an asset such as the US dollar; doing so makes financial reckoning more compatible with existing calculations on aspects like interest rates or liquidity ratios. 
Most stablecoin loans are issued with cryptocurrency holdings put up within DeFi apps as collateral, requiring the value of the underlying crypto assets to remain above a certain threshold to avoid a margin call, in which part of the crypto collateral is sold to pay off a portion of the outstanding loan.
Of all stablecoins, by far the most numerous is Tether, a centralized, at times controversial, dollar-pegged token with more than $16 billion currently in circulation. It's no surprise, then, that Messari research found Tether to be the most-transacted stablecoin in the crypto landscape. Tether, however, isn't just the most traded stablecoin—Messari found that over the summer, it grew to surpass even Bitcoin with a rolling 30-day average transaction volume of nearly $3.5 billion.
Much of this activity is attributable to Etherum's stablecoin volumes.

Tether alone now transacts more daily than Bitcoin.

Most of this volume is ERC-20 Tether. pic.twitter.com/CH3uQCIIw6

— Ryan Watkins (@RyanWatkins_) October 21, 2020
DAI, a product of DeFi lending service MakerDAO, also had a strong Q3, growing its supply more than 600% from the start of July through September according to the Messari report. 
Unlike Tether, which issues new Tether stablecoins in partnership with large-scale customers like crypto exchanges, DAI is generated through MakerDAO users taking loans against their crypto holdings in a decentralized system. DAI is thus more resistant to censorship or control by its issuing entity, but it also requires different incentives to keep the tokens stable at $1, like community-controlled interest rates.
While different stablecoins take different approaches to deliver security and utility to their users, it's clear the emerging asset class will play a key role in the ongoing development of the crypto economy. Stablecoins could have the potential to crowd out cash as the best way to transact on a day-to-day basis, provided similar tokens distributed and controlled by national central banks don't eventually make them redundant. 
As Ethereum transaction volume takes off, Bitcoin's simple design could hold the original cryptocurrency back—or it could just as likely follow the DeFi herd, as cross-cross chain transfers that allow access to Bitcoin value in DeFi apps become increasingly common.