Fantom (FTM) outperforms Polygon (MATIC) in total value locked
2 min read
The Fantom (FTM) decentralized finance (DeFi) protocol outperformed the Polygon (MATIC) platform in total value locked (TVL), according to data provided by the DeFi Llama aggregator.
In all, the protocol has a TVL of $5.87 billion, while Polygon has $5.69 billion blocked.
Just in the last 24 hours, the total amount blocked in Fantom has already risen by more than 8.8%. In the last 7 days, the growth is over 30%, thus surpassing all of its main competitors.
Above Fantom is Avalanche (AVAX), the 5th largest protocol with a TVL of $12.2 billion.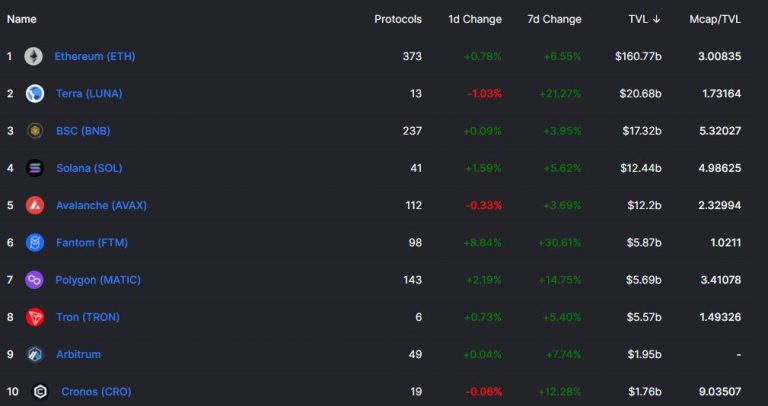 Within the Fantom protocol, the project focused on Web3, Multichain (MULTI), is the most popular
The project has $2.24 billion in blocked value and is therefore responsible for more than 38% of Fantom's TVL.
Next comes the SpookySwap (BOO) project with a $1.04 billion TVL, and in third place is Tomb Finance (TOMB) with $1.03 billion blocked.
Fantom grows as DeFi and FTM soars
The growth of the Fantom protocol as a DeFi platform follows the appreciation of the native FTM token.
In the last 7 days, the price of the cryptoasset jumped more than 70%, double the value of MATIC.
As of this writing, FTM is trading at $2.33. This price is about 30% of the $3.48 cryptoasset maximum reached at the end of October.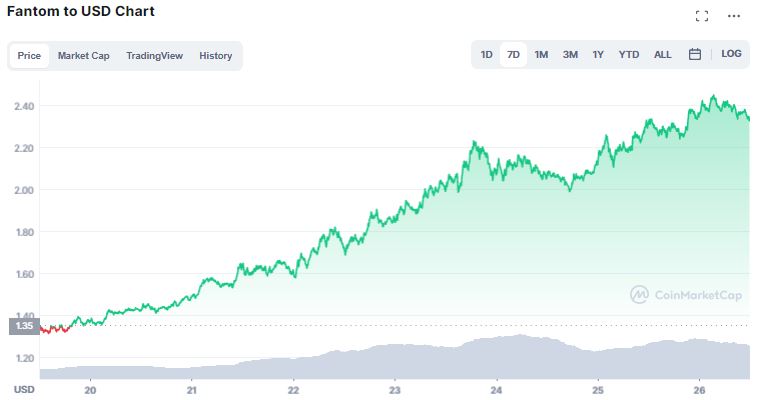 Meanwhile, the project's market value is also on the rise, at $5.9 billion. This market value places the FTM token in 33rd place in the CoinMarketCap ranking.
By way of comparison, the market value of Polygon (14th) is US$20 billion and Avalanche (11th) is US$28 billion.
FTM Price Forecast
According to the cryptocurrency analyst known as Vikram, the price of FTM shows an increase in demand in the market. However, the streak of bullish candlesticks on the chart increases the chances of a sharp and sudden correction.
"Also, the next prominent supply area at $2.60 could result in a sudden drop. And if the price manages to break above it, the next target level waits at $3," he added.
Thus, if the projection materializes, FTM will register a new appreciation of almost 30% in relation to the current price.