Faraland: The biggest fighting play-to-earn NFT game on BSC, which will start soon
4 min read
The concept of NFT play-to-ear games is gaining more and more popularity every day. Dozens of new concepts for such games are being created every day, with very little success. Today we will introduce the NFT play-to-ear game Faraland, which is also the largest game on the Binance Smart Chain network. Currently, this game is in the phase just before launch.
Welcome to Faraland
Faraland is a strategic fighting game for Android and iOS, developed on blockchain by MoonKnight Labs, a company based in Vietnam. The players control characters from 7 different races: humans, elves, orcs, fairies, dragons, angels and demons – each with different abilities to help them fight other players in the land known as Faraland. The entire game will be released in Q4 2021. Faraland is a new project combining NFT technology and gaming experiences. Every NFT hero from Faraland is unique.
Faraland differs from other projects where the NFT is used only for collecting purposes. Thanks to many exciting game activities, Faraland users can use their heroes in many unique ways, from equipping them with weapons and armor to engaging them in various thrilling battles. Using the play-to-earn concept, players can earn and profit by playing this game in several ways.
The game already has a decent base of players, with more than 111,000 people following their Twitter account.
Game NFT characters
As we mentioned above, every NFT hero of this game is unique. In total, there are 20,000 heroes divided into 7 races.
50% are people
24.6% are orcs
20% are elves
4% are fairies
1% are dragons
0.2% are demons
0.2% are angels
The value of heroes depends primarily on race and secondarily on their visual features. The uniqueness of these individual features is divided into the categories common (most common), uncommon, rare, epic, legendary, mythical (most rare). Each hero also has different abilities that he will use in fighting players in campaigns and game tasks against bosses.
The skills are divided into 4 main categories:
Strength – Increases damage, physical defense, and health points
Mobility – increases the speed of the attack, the speed of movement on the map and the chance of evasion
Intelligence – increases magic attack, magic defense and accuracy
Happiness – increases the chance of a critical hit
You can buy heroes directly on the market on the web Faraland.io . You can buy heroes for a BNB, equipment such as weapons, or armor is bought using FARA tokens.
FARA tokens and staking
You can use the FARA token to change the hero's name. Along with their unique appearance, it is a unique name. You can also use the FARA token to upgrade equipment to a higher level, giving you higher bonuses. You can also try FARA in Gach, which is something like a slot machine that contains various items of various rarities. After paying for FARA tokens, you will get a random item into the game. If you're lucky, you can get really good equipment and make money by selling equipment in the market.
You can stake your FARA tokens at an interest rate of 5% per year. Staking takes place by hooking your tokens to a specific hero (yours or someone else's). Thanks to staked tokens, heroes gain experience points and then gain higher and higher levels for them. Each hero starts at level 1, and at the next level he needs 1000 experiences. The higher the level, the more experience is needed. You can find out the calculation of experience easily:
Number of stacked FARA x 86 400/100 000 = number of gained experience per day. With 1000 tokens, you can gain 864 experiences in 24 hours.
In terms of economic factors, the FARA token can be traded mainly on the Pancakeswap. Its market capitalization is very low, at only around 17 million. Given the fan base of the game and the need for FARA to play the game, it is more than possible that if the game succeeds, we will see similar growth as in the Axie Infinity game and the AXS token. If you expect this game to be successful, you can buy FARA tokens as speculation.
If you choose staking, but you don't have your own hero, you can stop them with my NFT hero, thanks to which they will gain more experience. You get 5% APR for staking FARA tokens. On the Faraland.io website, click on "Staking".
Game concept
As we outlined above, in the game you will have a wide range of options that will allow you to earn. In a few days, a "text game" version of the game should arrive, where you will perform various tasks and fight against game bosses, for which you will receive rewards. It will also be possible to obtain gems that can be directly converted to FARA tokens and you can easily sell them. Also in these quests you can get soul stones that will be designed to summon temporary heroes. It will also be possible to obtain various equipment for heroes.
In the next phases of the game, PVP will add players to players, race fights, guild fights and the like.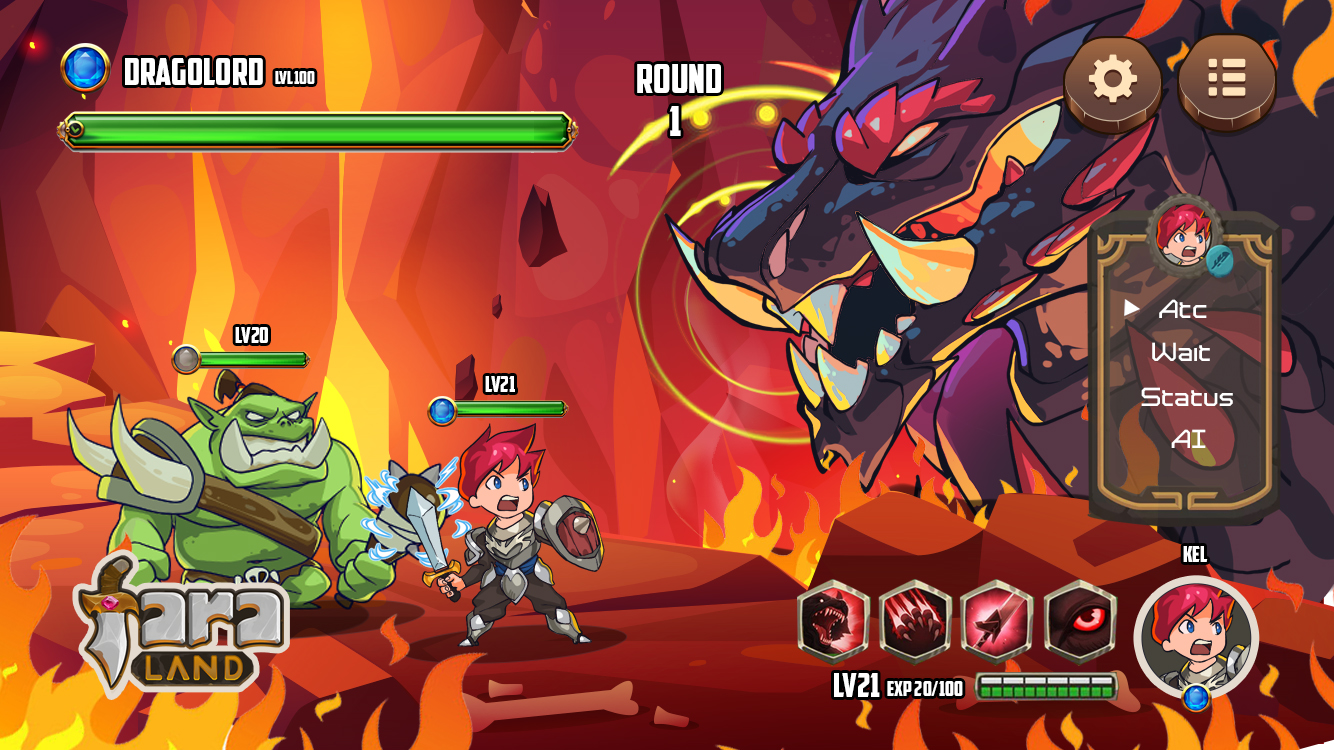 Marketplace
You have a built-in market at Faraland.io. The purchase of heroes takes place via "Heroes". Currently, the lowest price for heroes is 0.8 BNB. The price can be high for someone, so the creators of the game will add the soul stones we mentioned above to the game, thanks to which you will get temporary heroes.
If you want to buy and sell equipment, click on the top bar "items". Gaming equipment often has restrictions on the level and race of the hero, so be careful what you buy. Equipment is purchased using FARA tokens.
How to play?
To start the game, you need a mobile wallet that provides support for Binance Smart Chain – such as Metamask or Trustwallet. Personally, however, I prefer Metamask, because it works without problems on both computers and mobile phones. After pairing the wallet with the site Faraland.io Subsequently, nothing prevents you from enjoying the game, ie its currently limited version. Currently, however, only the results of the audit are awaited and the "text game" version of the game will come soon.
With the launch of the game, it is possible to expect increased interest from players and thus an increase in the value of NFT heroes and the FARA token.
Follow their Twitter for more information, Medium and read whitepaper.