Fear and greed index is declining
2 min read
According to the fear and greed index on the alternative.me analytics website, the mood in the BTC market is back in the fear zone.
In fact, after a recent resurgence, when the index reached almost 30 on July 5, it fell again to 20 yesterday and could fall further today.
Trend of fear and greed index in BTC
The index hit its highest point in recent weeks on June 15, 38, but still well below par (50).
Keep in mind, however, that from the end of October to the middle of May, he remained almost continuously in positive territory over 60 for almost seven months in a row, even reaching over 80 between the end of November and mid-January and then in mid-February.
This means that enthusiasm has clearly dominated the primary cryptocurrency markets in the last few months. The index returned to negative territory on May 13 and has not recovered for almost two months since.
Are BTC and ETH on their way up?
Bitpanda's Chief Product Officer Lukas Enzersdorfer-Konrad notes that the cryptocurrency market was generally positive last week after several weeks of volatility. However, the weekend movement was characterized by low trading volumes.
However, BTC successfully holds a support level of 25,000, indicating that accumulation is taking place.
Enzersdorfer-Konrad points out that the price is in a descending wedge pattern, which began to take shape in mid-June. This is a bullish formula, but the price must break its upper trend line in order to rise.
Another metric suggests that accumulation is still ongoing for BTC held by whales. For example, the number of Bitcoins held at addresses containing 1,000 to 10,000 BTC has recently increased by more than 80,000 BTC, reaching its highest level since May.
This was revealed by the data of the analytical platform Santiment, which published a graph that clearly shows the continuing trend.
"BTC whales continue to accumulate in July. BTC addresses with 100 to 10,000 BTC now own 9.13 mil. coins, the highest value since April 14. That's 48.7% of the offer. "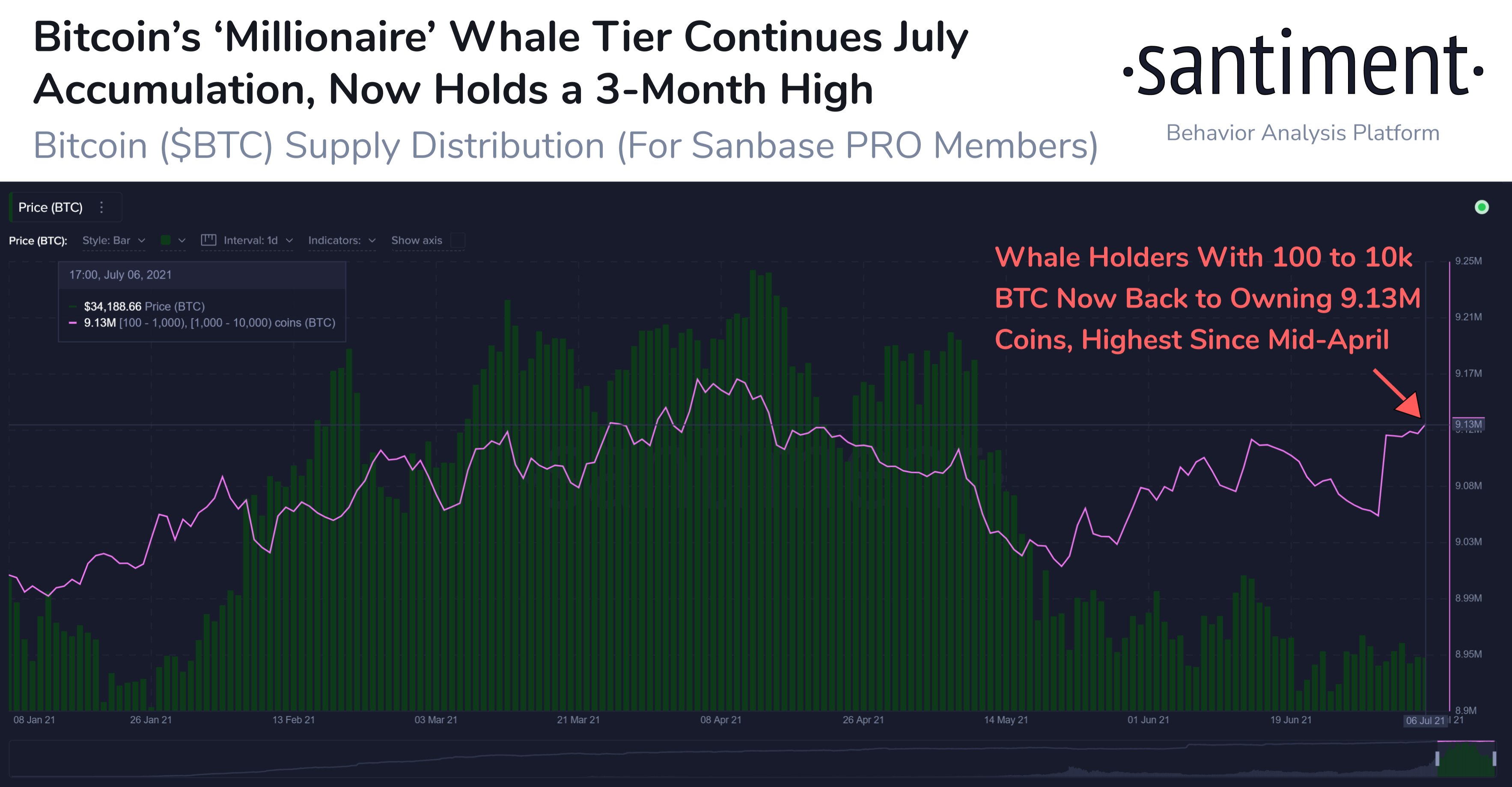 Enzersdorfer-Konrad said:
"The continued accumulation of whales is good news for the market, as wealthy investors are mostly long-term holders, not traders with short-term market positions."
Something similar is happening with ETH, whose price is in a descending wedge pattern. According to Enzersdorfer-Konrad, the relative stability of BTC prices and expectations of significant upgrades support investors' appetite for ETH.
Trust Wallet – settings for Binance Smart Chain + complete guide