Five Biggest Altcoin Gainers, March 29 – April 5
3 min read
BeInCrypto breaks down some of the biggest altcoin movers and shakers from the previous week. Will their momentum continue?
During the week of March 29 – April 5, the biggest altcoin gainers were:
WazirX (WRX) – 1,100%
BitTorrent (BTT) – 222%
Holo (HOT) – 155%
TRON (TRX) – 100%
Dent (DENT) – 85%
Biggest Altcoin Gainers
WazirX (WRX) and Holo (HOT) reached new all-time highs on April 4.
BitTorrent (BTT) is increasing at a parabolic rate and reached an all-time high on April 5. Dent (DENT) also reached a new all-time high price the same day.
TRON (TRX) has broken above the long-term $0.09 resistance area. It's currently trading inside resistance at $0.0138.
WRX
On April 4, WRX reached a high of $6.66. This measured an increase of 1,443% in only six days.
While it decreased almost immediately after, it has since made another attempt at breaking out.
Despite no significant weakness, the rally is completely parabolic. This trajectory is unsustainable in the long run.
There doesn't seem to be any underlying news that fueled this increase. WazirX was listed on gate.io, but that was back on March 15, weeks before the rally began.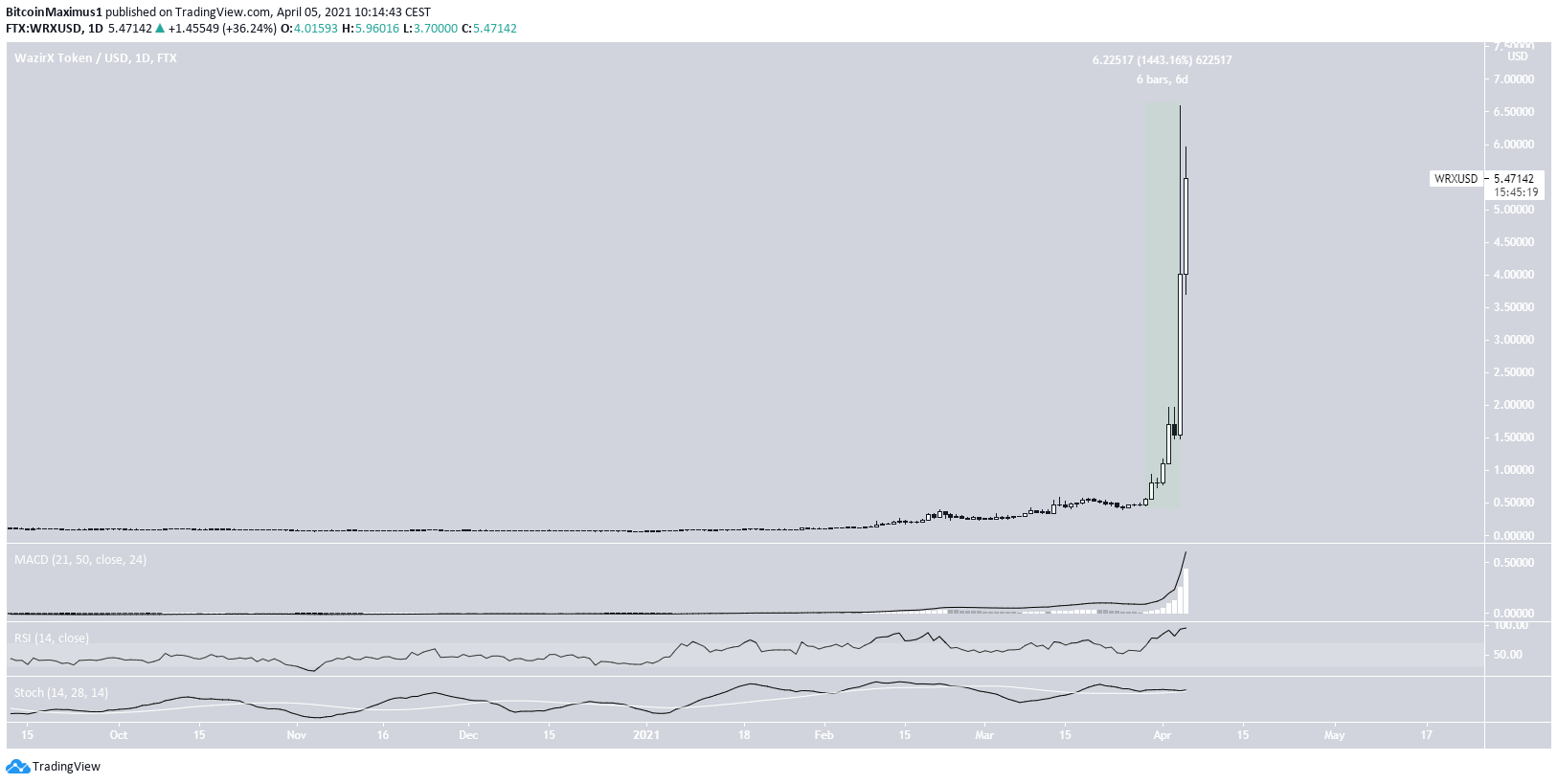 BTT
BTT has been moving upwards since March 13. It reached an all-time high price of $0.0134 on April 5. This amounts to an upward movement of 900% in only 23 days.
The increase for BTT has become nearly vertical. In addition, it has moved above all external Fib retracement levels. 
Therefore, while there are no clear signs of weakness yet, this rate of increase is unsustainable.
Similar to WRX, there were no significant events that preceded this upward movement.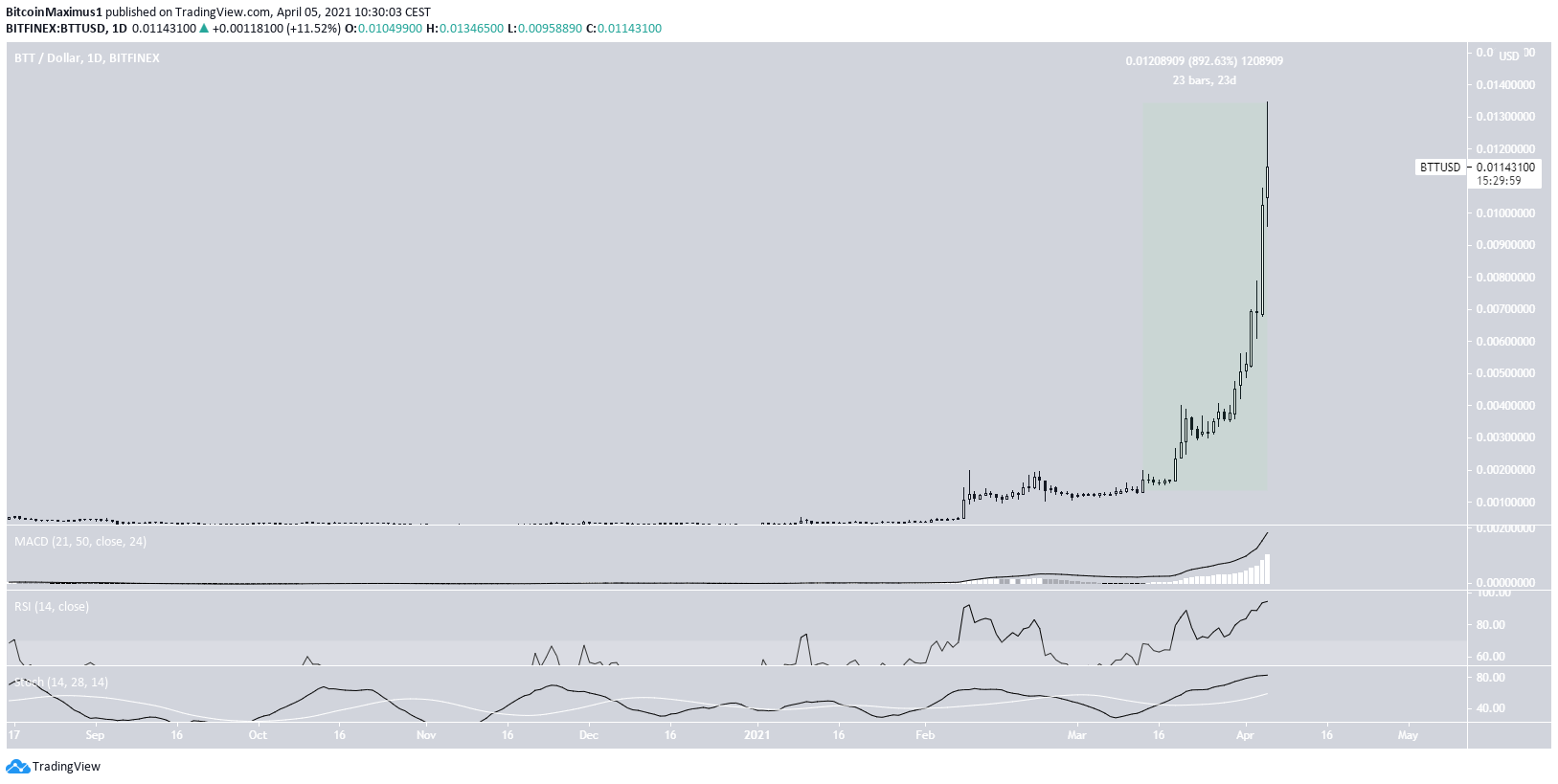 HOT
HOT has been moving upwards over the past 11 days. So far, it has increased by 325%. On April 4, it reached an all-time high price of $0.0298.
HOT was listed on FTX on March 25, on Narkasa the next day, and on MXC on April 2. It's possible that these three events fueled the huge upward movement.
Similar to both WRX and BTT, the increase has no clear structure. The price action has nearly gone vertical. 
Unlike WRX and BTT, HOT has begun to generate some bearish divergence in the RSI. While this doesn't hold much weight on its own, it could be the first sign of a potential correction.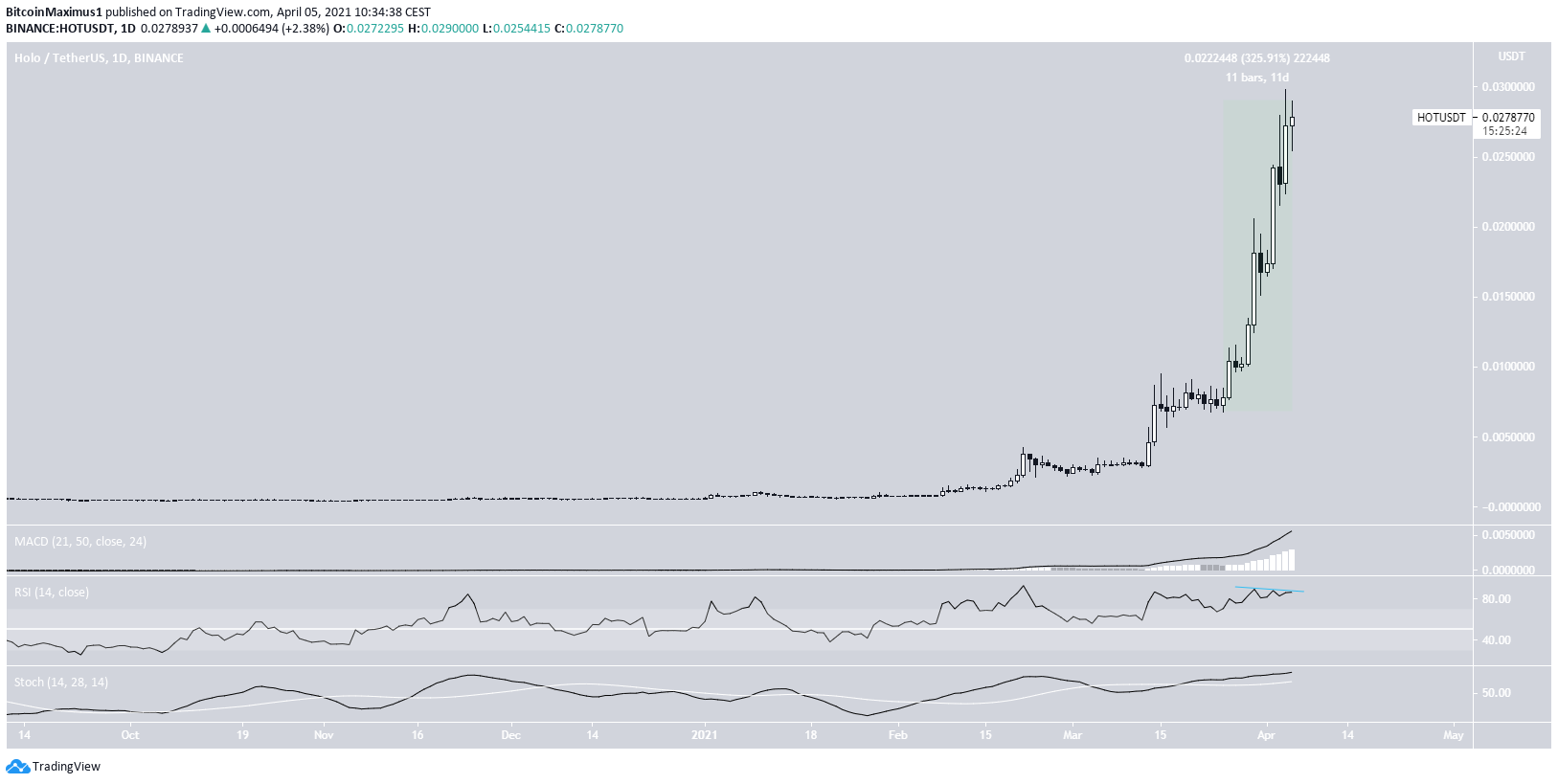 TRX
TRX increased considerably last week. It created a bullish engulfing candlestick and finally moved above the $0.08 resistance area. It has not been above this level since the beginning of 2018. 
Currently, it's trading at the 0.382 Fib retracement resistance at $0.138. 
Technical indicators are bullish. Therefore, TRX is expected to eventually reach the next resistance area at $0.179.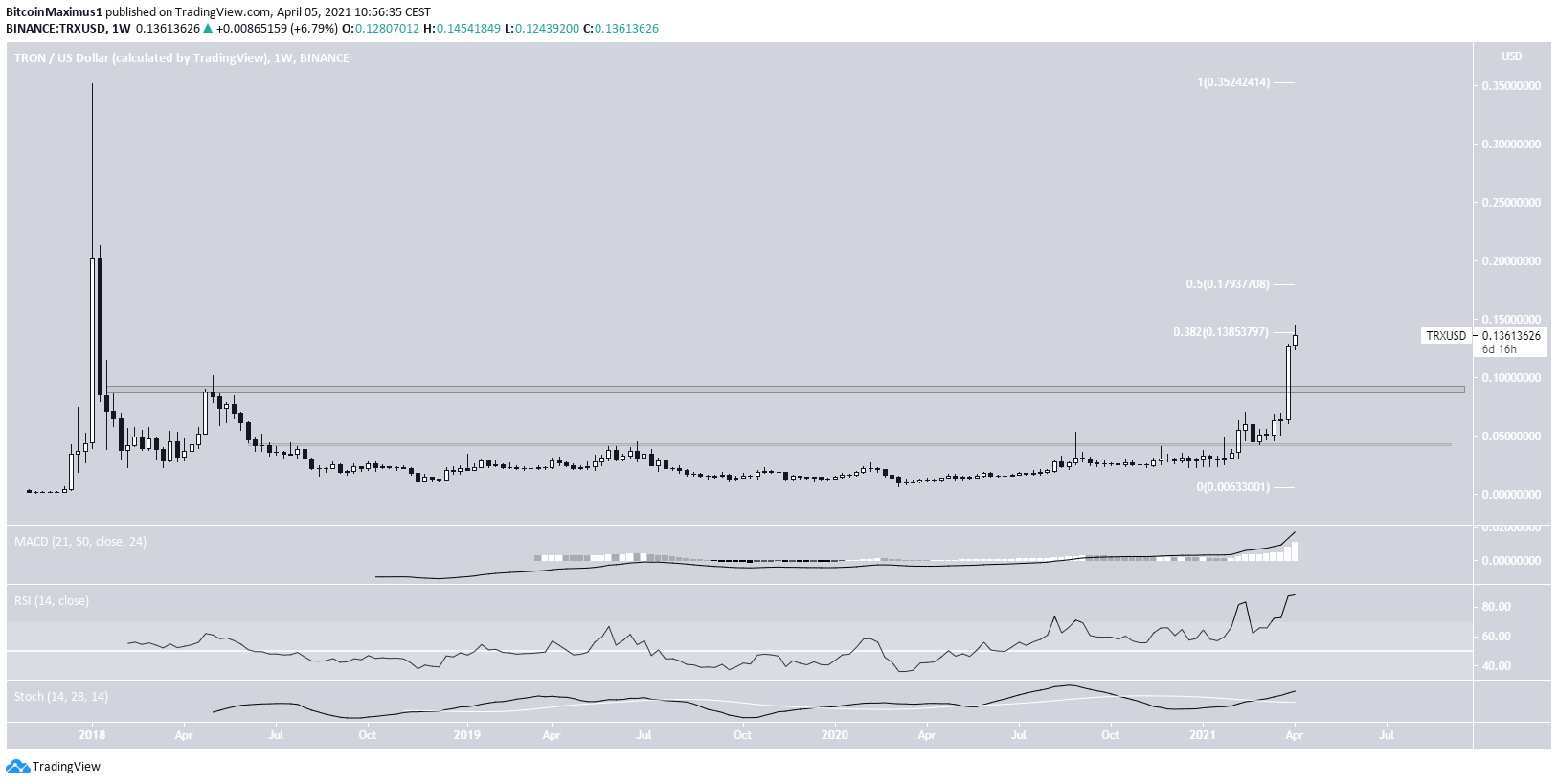 DENT
On March 23, DENT reached a then all-time high price of $0.0149 and created a shooting star candlestick. 
After a retracement, DENT resumed its upward movement and broke out above the previous high. On April 5, it reached a new all-time high price of $0.0209. DENT released its '"Gigastore" on March 31, which could have aided in the ongoing increase.
Technical indicators are bullish and support the continuation of the upward movement.
The next resistance areas are found at $0.024 and $0.030. These are the respective 2.61 and 3.61 external Fib retracement levels.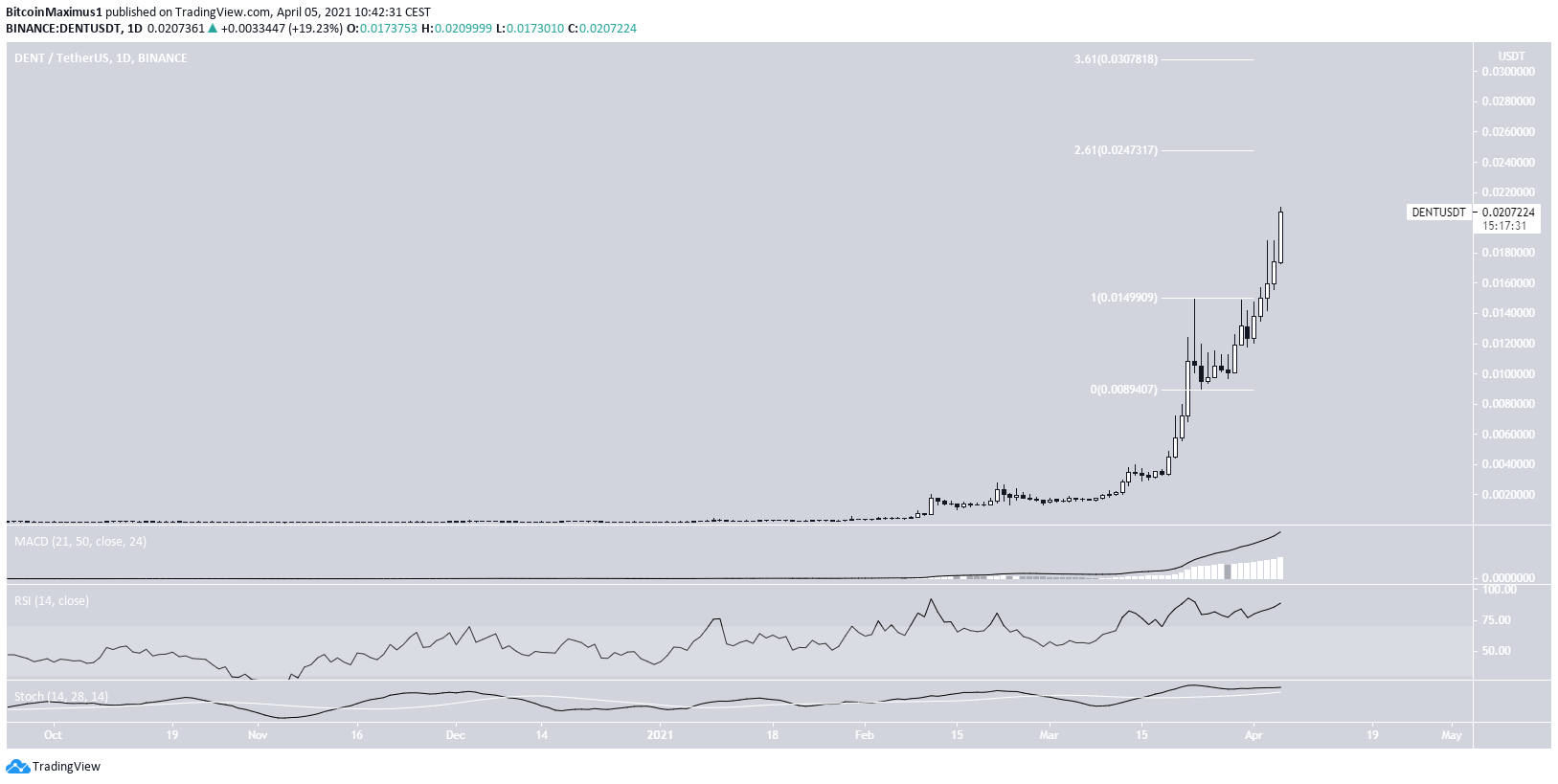 For BeInCrypto's latest BTC (BTC) analysis, click here.
The post Five Biggest Altcoin Gainers, March 29 – April 5 appeared first on BeInCrypto.