FUD from China is over, now the fear of the infrastructure bill, what needs to be monitored?
4 min read
Next "FUD" story is already being prepared. The U.S. Infrastructure Bill is back on the table, with a final vote likely this week on what could shake cryptocurrency business.
D-Day for the Infrastructure Bill
HR3684, newly approved by the Senate, is expected to receive a final vote on Monday, despite rumors that it may still be postponed.
The bill contains a controversial description of an "broker" that could have far-reaching implications for US crypto businesses. Efforts are still underway to change its wording, led by Wyoming senator Cynthia Lummis and lawyer Caitlin Long.
The current wording describes a broker as "any person who (for a fee) is responsible for the regular provision of any service which transfers digital assets on behalf of another person".
.@SenLummis just gave a big shout-out to Sen @RonWyden for their partnership opposing the broad defn of "broker" in the infrastructure bill — a relationship she said will matter to our industry in the future too since he's chair of the tax writing committee in the Senate. #WyoHackathon https://t.co/QRSzn1ilqH

– Caitlin Long 🔑 (@CaitlinLong_) September 25, 2021
As of 27 September, a total of 539 amendments had been submitted to the bill.
Although HR3684 is potentially a thorn in the side of the local crypto industry, it is probably of little importance to experienced BTC hodlers.
A "green week" is expected across the crypto markets
This Monday, BTC spot prices was at a well-known level, with BTC / USD returning to $ 44,400. This marks the beginning of a level of resistance that eventually sparked rejection last week after the pair briefly surpassed $ 45,000.
So far, this attempt to break through has not differed much, as $ 44,000 could not be sustained at the time the article was published.
However, compared to the $ 30,000 mid-range return forecasts that came on Sunday, the latest progress is refreshing.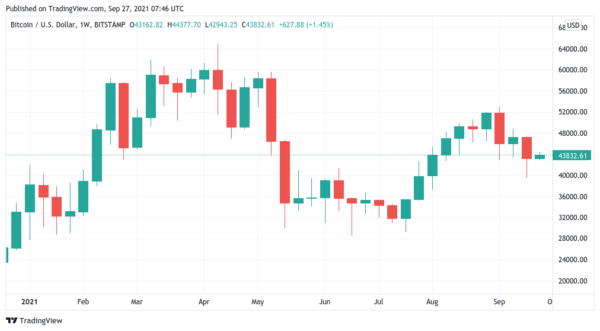 The weekly deadline, which has been a source of controversy in recent days, did not disappoint and came to USD 43,144 – above the minimum thresholds that some traders pointed out.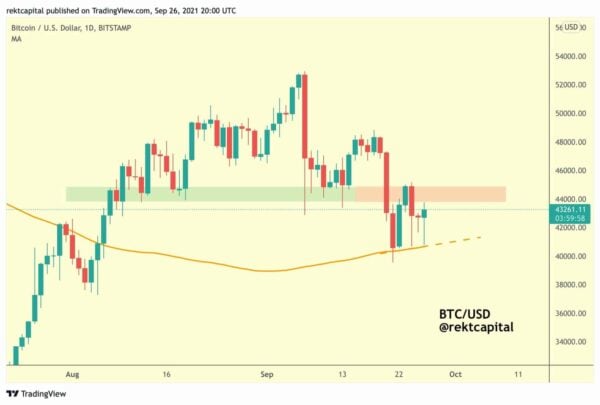 Lightning Network is at the peak of substantial growth
After the fifth increase in a row from last week, which is a rare performance in itself, data suggest that in eight days BTC will seal another upward adjustment. This would be its first sixth increase in a row since mid-2019, when there were seven.
It's not just a difficulty, the hash speed is now around 145 EH / s and only 23 EH / s separates it from historical highs.
These statistics show the convictions of the miners and also the extent of their return since the mass departure from China just four months ago.
On the consumer side, the story is no less impressive. The Lightning Network, just after its successful adoption in El Salvador, is approaching a capacity of 3,000 BTC. Since the beginning of 2021, this capacity has almost tripled.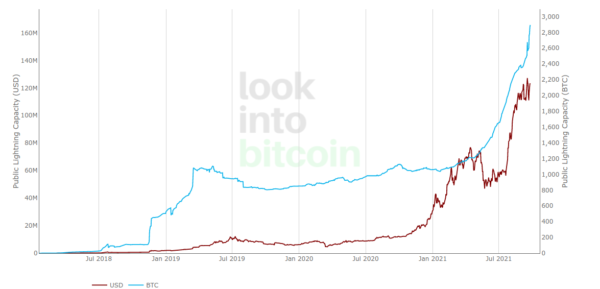 Do you feel scared?
Investors in the crypto market are afraid en masse, and the Crypto Fear & Greed Index sentiment indicator shows how nervous they are.
Late last week, the sentiment factor index fell to its lowest level since mid-July, before BTC / USD began running at $ 53,000.
This time, however, $ 40,000 is at stake, not the $ 30,000 the prize is targeting.
Since Monday, the index is slightly higher, at the level of 27/100 – still firmly in the zone of "fear".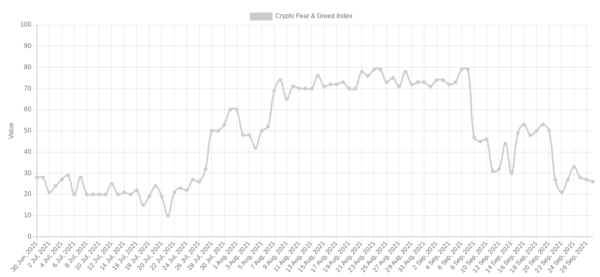 "Never gonna give you up"
These lyrics and other excerpts from the song of the same name by the English singer Rick Astley from 1987 became memes, not just for Bitcoin. It describe the thinking – and investment habits – of hodlers who will never sell their BTC, whatever the circumstances.
Feasting in any storm is a galvanizing force among long-time market participants, but right now, investor "Rick Astley" may even point the way to new historical highs.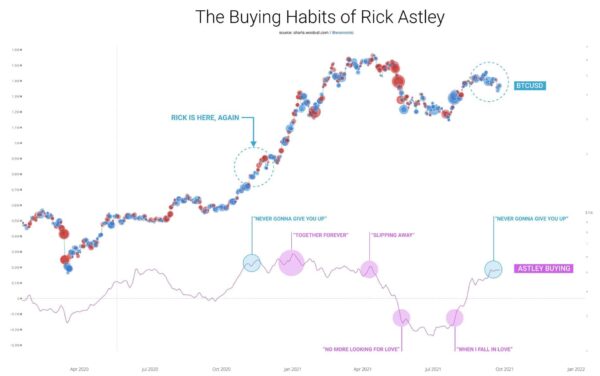 As analyst Willy Woo noted, these Ricks have held on long and hard, and historically they are now shining for good times.
"BTC has entered the Never Gonna Give You Up Astley Cycle phase," he argued, along with a fun chart comparing Rick Astley's shopping habits with the BTC price campaign.
The effects may even appear earlier than many imagine. In contrast to a sudden increase of $ 2,000 on Sunday, Van de Poppe called for time to "party" across BTC and altcoins.
Let's party with the markets again.

Good bounce of #BTC.

– Michaël van de Poppe (@CryptoMichNL) September 26, 2021
Top alternative exchanges for Binance without KYC verification